We enjoy traveling in Winnie, our travel trailer – looking for interesting places to stop and out of the way places to eat. So far, we found both on our trip North to visit some of Stu's family.
May 8: Winnie normally lives in Winter Haven at a Moose Lodge on the Chain of Lakes. She shares this lovely location with Two-To and several Moose Lodge Members who have looked after Winnie when we are home or traveling elsewhere. This time, Winnie decided to come to our home in Delray Beach to start the trip.
We packed up and drove about 100 miles to Sebastian Inlet State park.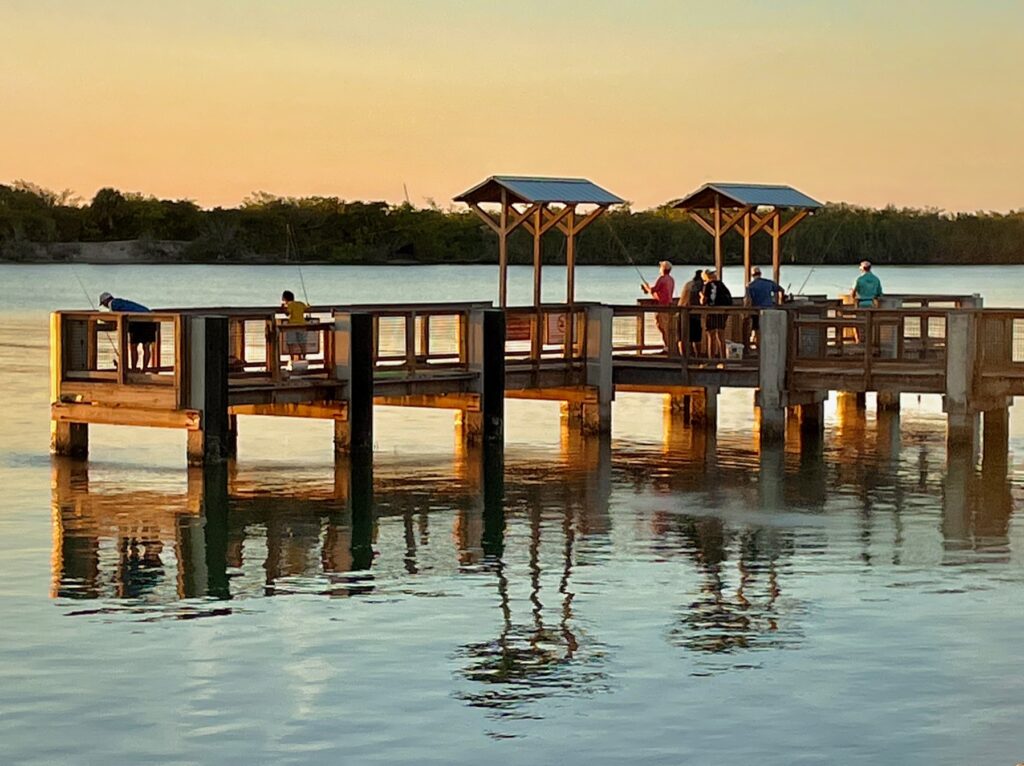 Dinner was fresh salmon that traveled with us and was enjoyed outside until the bugs drove us safely into Winnie.
May 9: We continued to the North Jacksonville KOA, a nice, quiet, treed campground. We enjoyed sautéed scallops (from our freezer) with fresh vegetables.
May 10: Joan scored a winner! She found us a lovely lake front site on South Carolina's Lake Marion near Santee. Our site look out at the setting sun, some boating, and a quiet lake with a few other RVs and lots of birds.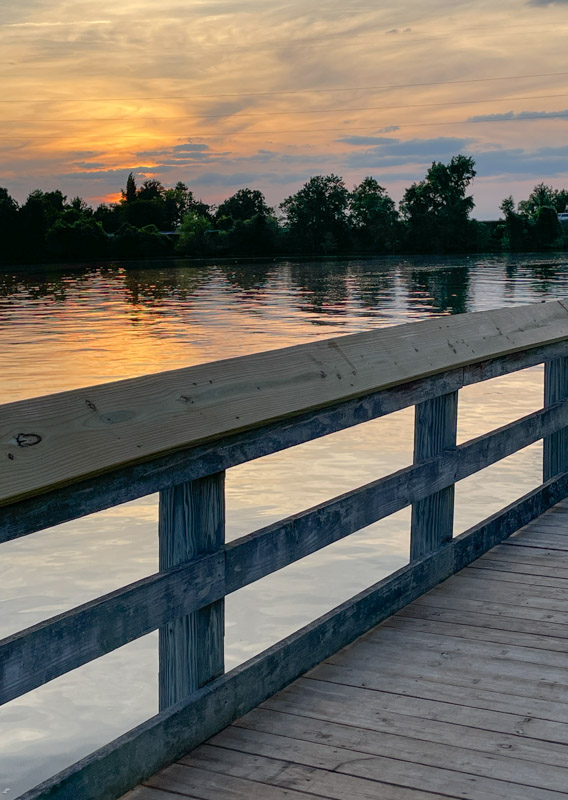 The Santee Lakes KOA Journey is a superior RV campground. The sides are widely spaced, flat, with good utilities and a million $$$ view. The relaxed environment encouraged us to meet and speak with several neighbors. We enjoyed the pier, and the several chairs provided along the lake front to best enjoy the view on our banner page.
We enjoyed a very short walk to dinner at the Lake House Restaurant. It is a lovely family restaurant built beside the Santee Lake and located between two nice campgrounds.
Joan had a fresh salad with a generous portion of lightly grilled shrimp while Stu savored two large freshly caught catfish moderated by some lukewarm sweet potatoes and unfortunately bland collard greens. He looked forward to hush puppies for desert, but unfortunately that had lived the best part of their life on a warming tray. The 5-star catfish was worth a return to try again on another trip.
As lovely as we found the Santee Lakes KOA, the Palmetto Shores RV Resort, also located on the grounds with the Lake House Restaurant, has a lazy river, swimming pools located on the lake side, and a hot tub.
May 11: We continued North for lunch at Roy's Country Corral in Lumberton NC. This is a return visit to a family run BBQ place with pulled pork, catfish, and terrific hush puppies. We split a catfish and pulled pork platter, substituted more hush puppies for french fries, and had lots of coleslaw. An enjoyable family lunch with Roy's daughter, Wanda, providing family service.
After lunch we continued to Kamper's Lodge Campground in Wilson, NC. We were greeted by the smell of several people smoking around the entrance and parking area where we checked in. The smoke never left the campground, many of the patrons were full time in run-down RVs that made a short visit to the duck pound and donkey pen an un-enjoyable smoke-filled experience.
The in-ground pool was another interesting departure from common courtesy.  I had to look twice to understand why and how they would use the required fence around the pool as a dog pen – allowing dogs to run free within the fenced area. I like dogs, but I don't really like to walk among dogs when swimming – or in this case, thinking about swimming.
Don't stop at Kamper's Lodge if you breathe; cigarette smoke is everywhere.
May 12: We had an enjoyable stop in Wilson, NC where we visited the whirligig park. Volis Simpson, a farmer turned mechanic, turned artist built beautiful moving art powered by wind and imagination. Over his lifetime as a farm mechanic, he collected cast off parts and eventually started welding them together in colorful fans, each more complex than the last.
Eventually, a non-profit in Wilson, NC, bought much of his collection, restored it, and placed it in a downtown park for everyone to enjoy.
May 13;  We arrived at Cherry Hill Campground for a few days visit with Shirley, Rob Sanders, and the grandkids, Justin, Nicole and her friend Carl. The grandkids just finished their school year and were relaxing for a few days with Mom. Shirley was glowing when her children were smiling and as a Grandfather, I am full of joy to see everyone so happy and doing well. We went to a family dinner at Ledo's pizza, a place I traditionally visit.
May 14: We all, including Alice and Jeff, met at the reopening of the Air and Space museum after years of restoration. Nicole, While the Air and Space is only partially reopened after years of restoration, the original Wright Flyer has a place of honor the the hall of early flight.
Nicole, Carl, Joan and Stu continued over to the East Building for a tour of the modern art in a setting crated by I. M. Pei in an outstanding building that excites my eye. This amazing structure houses modern art including many original "mobiles" by Calder.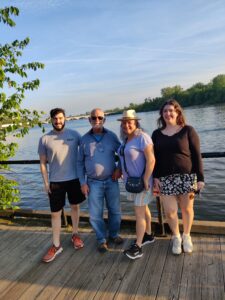 Dinner at Tony and Joe's Seafood place on Georgetown Waterfront was started with a shared brussel sprouts appetizer in a portion large enough for everyone to have a large sample. The roasted sprouts were so good, I moved them out of the punishment food category to try then again.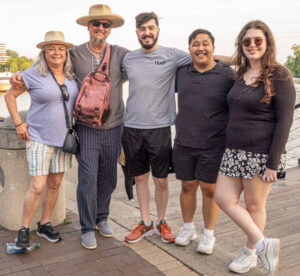 After dinner we walked the waterfront happy to see everyone enjoying the massive modernization from the old slum of several years ago.
May 15: A relaxing day at Cherry Hill while Rob went off to trade his large truck for a huge truck capable of pulling their new fifth wheel home on wheels.
We met up with Rob at a nice Silver Spring Ethiopian restaurant, Beteseb, where we shared a tasty meal eaten with our fully washed fingers. Several different beef, lamb, and chicken dishes served in Injera, a traditional pancake style bread made with Tef, a fine seed grain grown in Africa.
May 16: We moved to a driveway on in Linthicum where the home owners are kind souls who allow travelers to park in their drive for only a very modest electrical fee.
After setup, we took left Winnie behind and went to the National Aquarium. It is a shadow of its pre-COVID self, with the Dolphin Show quiet and large unoccupied, have only one dolphin that pushed a small beach ball in circles around the tank, hoping for the day where he and his friends could perform again.
The most interesting and depressing part of the Aquarium was the "Invasion of the Jellies" exhibit. Apparently overfishing has destroyed the population of sea animals including sea turtles that find jellies a delectable meal. As a result, the jellies are multiplying without apparent bound. Additionally shipping has carried the jelly fish to places new to them that have no jelly predators, causing further destruction when the jelly fish eat the existing population offspring and eggs.
The result is a further collapse of the fish population making it hard for people to find food or earn a living,.
The combination of the COVID scare and the public abuse noise about the idea that performing animals is inhuman shut down one of the best shows of its type. I think the protesters never played fetch with a dog and could not believe the dolphins enjoyed the show as much as any stage performer.
From the Aquarium, we walked the waterfront to visit the U.S.S. Constellation, built in 1884 and the only surviving Civil War ship still in the water.
After the Aquarium, we continued to Nick's Seafood where we met up with Bob, Sheila and Deena who had organized a terrific dinner of fresh seafood overlooking the approach to the Baltimore Inner Harbor. Denna, Sheila and Joan had wonderful looking crab cakes while Bob and had fried oysters. Enjoyable dinner.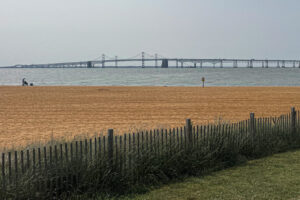 May 17:  We headed toward Chincoteague, Va with a lovely stop at Sandy Point State Park on the Chesapeake Bay just upstream from the Bay Bridge. Cold morning air and a view of the bridge and the Baltimore Light House marking the entrance of the channel from the Bay to the Inner Harbor.
The lighthouse is best known (by the 3 people in the world who know these things) and the first Government project to go over budget. Originally budgeted at $60,000 in 1894. It was completed at over 4 times the budget cost in 1908 and operated since then.
In 2006 the General Services Administration auctioned the lighthouse to a non-profit who maintains it operational today.
From Sandy Point, we continued across the Bay Bridge to Picket Yachts, where we met up with Josh Miller to pick up the new Davits for Shearwater V. The davits will fit across the back of our boat to hold a dinghy for going to shore,.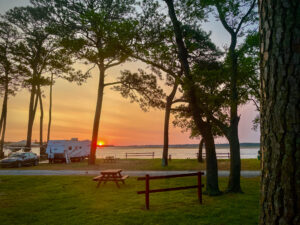 May 17-18:  Our next camping stop was Tom's Cove Park, a very large campground where Winnie established her base for the next few days. A quick shopping trip into town led us to the Village Restaurant where Joan enjoyed grilled scallops and enjoyed Stu's Shrimp Imperial even more. Nice dinner in in a nice place that claimed a waterfront view we never found.
We had a semi-secluded site with a view of the water, lots of trees, and a strange layout that took us 4 tries before we gave up and occupied the site next door.
The morning of the 18th, we boarded a small boat for a cruise at 11:30 after rescheduling the 8 am cruise due to the cold. We traveled north from Chincoteague island toward the two herds of Assateague ponies,  finally finding a hirem of ponies, several mares with their newborn foals living near the stallion who fathered the young ponies.
During the trip, we learned that ponies are small horses below a 58″ when full grown. Their small size makes them well suited to the island where fresh water is hard to find.
Each spring the rangers and volunteer swim the two herds across the water where the young foals are auctioned. Most find new, loving homes. Selected few (7 to 10) are auctioned to be named by the auction winner and returned to their herd to parent the next generation. This process keeps the population to about 150 horses, a number that is well supported by the space available.
From time to time, outside horses are introduced into the breeding population to minimize imbedding defects.
May 19: We packed and left Chincoteaque for First Inlet State Park near Virginia Beach. It was cold and windy and we were well shielded by trees and distance from the Ocean. Set up in a lovely camp sight to the sounds of kids playing all around. it was a lovely camping experience.
We drove to the Virginia Beach Boardwalk to meet up with some of our dearest friends!
As we walked the Virginia Beach boardwalk, Joan spotted some of our four legged friends out for their evening walk. They seemed to be enjoying their time on the beach. There was even a pooper scooper truck following just behind them.
We capped the day with a lovely dinner on the boardwalk at Virginia Beach. Ocean Eddies Seafood Restaurant looked out from the pier over the water, was warm, bright and fairly quiet. Stu had a fresh flounder sandwich and Joan enjoyed a shrimp salad. We shared a plate of broccolini that tasted interesting and had the texture of rubber bands. We ate the whole plate.
May 20:  We took the ocean route South to Nags Head to Oregon Inlet State Park and stopped at Wilsons Restaurant for dinner. The local kite surfing people put on an evening show for us. Dinner was loud, the food was tasty but not very hot, and the entertainment was thrilling. In addition to the kite surfing there were small brave sailboats in the very strong wind.
There was off and on rain and the folks next door were smoking. We did enjoy two walks to the beach between the rain. The campsite was flat with electricity and water.
Driving on the beach was permitted by 4WD vehicles equipped with low pressure beach tires. Lots of folks went to fish and several even stopped to offer us a ride back when we were stopped on the heavy sand taking photos. Nice people, nice place.
We had considered riding the coastal ferries around the barrier lines thru Ocracoke, but the wind and rain made the ferry less inviting than the bridge to the mainland.
May 21: Had an interesting and uneventful ride around the mainland near Ocracoke, NC toward Jacksonville, NC. Our first try for a campsite took us to a rundown dump of a place with low hanging trees that clipped the boat davit we were carrying on the roof. We were located in a muddy site with lots of cigarette smoking. The owner-operator nicely returned Joan's money and we set off looking for a better one-night home.
May 22: We found a lovely place, a few miles away: W. R. Willis Campground is a privately owned small site with almost all permanent residents in nearly ew clean 5th wheels, large trailers, and motorhomes. There was no office, only an empty clubhouse, an empty laundry facility and no one to pay. We picked an empty spot and settled in for the night.
Several nice trails surrounded the camp ground, so we went for a long walk around a small lake into an apparent auto junkyard. We turned around and walked into a lovely small manufactured home community of about 25 nearly identical small homes that were attractively finished and rented at $900/month including utilities. We saw only a very few people; each greeted us pleasantly as we walked around several lakes, one teaming with waterfowl but the rest unoccupied.
May 23: Continue to Wilmington, NC, Riverwalk and KOA Wilmington. We stayed at a lovely, quiet KOA with lots of trees. There was a group traveling together in some sites across the lane. One camper had painted their trailer to with images of cats. Nice job: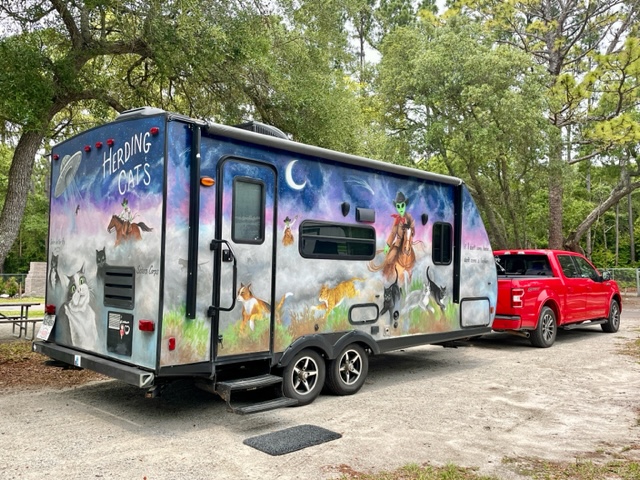 Wilmington River Walk was just a walk. Little shade, ot much to see and mostly under construction.
May 24: Enjoyed another KOA with a water view site, lots of trees and not many campers. The site provided a variety of chairs, swings and docks to view the lake and surroundings. Stu stir fried shrimp, broccoli, cauliflower,  carrots and shrimp into a nice dinner by the lake.
Camped the night at the McIntosh Lake RV Park in Townsend, GA. We were nearly the last campers before they close for the Summer. Lovely lake Marion, some trees but we camped in the open all by ourselves to avoid the possibility of smokers nearby. It was OK, but nothing special.
Stu choose to wash the previous campground bugs off the awning, resulting in a reprimand from the campground host. Vehicle washing is generally prohibited because of the drift onto adjoining vehicles; we understand that.  But, we were all along, bothering no one and thought it might be OK. The campground monitor found this an infraction of the rules, but we were nearly done and allowed to rinse.
Dinner at the Fish Dock was surprisingly bad. The gigantic dining hall was nearly empty, about 8 other couple. Stu ordered is usual Hush Puppies he always gets when traveling in the South. These corn bread balls are best served flash fried. The Fish Dock pre-fried them and put them back into the fryer to warm when ordered.  The outside was hot but the inside was just above room temperature. In hind-sight, Stu should have sent then back he foolishly ate most of the meal.
Stu's dinner was just as bad. The grits were lumpy, only partially cooked, and tasteless. The blackened shrimp was very salty, but otherwise unflavored. Stu may learn someday to send poorly prepared food back.
The fish dock was a run down place with a lovely view. They apparently did a booming business during the season.
May 25:  Camped the night of the 23ed at McIntosh RV Park in Georgia.
May 26: We arrived and camped at the Lake City RV Resort. Not much resort, but a quiet, shaded campground with a nice recreation hall that had a large exchange library where Stu exchanged a pile of junk fiction books for a new pile.
Our visit was to attend The Florida Folk Festival, a 3-day celebration of folk music that has been running every Memorial day for 70 years, starting with Pete Seeger's performance  of "Goodnight, Irene."  Traditionally, the opening performance on the first night ends with:  (you may sing along)
We enjoyed Friday and Saturday at the Florida Folk Festival, headed back to the Moose to say goodby for now to Winnie, and home to Delray Beach and a broken air conditioner.