Bluebonnet Cove RV Park is a small private campground located on Lake Buchanan near the town of Buchanan Dam. The campground has mostly permanent residents, some here seasonally and some full-time, living in  a variety of travel trailers and semi-permanent homes with additions that grew over time in an area without building codes.
It is everything I had hoped for when I made an extended reservation here for the month preceding Fall Foliage Season when Joan and I will explore the Texas Hill Country using Bluebonnet and other campsites as a base. The campsite is quiet, the view (above) can't be beat, there is kayaking from the campsite beach and boating from the dock a few steps away. The view from the kayak looking at the campsite tells a lovely story.
I was fortunate that perfect weather permitted kayaking almost every day and even more fortunate when the birds posed on a nearby island for this far away image.
An unexpected treat is the lovely people who live here. Joe Matzker, the Park Manager, (512) 981-5253, is beyond friendly. Upon arrival, he patiently helped me back my rig into an unbelievably nice flat waterfront site with a large concrete patio and an oversize picnic table. Once settled, he came by and told me about the area, the facilities available and INVITED ME TO BBQ dinner. Several of the permanent residents dropped by to introduce themselves and offer whatever assistance I might need.
This campground is closer to family than many families.
There is a "free to residents" laundry under construction, but in the meantime, there is an excellent, clean facility, the Texas Wash House 24 miles away in Burnett. it is equipped with all large and huge commercial washers and is spotlessly clean. Just a block from the laundry is a large H-E-B for provisioning.
My site is one of only 4 transient sites; the rest are permanent residents. It is right on the beach, allowing me to keep my kayak ready to go at a moment's notice.  One such moment was during one of several beautiful sunrises I was viewing over coffee from Winnie's dining table.
I saw a neighbor kayaker paddling in the early morning pre-sunrise glow and did what any aspiring photographer might do:  I jumped in my kayak and set out to get a campground image with her in the foreground.
2021 10/21 Ethiopian Treat
I was thrilled to meet up with Shirley & Rob and Joshua & Stephanie for my essential Texas dinner: Ethiopian. This was Rob's first Ethiopian experience and he dove right in, literally by immediately getting the idea of tearing off just the right size pieces of Injura, the bread we use as utensils to eat family style. Even Joshua, normally food choosy, really seemed to enjoy the food while Steph specifically requested Eggplant and enjoyed the distinct flavor.
The best part, by far, was seeing the interaction between Joshua and Shirley who relived some of their childhood experiences, embellishing them just so. I am grateful for the extra drive they took to share the evening with me.
The only regret is we were so all involved in the eating and reliving that we didn't take any pictures.
2021 10/23 Lunch with the Romans
I drove over to Miguel and Rebecca's for a nice visit and lunch. Sierra was trying on her Halloween Costume (or maybe a prom dress). It is a lovely outfit and it was nice to see her preview it for me
Miguel gave me the title to Two for Tango, our family 16′ Sugar Sands Jet boat that has rotated among the kids and me as our interest in boating grew and waned. After 30 years, I have cleaned her up and hope to enjoy her for several more years,  until Sierra is old enough to learn to drive.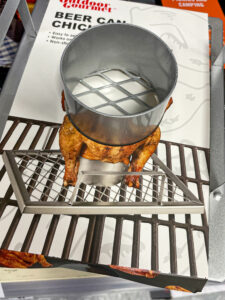 Once the serious stuff was done, I asked Miguel how to make beer can chicken, an exotic Texas dish made by sticking a beer can in the chicken's bottom and cooking it slowly on a smoke or low grill. My desire was to approach the flavor and tenderness of the world standard, Costco chicken, without all the salt and hormones used to prepare it at Costco. Miguel knew just the tool, the modern equivalent of a beer can on a stand without the lead solder used on the old Lone Star cans.
The resultant chicken started out hormone free, organic, well washed and purchased at Lowe's, a grocery store in nearby Lowe's Market in Llano, just a short drive from the campground. The chicken ended up golden crispy brown, juicy inside and still hormone free and organic.  Nice dinner for several days.
2021 10/25 Visiting the Buchanan Dam Area
One of the many benefits of visiting an area for an extended time is the ability to visit the local attractions. In this beautiful area, we had to pick a few among the many.
I decided to briefly visit Inks Lake State Park and, just up the road, Longhorn Cavern State Park. The ride was lovely, with sweeping vistas that captured my eye and imagionating, thinking of how the early settlers could negotiate the hills above the rivers.
Inks Lake State Park is even more lovely than advertised. A large kayak and consesson provide boats to visitors and campers. The sites are well separated with most having a terrific view of the rolling and large winding lake. The lake is just the right size for calm, protected kayaking without the wind and waves that are sometimes visible on the larger Lake Buchanan.
I continued a few miles down the road to Longhorn Caverns State Park. This park was one of many constructed during the depression by the Civilian Conservations Corps, established to provide work for unemployed people (mostly men) when no jobs were available for those who desperately wanted to work. They removed tons of trash, broken rocks, leaves and sticks to make a wide open walking cave open for tours. The elaborate stone work was hand built by civilians being trained as craftsman who were hoping to return to the labor force when the economy recovered.
The Civilian Conservation Corps should all be proud of their beautiful production.
On November 3, Joan and Stu reunited at the Austin Bergstrom International Airport. Explore the Fall Foliage in the Texas Hill Country by clicking here.