Winnie "broke a leg" on the trip to Philadelphia to meet Joan. With the help of some very nice strangers, the leg was splinted by replacing the burned out bearing and improvising some parts. With one good axle and one axle that was temporarily repaired, Stu and Winnie limped into our campground near Philadelphia to clean up and meet Joan.
Joan flew into Philadelphia, and we met up at the airport after Stu went to domestic arrivals and the delayed flight went to the international terminal. We eventually returned home to our now cool and level campground home. I think if cell phones had not been invented, we would still be at the airport looking for each other.
Our campsite was close to Sheila and Bob's summer place in Greenhill just outside Philadelphia. Reunited, Joan and Stu joined them for dinner at their home. Sheila made a tasty salmon. The company was, as usual, the best part. Bob and Sheila each saved up some computer problems so Stu had a puzzle to solve. I believe Bob's computer breaks for the sole reason of challenging grandson Sam and brother Stu. I like the challenge and am happy to be Bob's IT department.  This trip found me fortunate to be challenged by Sheila's iPad as well.
The area also includes a World Class 'garden': Longwood Gardens is more than flowers; it is a world of plants, walks, forest, Conservatory displays, live music, and the new reimagined water gardens housing thousand of jets, lights, and speakers that work together to produce a display that rivals the finest fireworks we have ever seen.
Join us as we tour Longwood Gardens by clicking here.
From the Longwood Gardens/West Chester, PA campsite we moved to Galloway, NJ to be close to Brigantine, Margate, Ocean City, and Long Beach Island, NJ for visits with both our cousins, and some of our favorite beaches.
Brigantine was Stu's family summer vacation spot when he was a child, and the big Brigantine hotel appears much smaller now but I don't think it really shrunk. The sand remains the same, hard and comfortable to walk on. On the evenings we were there, it was an inviting place for a picnic dinner, and Joan suggested we order take-out from the Crab Shack down the street. Just over an hour after we ordered, a big bag of delicious sea food came across the counter to Stu who carried it down to previously set up chairs on the beach.
Wonderful sunset meal. Joan had 100% crab cakes and Stu had a blackened Mahi-Mahi sandwich that tasted just caught. As we began dinner, the tide continued to rise, eventually forcing us to move our chairs to higher ground to avoid dinner at sea. This left a small river between us and the Gulf. Brave Joan forded the river with water all the way above her ankles to pose for this photo. She sure is brave in these raging waters.
Saturday we went to visit Fern, Jeff and Deanna at their new Summer "cottage" in Margate. They have been top-to-bottom remodeling; the portion they have finished looks spectacular. If they ever leave finance and human resources, Jeff and Fern would make fine redecorators with a good sense of color. Sheila and Bob arranged a Corned Beef and Turkey Deli lunch for all of us with especially good pickles.
I love visiting Margate where Sheila and Bob used to have a summer cottage, but we missed our visit with Lucy the Elephant so we must go again.
Our visit continued with a rainy start on Sunday so we did trailer chores. Not a bad way to spend part of the day. By early afternoon clearing came and we went to the Ocean City Boardwalk, another attraction close to our site. Stu scored a small tub (3 days to eat) of Johnson's Popcorn, a treat good enough to make the 6,000 miles of driving fun.
Dinner was another treat. We walked from 6th street where we were fortunate to find a parking space, to 12th street on the boardwalk. The result was a tour of the boardwalk with the amusement parks and Ferris wheel, dining, and people enjoying the late afternoon sunshine. Dinner was so good, Stu finished his share even after 1/2 the tub of Caramelized Johnson's Popcorn. Joan has a business friend and former co-investor who said, "eat dessert first, you never know" . . .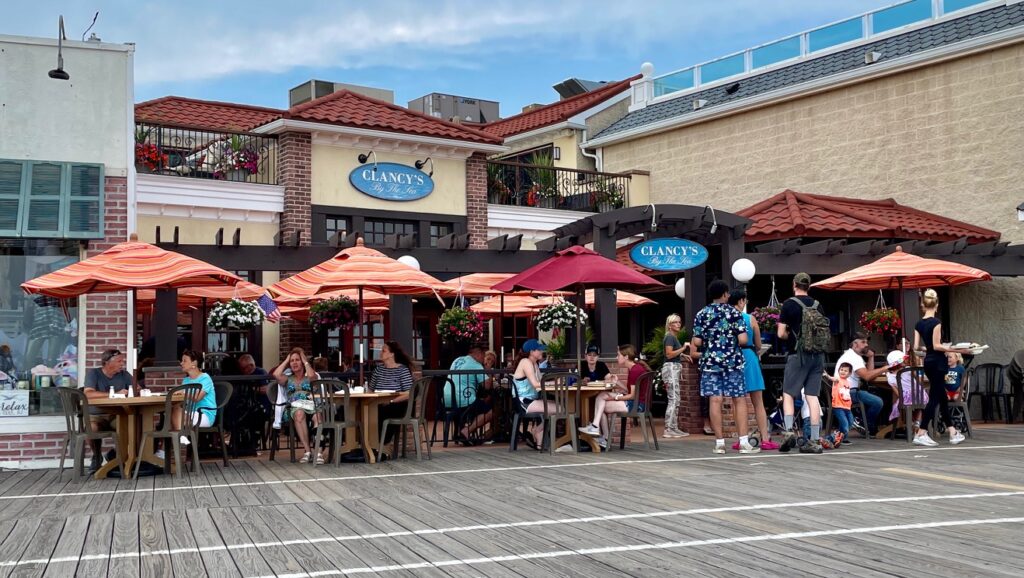 Our dinner destination was Clancy's by the Sea on the Ocean City Boardwalk, where we were seated nearly immediately and enjoyed our crab cake salad and Mahi salad. Both were quite good and moderately priced with the dinner including a bowl of Clam Chowder, costing about $50. They take no reservations and usually have a long line. I guess the threatening weather kept the people away, they offered us immediate outdoor seating and we accepted a 5 minute wait for an indoor table at the window overlooking the ocean.
The next day, July 26, we shared a wonderful day with Joan's cousin, Kenny Feldman. Join us touring Long Beach Island by Clicking Here.
After Long Beach, Stu took a morning bike ride in Atlantic City, a city under redevelopment. Look at the amazing transformation by clicking here.
Join us as we drive North to New York and then turn South toward Charlotte, Greenville and a celebration visit with Jeanet Dreskin as she celebrates her 100th Birthday.