Most people remember places they visit by the scenery, the people they met, or the performances they attend. I remember by the food I enjoyed and the bargains I scored. New Orleans is the peak experience in these areas.
First, the camping: On previous trips, Joan and I have visited and written about the Pelican RV Park and the French Quarter RV Resort. Both are expensive, and while the first is a swamp far from everything, the French Quarter Resort is  conveniently located in the French Quarter adjacent to the station for the On-and-Off bus rides and only a short walk to the center of the French Quarter.
Once reaching the French Quarter, there is a wide selection of Beignet-serving venues. If you have never experienced a Beignet, you are missing the ultimate junk food experience – an exploded mass of fried dough drenched in powdered sugar with no nutritive value. There is no neat way to eat a Beignet; you must dive in and shower later.
I have experienced many Beignets and they are all excellent. So the choice is limited to finding the best venue, since most are operated by Cafe Du Monde, ruling out taste as a criteria.
The search for a perfect camping location to sample the perfect Beignet eventually led to Harvest Host, a service offering pointers to free, or nearly free, camping locations. A few trips ago, Harvest Host pointed me to the Faubourg Brewery, offering free camping, reduced price freshly brewed beer, free entertainment, and guards that patrol the fenced parking area at night. Turns out, Faubourg was much better than the advertisements.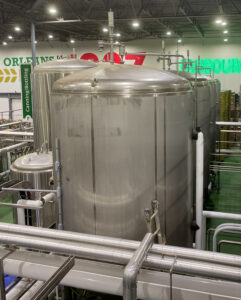 Faubourg Brewing Company is a working brewery. I was able to arrange a tour of the Faubourg Brewery that included a beer tasting. It was interesting to see the process where hops, barley, yeast and water are turned into beer.
Faubourg Brewery sells, in addition to beer, the normal bar food. When Shrimp & Grits is on the menu, it rivals the best  of New Orlean with a deep spicy flavor, lots of shrimp, and creamy cheesy grits with a smell that makes my mouth water. Most nights, the dinner is enjoyed in a very large grassy family-oriented venue with lawn toys for kids of every age.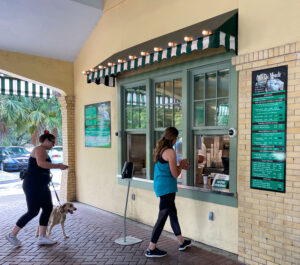 The best of the best parts is that  Faubourg is located about 5 minutes from New Orleans City Park that hosts one of the original Cafe Du Monde Beignet venues.  The City Park has unlimited parking for cars, bicycles, and recreational vehicles. The park is located about 4 miles by bicycle or street car from the French Quarter. The bicycle route is well marked and the drivers are bicycle polite with many even waving a welcome. Being City Park, there are no real crowds, and over half the patrons are kids doing what kids do when confronted with cups of powdered sugar, swings, a child storybook amusement park, a train ride and lots of open space.
The goal of a bike ride is usually exercise. But this bike ride was to find the perfect Shrimp & Grits for lunch. I succeeded at the Royal House on Bourbon Street. A bicycle-side open air table with a view and a wait staff who understood that patrons expected them to wear masks when serving. The perfect lunch in the time of COVID.
For the price of a commercial campsite, I enjoyed a level RV parking area, a fenced quarded location with guards that are trained help stray kids back to their parents, good beer, Shrimp & Grits, and Beignets in an area with unlimited bicycle trails.
New Orleans is my favorite stop on the route from home in Florida to my kids in Texas.
Click here to follow Stu's visit to Bolivar and Galveston Islands.