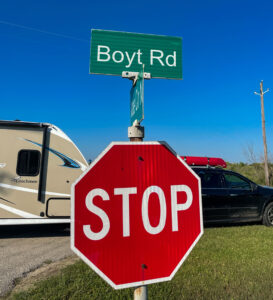 Bolivar Peninsula and Galveston are on opposite sides of the waterway where Galveston Bay meets the Gulf of Mexico.
2021 10/4 – 5: They might be on different planets. The most developed beach on Bolivar is Crystal Beach and it is quiet. I have never camped at Crystal Beach and decided to see what it was like on this trip. Boyt Road was the recommended road to the beach from the main highway. The beach entrance was hard packed sand and is wide enough for two trailers to pass.
The featured image above shows the crowd. The other person I shared the beach with walked about a mile to be in my sunrise picture. I was up at sunrise because it was so absolutely silent, the morning birds awakened me.
Crystal Beach requires a parking permit, issued for a year, for $10. I think that works out to be about 3 cents per day if you live on the beach full time. The rules require you move every two weeks but . . . no one is around to care.
Continuing the bargain prices of Bolivar Beach, I took a 30-minute mid-morning ferry ride from the quiet of Bolivar to the relative crowds of Galveston. There were hundreds of ships visible, waiting to load and unload.
2021 10/5 – 7: I did not know if the ferry would be crowded (it wasn't), so I had some extra time after disembarking in Galveston. Winnie and I headed east back toward the mouth of the Bay in hope of seeing some large ships close up. Turns out, East Beach has free, open access and paved parking right next to the jetty wall. More relaxing, some reading, and lots of ships.
After an unbelievable number of ships went by, I went to keep my reservation at Galveston Beach State Park. Unfortunately, the park was heavily damaged by storms and the beach side of the park was closed. The park was quiet, open, and had a nice view from the window. I even put out the Happy Camper sign to tell my neighbors I was home.
2021 10/7 – 11: Finally I arrived at the Jamaica Beach RV Resort, set up Winnie, and went off to explore the Lazy River.
A day after I arrived at Jamaica Beach, Sierra and Dylan and their parents Miguel and Rebecca arrived in their RV and set up in the site next door.
We shared a lovely weekend, starting with a fresh Corned Beef late night snack and continuing to two days of nice weather. We had trips around the Jamaica Lazy River where Dylan watched with wide-eyed excitement as people floated by. Sierra led us on a bicycle tour of the campground, showing off her excellent bicycle skills, while Miguel towed a surrey with Dylan behind his new electric bicycle and Rebecca explored on her new, somewhat smaller and lighter electric bike.
Share the weekend with us in the photos below.
Stu continued to Austin, camping at Bluebonnet RV Park for a month and meeting up with Joan for more touring of the Austin area and Thanksgiving. Share that part of the trip by clicking here.