We arrived at our lovely Tomoka State Park in the afternoon of June 10 and were happy to see it remained as lovely as our memories. The area is heavily treed. The park runs along the Intracoastal Waterway to Tomoka Point, a mixing bowl of waters where sugar was shipped from the farm to market after being transferred from flat bottom local boat.
Bright and happy on Friday, we unhitched Winnie and set off for the Bulow Plantation Ruins and Historic State Park. Major Charles Bulow built the mill on 4,675 acres using about 200 slaves. John Bulow ran the sugar mill and surrounding farm until 1836 when the Seminoles burned it down.
Much of the travel to the Bulow Plantation was via a single lane dirt road that flowed under a sea of trees through a tree tunnel. It was an "impossible to pass" zone with cut-off areas where an approaching car could pause so we could get by. The road may have been transplanted from a Disney Jungle Cruise destination.
Just enough was left of the foundations and a few walls to get a glimmer of understanding on how sugar was produced. Most of the native Americans in the area died of the diseases imported with the Europeans.
We continued touring by returning to Tomoka State Park and to the statue of Invincible Chief Tomokie, The statue was constructed in 1957 to honor his larger than life. It is constructed of odds and ends of cement block, concrete, wood and bamboo rods, and paint. The rather odd construct sits on high ground near Tomoka Point and tells a story you must see to understand.
Joan always enjoys taking photographs. She travels with two Sony cameras, a larger 6300 and smaller walk around Son.  Neither take a better outdoor photo than her new iPhone 12 Mini. The iPhone takes wonderful pictures under the right conditions, and weighs nothing because it is, after all, a phone that we carry anyway. There is something unique about taking an iPhone photo of someone taking an iPhone photo. I'm convinced that Nikon and Canon cameras are for people who have not yet discovered the IPhone.
Eating has always been one of the high points of Stu's day. After touring Bulow and communing with Chief Tomokie, we decided to drive along Ormond Beach, look at the ocean, and search for the perfect place to eat a late lunch. Joan consulted the oracle of all fine dining, Yelp, and found us the perfect lunch at the Oceanside Bar and Grill in Flagler Beach, just north of Ormond on the ocean-side road. The perfect oceanside table looked over the Atlantic with kites flying to decorate the sky. Joan had a "Love Salad" with grilled shrimp, big enough for me to share the love for dinner. I scored an unforgettable Shrimp and Grits, a nicely flavored combination of grits and blackened shrimp topped with bacon gravy. I didn't quite lick the plate but I did wipe up every last drop with some pita provided for that purpose.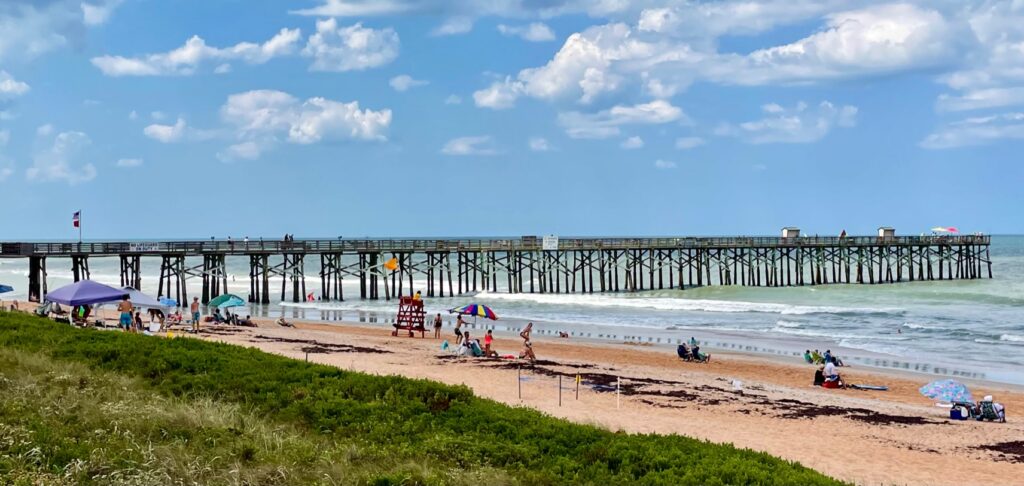 After lunch, we continued North to the Flagler Beach Pier and the beach Flagler Beach is named for. We never miss the opportunity to photograph a pier.
Back in the campground, we shared a light zoom dinner with Sheila and Bob, and zoomed services with Rabbi Billy, Joan's youngest brother, at Woodlands Community Temple. Nice family evening.
From Tomoka State Park, we continued north to Savannah, stopping briefly for a Subway lunch and arriving in time to avoid most of the rain.  Travel North with us by clicking here.