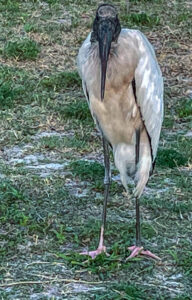 We picked Sebastian Inlet Park because it is a beautiful place to camp. Lots of birds, nice people fishing, families camping and ample space for enjoying the outdoors.
The evening treat was a muster of storks (bet you thought it was a gaggle). These lovely birds are completely tame in the park, walking around the people fishing or just staring at the people staring at them. One of the storks stepped out to take our reservation paperwork and check us in.
This was our first night with the new Gree mini split air conditioner. The trailer is at 75° F, there is no draft, and I can not hear it working at all.
After an enjoyable visit to Sebastian Inlet, we continued North toward Tomoka State Park. On the way we had an enjoyable lunch with our friends Jean and Gary Glenn.  Click here to enjoy the memory of our lunch together.
After lunch we continued on to Tomoka state park.  Join us by Clicking Here.