Meet Winnie, our newest toy, a 2019 Coachman Freedom Elite Ultra Lite travel trailer.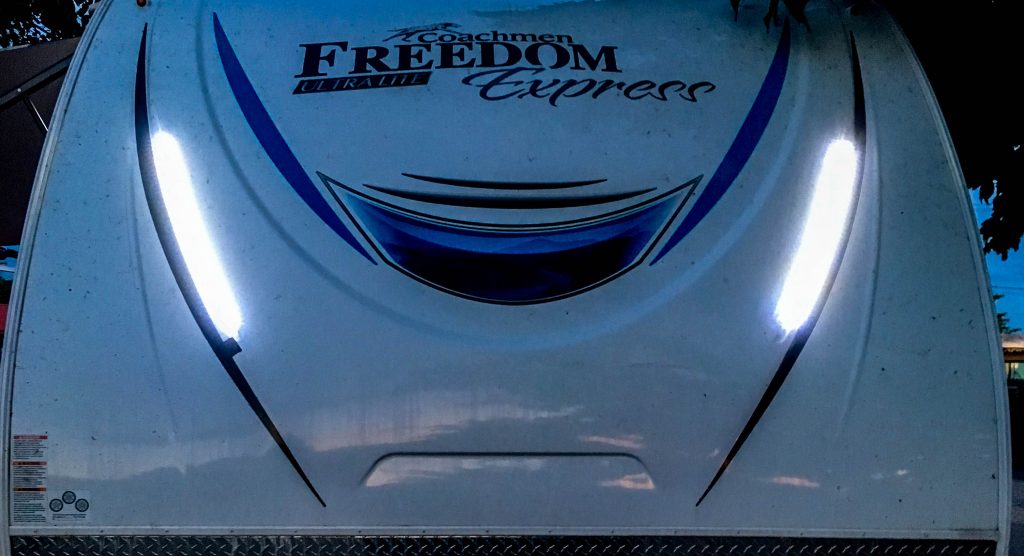 Winnie gives us everything we need to live comfortably. The trailer is air-conditioned, and has a lovely kitchen with a real gas oven, microwave, and stove. The refrigerator is both gas and electric so it keeps food both cool and frozen for extended periods when we are driving or otherwise without power. The Queen bed is quite comfortable with an added topper. The Dinette doubles as a sort of single bed for an occasional guest. The Shower is easily big enough for a comfortable shower with ample hot water (if we remember to turn it on in time), and sufficient water capacity for about two days of luxury water usage.
We are especially pleased with the three hanging closets, one labeled "pantry" and the other two labeled "wardrobes," that offer enough hanging space for several weeks of clothing, plus 11 cabinets, overhead and under counters, for everything else we need. The 3-burner gas stove and oven has baked bread and produced excellent omelets and stir-fry dishes, with the heat being removed by an exhaust fan.
Finally, Winnie trails easily, with the only problem being I sometimes forget we are towing!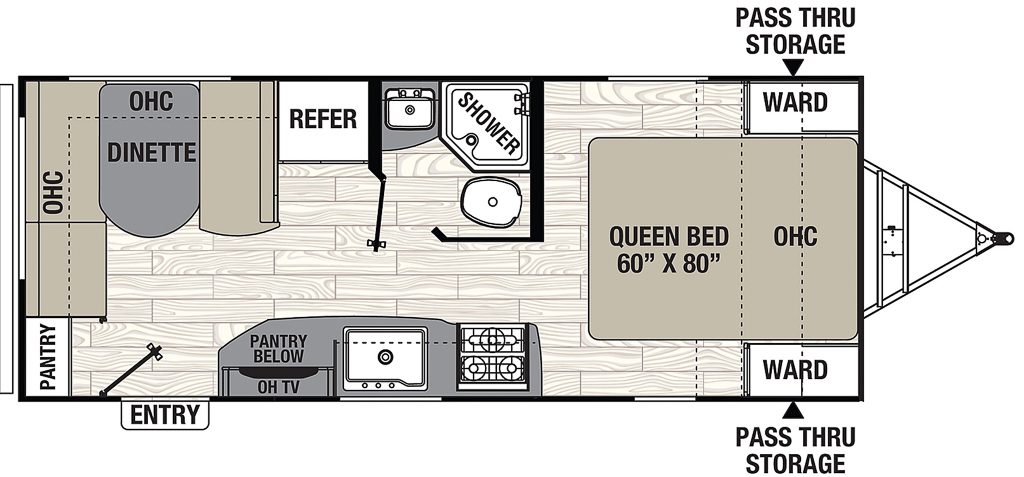 Click HERE to walk around inside.
We felt it was time to expand our horizons from the many beautiful places we explored by boat to the even more beautiful places we are going to explore in our new home on wheels.
We traded our trusty 215,000-mile-old Mazda Tribute for a much newer GMC Acadia Denali with the power to pull a small castle. We selected the Acadia because it was the largest vehicle that would fit into the garage with space left over for Joan's Subaru. Once the trade was complete, we explored travel trailers we could pull and Stu could drive – we were half right.  Driving turned out to be a challenge, but Stu is learning well and our bitten nails are growing back.
The trailer was purchased in Sarasota, Florida. Unlike buying shoes, for example, the trailer purchase ritual requires more than one visit to the dealer – so we invested two weekends in the combined car/trailer purchase experience and we are both surprised we are still talking. We are enjoying our travels.
We had rented 3 motorhomes, all different sizes, before deciding to purchase our own. Winnie, our 165-square-foot travel trailer, is the result. It is 25′ long, including its towing apparatus, the same length as the Shearwater.
Follow our travels by clicking here.