Meet Winnie, our newest toy, a 2019 Coachman Freedom Elite Ultra Lite travel trailer.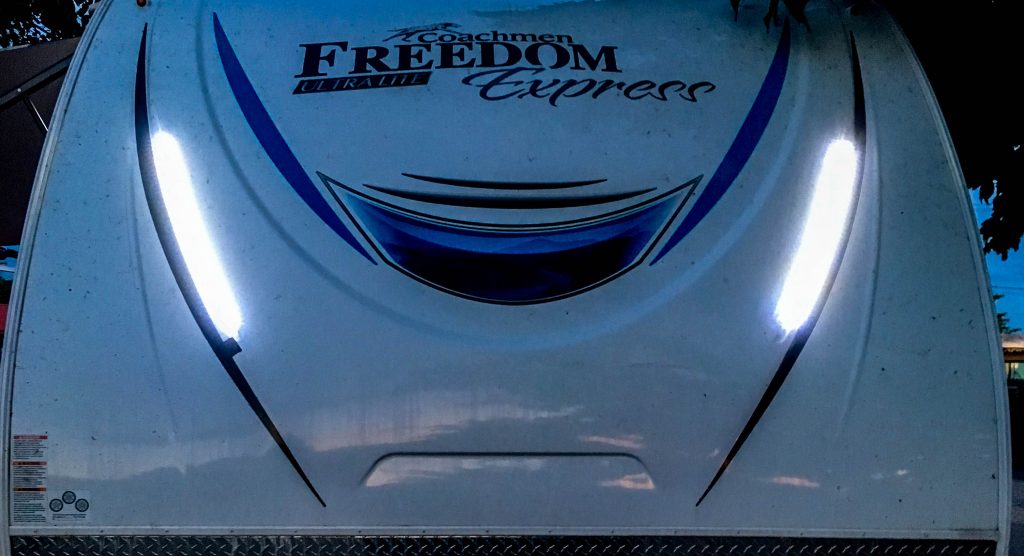 Winnie gives us everything we need to live comfortably. The trailer is air-conditioned, and has a lovely kitchen with a real gas oven, microwave, and stove. The refrigerator is both gas and electric so it keeps food both cool and frozen for extended periods when we are driving or otherwise without power. The Queen bed is quite comfortable with an added topper. The Dinette doubles as a sort of single bed for an occasional guest. The Shower is easily big enough for a comfortable shower with ample hot water (if we remember to turn it on in time), and sufficient water capacity for about two days of luxury water usage.
We are especially pleased with the three hanging closets, one labeled "pantry" and the other two labeled "wardrobes," that offer enough hanging space for several weeks of clothing, plus 11 cabinets, overhead and under counters, for everything else we need. The 3-burner gas stove and oven has baked bread and produced excellent omelets and stir-fry dishes, with the heat being removed by an exhaust fan.
Finally, Winnie trails easily, with the only problem being I sometimes forget we are towing!
Click HERE to walk around inside.
We felt it was time to expand our horizons from the many beautiful places we explored by boat to the even more beautiful places we are going to explore in our new home on wheels.
After we traded our trusty 215,000-mile-old Mazda Tribute for a much newer GMC Acadia Denali with the power to pull a small castle, we explored travel trailers we could pull and Stu could drive – we were half right.  Parking turned out to be a challenge, but Stu is learning well and our bitten nails are growing back.
The trailer was purchased in Sarasota, Florida. Unlike buying shoes, for example, the trailer purchase ritual requires more than one visit to the dealer – so we invested two weekends in the combined car/trailer purchase experience and we are both surprised we are still talking. We are enjoying our travels.
We had rented 3 motorhomes, all different sizes, before deciding to purchase our own. Winnie, our 165-square-foot travel trailer, is the result. It is 25′ long, including its towing apparatus, the same length as the Shearwater.
Winnie came equipped with the usual rooftop air conditioner.  I believe each of the units were designed by frustrated rocket engine designers who felt they must incorporate the draft and noise of a rocket engine operating in a wind tunnel located directly above Winnie's dining table.  Click Here to see how we fixed the draft, noise, and in the process cut our electric cost down by 2/3.
Winnie has reliably served us since purchased in 2019. But, the usual need for new tires after several long trips sent us to a less-than-perfect truck and trailer shop who replaced our tires and over tightened the wheels after inspection and bearing service. Click here to read all about the melted bearings and axle and the adventures of finding and replacing all four wheels, brakes, and their axles.
It is unusual to find manufacturing defects several years into ownership. Our hot water stopped working shortly after Winnie was adopted. The service found and replaced the hot water controller under warranty, no problem at all
This hot water outage was different. The hot water continued to heat with gas, but the electric heating stopped. Turned out to be a bad original connecter that melted, burned out much of the hot water heater electric wiring and could have burned out the trailer, but it fizzled and went out on its own. Read all about Stu finding and fixing the defective wiring by clicking here.
Winnie, we hope, will carry us inland to places we could only glimpse in our 5 years of water travel on Shearwater IV.
Life Before Land Travel
It is sometimes hard to believe there was life before Winnie. But, together we have owned two previous boats and Stu owned many more boats in previous years, starting with a small sailboat at 15.
In April 2019, the Shearwater IV was adopted by a nice couple living on the Chesapeake Bay. We hope they enjoy her as much as we have.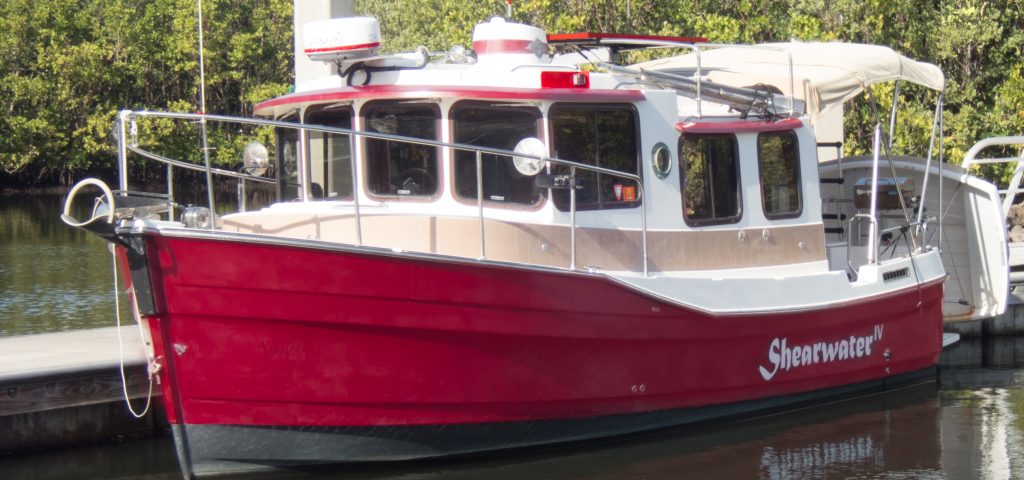 Click here to read more about Shearwater IV.
For downloading and installing the Xender app on your windows PC an android emulator is require. There are many android emulators present in the market. xender app We would discuss the download and installation of Xender app on PC with Bluestacks emulator.