S5 Modernization Costs v3In October 2022, Joan and I "adopted" a well maintained 1997 Rosborough 246 from Bill Hamilton.
Prior to purchase, Joan and I considered various boat options, eventually deciding we would look for an older,  very solid boat and modernize her systems to using current high-end boating accessories. The boat we selected was well maintained by the previous owner. We envisioned a solid boat and with good bones as a starting point for a modernization project.
We actually purchased two Rosborough 246's during our search. The first, a new High Sided Vessel (HSV) turned out to be a bit difficult to walk around it because the steps exceeded our height. We sold that and bought the Low Sided Vessel (LSV), an equally capable boat that we found sized more to meet our needs.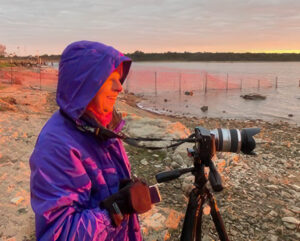 Joan photographed the process as we made our modernization decisions and installed the new systems. Her photography brought the project to life.
Bill carried on La Tortuga's tradition with his newest boat. We also continued our Shearwater tradition through a monohull, two catamarans, and a small "down east" cabin cruiser similar to the Rosborough, a Ranger 25 and call her Shearwater V.
The previous owner provided a detailed equipment list that served as a starting point for our modernization efforts. Click Here to view the pre-modernization equipment list.
Our first task, prior to pickup, was to purchase a new trailer. The previous owner provided an older storage trailer that was capable of shorter local trips but was not really ideal for longer highway transport.  We shopped several trailer builders and decided on Rocket Marine because they were close and could hopefully meet our pickup dates.
The trailer project was a challenge. Even with the previous owner's generous act of delivering the old trailer from Naples to Ft. Myers where Rocket is located, they had trouble adjusting the new trailer to the dimensions of the Rosborough. Joan's tact eventually saved the day and we picked up our new salt water ready $10,050 trailer.
The Rocket Marine trailer is equipped with 4-wheel electric over hydraulic disk brakes, a two speed winch converted to operate with a 15/16″ socket so you can use an impact wrench for recovery, and, best of all, a 4-step ladder with a railing so it is easy to board when launching or recovering. I added low friction bunk slides to factory rails that carry the boat.
The bunk slides work with the trailer guides to place the Shearwater in the exact position for hookup of the recovery strap and safety chain. The bunk slides make it easy to power recover, that is to drive the boat fully onto the trailer so no winching is required. Generally little or no winching is required to launch or recover the boat.
The Rosborough design came from the Pacific Northwest where boats are built to take heavy weather.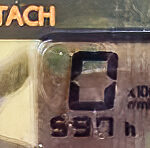 She is fitted with an Armstrong aluminum floatation engine bracket and carries a 2018 Yamaha 150 with 597 hours on her clock. The bracket has ample space to attached a "get home" kicker engine or a dinghy engine if you desire.
Our first stop was Eagle Marine, an authorized local Yamaha dealer for an annual service including all fluid changes, a new water pump impeller and a top to bottom inspection including an inspection of the spare Stainless prop Bill provided. She ran well before the inspection and runs well with confidence now.
Once the engine was serviced, we took Shearwater V, to Murrelle Marine, the local boat shop for bottom painting, detailing, and renaming. I think she is happy with her new name.  Murrelle Marine did an excellent job of sanding, priming and painting the bottom.
While she was being painted, MMC boat detailing gave her a shiny new buffed topsides and cabin top. During this visit, the bow eye was extracted, cleaned, and reinforced with a stainless steel strike plate, carefully bedded with 3M5200. She looks nearly new.
Cleaned, Polished, Trailered and Serviced, the Fun Begins
The boat we adopted was sold, well taken care of, and basic. Much of the equipment such as the stove, refrigerator, and water systems were original and reflected a much simpler sailing style. The propane stove and supply hoses were beyond their safe life.
We undertook a modernization project to upgrade the living systems to meet our tastes. All the fundamental living equipment was modernized with hardware similar to that used in the newest high-end boats.
High on our list is air conditioning. We wanted the boat to be cool, dry and as mold-free as possible. This required either a strong dehumidifier or an air cooled air conditioner capable of good dehumidification even when the Shearwater was not in the water. We store her on land, plugged in, with the air conditioner running all the time.
We shopped for the quietest and most efficient roof top unit possible. Our goal was an inverter heat pump unit, but none were available. The Houghton 13.5 kBtu/hr from Rec Pro came close. The air conditioner is very quiet, fairly efficient and air cooled. It keeps the boat cool and dry without intrusive noise.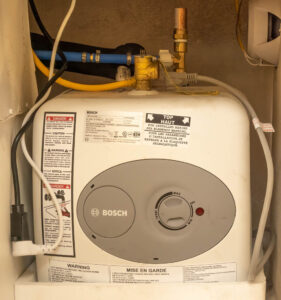 Hot Water: Our first project was the removal and replacement of the water lines, eliminating the old pressure pump, the salt water washdown pump, and  the cold water faucets in the cockpit. The process involved installing new fresh water pump, PEX tubing, a Bosch 4 gallon hot water sink, doubling the size of the galley sink, and installing a temperature controlled faucet and shower head in the head.
We are pleased to have storage in front of the hot water heater. Enough for a coffee maker, some canned goods, and pots suitable for our new induction cooktop.
The Bosch water heater begins producing hot water a few second after power up. Coupled with our Oxygenics low flow shower head, we expect to enjoy hot, comfortable showers.
Cooking and Cold Storage:  
We purchased Shearwater V with the original propane 2 burner stove, original gas plumbing and original regulator. It was approaching the end of the safe life for propane plumbing and Joan was uncomfortable with a propane flame in the cabin. The new warnings about gas stoves convinced us to eliminate all propane and remove the aging gas stove.
After some searching and reading, we determined one surface unit, a HOB, was sufficient for us since we usually prepare single-dish meals at home and were installing an outside BBQ. We purchased a single-unit induction cooker that could be used in the cabin or easily removed for cooking outside if desired. It rapidly heats our favored cast iron and stainless cookware.
We made the decision to purchase a Duxtop 1800 Watt Portable Induction Cooktop for several reasons. The new cooker has both the ability to maintain a preset temperature or a desired heat level similar to a conventional electric cooker.
The selection of an induction cooker rather than a traditional resistance electric cooker gave us a variable power unit that was generator and inverter friendly because the power draw started slow and built to maintain temperature rather than cycling off and on at full power, presenting a more acceptable constant load on the generator.
This unit draws 200 Watts to start and cooks eggs the way we prefer in our existing cast iron pans with just a few seconds of preheat. Since induction cookers vary the heat electronically, the unit does not cycle on and off like our home stove, we have more even cooking.
We replaced the original fridge with a Dometic CRX 110U. A nice, high efficiency 110V/12V unit, about 4 cubic feet, with significantly more space than the original. The cutout removed shows the comparison of the sizes.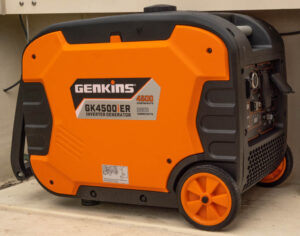 Power to Spare: Between the efficient Rec Pro air conditioning, the Bosch hot water heater, and the induction cooktop, Shearwater V consumes about 25 Amps with everything running. We looked at a small, Honda 2k style air conditioner boosted by an inverter that could work with the generator to make up the power shortfall.
The generator we choose fits nicely on the port side just under the gunwall lip. It operates easily and even has a remote control to start it on a cold morning when necessary. Unlike the smaller Honda 2k choice, this generator supports the entire load and does not require an inverter to carry air conditioning startup.
The new inverter generator isn't much than my Honda 2k that powers my travel trailer and is actually quieter when run at minimum throttle for lighter loads.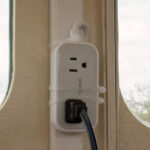 During the modernization process, we added a subpanel to provide the power necessary for the air conditioner, hot water, and stove. As an offshoot of the power upgrade, we added convenience outlets and USB charging ports in several locations on the Shearwater.
New Shore AC Power and Wiring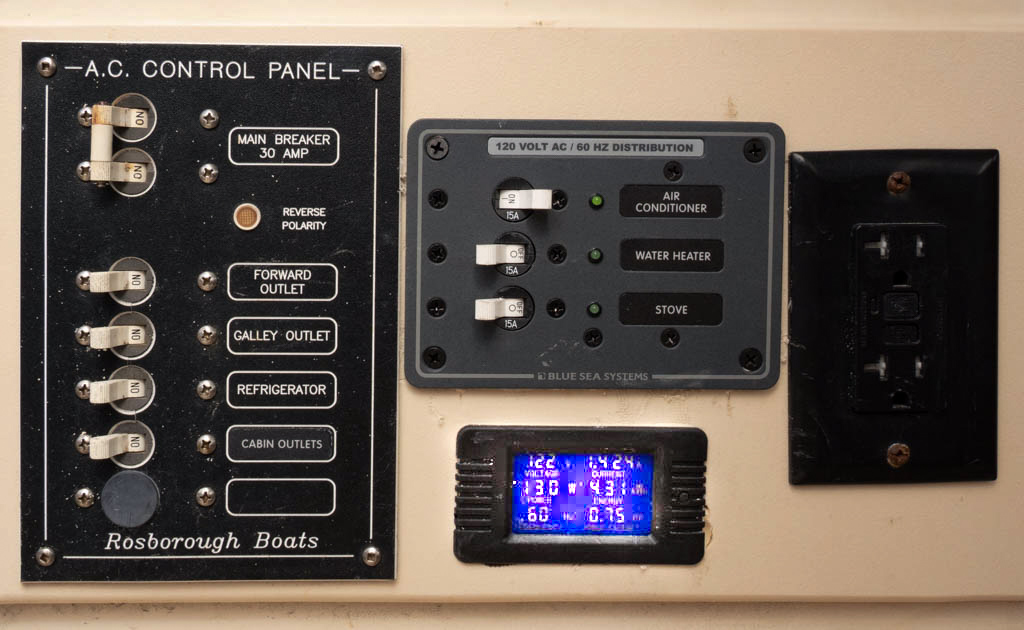 Note the Watt Hour Meter in the center of the electrical distribution area. This is an inexpensive, easily installed meter that measures incoming shore voltage, current, and wattage. It tells you at all times how much load you are placing on your shore power cable, generator, or inverter.
The meter sensors clip on to the 30 Amp dual breaker wires in the upper left. Installation takes just a few minutes. The unit is available from Amazon, for about $20. It is an invaluable addition if you have air conditioning or other heavy draw appliances. The 0.75 Power Factor shown in the above image shows the rough electrical efficiency of the air conditioner compressor and is a good judge of the health of the a/c. The power factor will drop significantly if the run capacitor is ready for failure.
All primary 120 volt wiring was inspected and replaced as needed. Most important, the twist lock inlet plug was replaced with a Smart Plug. The twist lock inlet plug and sockets have proven to be the most dangerous part of the 120 Volt wiring accounting for an unusual number of failures and fires. We have used the Smart Plug on three previous boats with excellent reliability. The Smart Plug positively locks in place and has a self cleaning action on the connectors to keep it working in a saltwater environment.
Window Coverings
We hung rods and made all new window coverings to better complement the new galley, bed and air conditioning. The linen-like material should stay clean and is easily removed for laundering (warm water, light iron if required).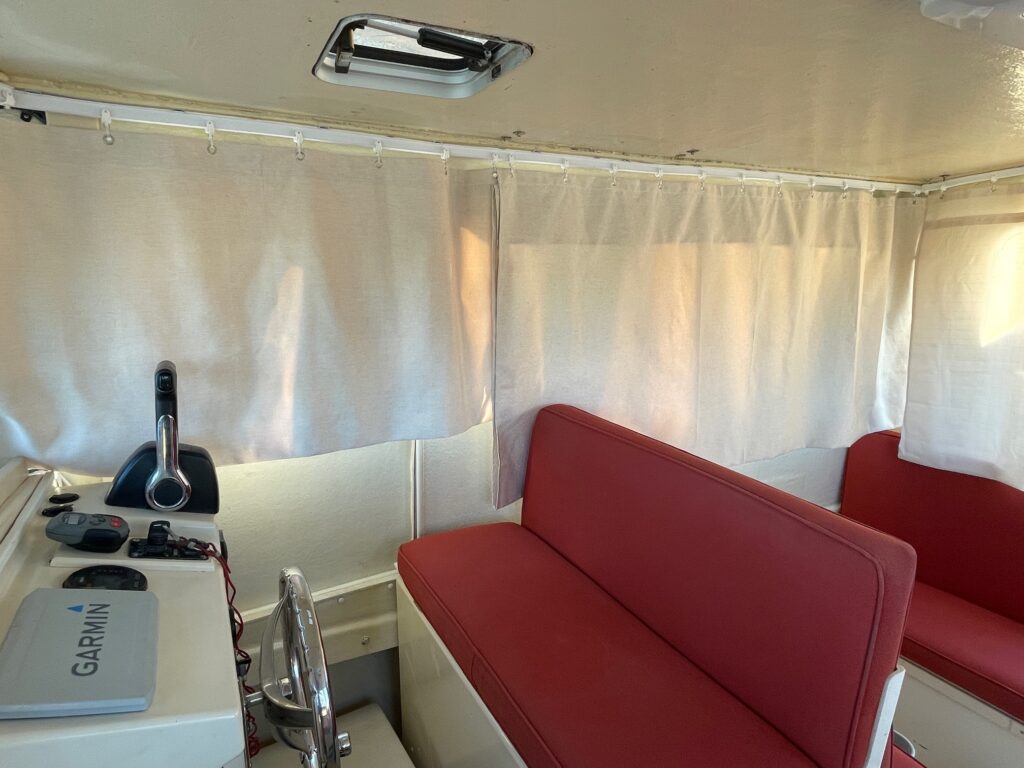 Steering
After service, we did an extended test ride on our serviced, painted and polished boat. During the ride, we determined the factory hydraulic steering up was insufficiently sensitive for optimal docking and backing. We returned to Eagle Marine and replaced the helm station components and hoses, effectively starting over with new steering due to the age and some safety concerns.
The new helm station is now 3 1/2 turns "lock to lock" compared to the 5 1/2 turns of the factory setup. It is more closely matched to the 150 hp engine and provides very precise steering with very low steering effort. We retained the original autopilot after a careful inspection showed it to be in like new condition. We are very pleased with the race-car like steering response and the ability to track a straight course with limited free play.
The Baystar 22.1 Hydraulic Steering ram was fitted in 2000. We had it inspected during the steering rebuild and found it in like new condition. It was flushed, new fluid and new hoses were installed and carefully tested.
The steering used to feel like my Father's 52 Buick and now feels like a high end sports car with properly inflated tires.
All the Rest
We have had the boat for only a few months. Time enough for engine service, bottom painting and major modernization. She was solid when purchased, she is solid now with significant systems modernization.
Joan and I kept records of the Modernization Costs for this project.  You can view them by clicking here.