Shown above is the Amaserena, our home for the tulip cruise.  The photo was taken across the Scheldt river in Antwerp.
J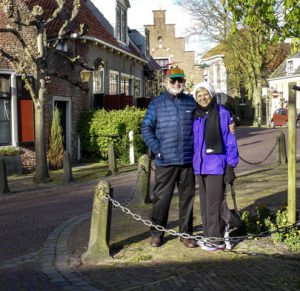 oan and I arrived in Amsterdam after a long flight via Atlanta. We found a city even more beautiful than we imagined, even after having been there a number of years ago. Clean, unique architecture, hydraulic engineering that is the envy of the world, Amsterdam is a city built to appreciate while walking.
No trip to the Netherlands is complete without the windmills.  
Built to pump the water from the reclaimed North Sea,
the windmills still exist as a decorative testimony to the history of this beautiful land.  Click here to see more about the windmills in Kinderdijk.
Florala is a living flower pot.  We traveled the
grounds and enjoyed the flowers, bushes, and buildings both old and new. The trip was a precursor to Keukenhof, smaller with more diversity of flower types.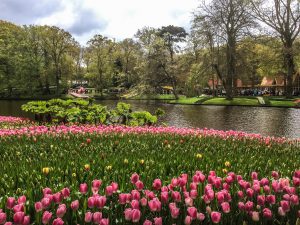 The highpoint of the trip, near the end, was a visit to tulip capital of Europe and the world.  Click here to see more about Florala.
Keukenhof is a working wholesale tulip market that has grown into a major tourist attraction.  Each of the large tulip growers exhibit their flowers for buyers to examine and select to export all over the world.  For eight weeks each year, 50 or more gardeners prepare the grounds for showing. Click here to open the Keukenhof page.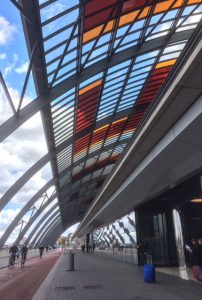 Central Station supports the train, tram, river ferries, buses and thousands of bicycle parking spots. The architecture is typical of working Amsterdam:  portions are old, some is very old, and where necessary, the structure is very modern.
Bicycles are a large part of Amsterdam, providing transportation to nearly everyone with few privately owned cars being used in the city.  Major bicycle parking lots have grown up, especially near the
central transportation hubs and work areas. Cars and commercial vehicles present almost no risk to pedestrians, however bicycles are "born" knowing they have the right of way. Riders are polite, we heard no shouting during the entire trip but we did have a few near misses until we learned to navigate the city.
T
he "lollipops" are the height of the several guided tours included with our cruise.  Once, twice, or even more each day, we gathered in groups of 20 or so to walk or bus to a location nearby the ship's docking port. The tours were informative, well presented, and photographically interesting.  Visit the links on the left to see the exhibits we enjoyed.
Not every structure in Amsterdam was old.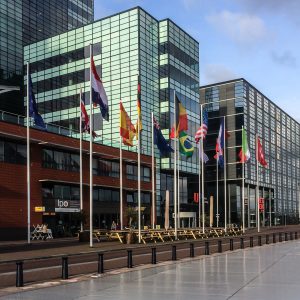 Some were just new and beautiful like the performance venue below.