[You can click on any photo to see a larger version!]
May 30, 2018: Picked up an Outdoorsy rented 34′ Class C RV in Margate, came home and packed, and drove to Lakeland in the rain. Lots of space in the RV, not very clean, and tires that blew out twice during the trip. Stopped at Desert Inn, Yeehaw Junction, for a late lunch. Great chicken Caesar salad for me and even better crunchy fish sandwich for Stu  with freshly made onion rings.
Just a drizzle when we arrived in Lakeland at sunset. Drove directly to Florida Polytech University and took lots of photos in a light drizzle. Very beautiful at sunset. Then to Lakeland RV resort for the night.
May 31, 2018: Drove to Homosassa Springs wildlife park and took their boat to the main entrance. Wonderful 1-mile walk around the park viewing all kinds of wildlife –  particularly liked the hand-feeding of the hippo. Gopher tortoise demo and then manatee demo, feeding of whole heads of lettuce. Underground viewing area called the fishbowl. Cool place to watch the manatees. Then to the Homosassa RV resort for the night. Stu made wonderful shrimp and scallops with lots of cooked onions and sesame ginger sauce for dinner – with a salad from the Boys.
June 1, 2019 got up early and headed north for a 6 1/2 hour drive to Fort Pickens. Stopped in a parking lot in Perry and found that the refrigerator door had opened on route and the food had fallen on the floor, including six eggs all with cracks in them. Stu made us delicious omelette tacos for brunch. He had planned to cook the eggs even before they fell and cracked. We had dinner aboard the RV at the Fort Pickens RV Campground, wandered around the old Fort, and saw a beautiful sunset from the pier near the Discovery Center.

June 2, 2018 Drove to Pensacola to climb the Pensacola Lighthouse and visit the amazing National Aviation Museum.
Then we drove to the Fort Morgan RV Campground.
June 3, 2018: Up and out early to drive to the ferry from Fort Morgan to Dauphine Island. Had to wait an hour for the next ferry that could carry our large RV, so we had time to visit the fort. Quite impressive – from 1812 but well preserved.
After the ferry ride, we stopped at the Shed for a delicious lunch of baby back ribs, recommended by a friendly ferry passenger. Then on to NOLA.
Pulled into our RV site at Pontchartrain Landing at 3:37pm, with 8 minutes to catch the shuttle into the city. Somehow we made it. Had a wonderful time in NOLA, ferry to Algiers and back, dinner at ??? and a long stroll down Bourbon St. – uber back to the campground- because not ready to go back on the last shuttle at 8pm.
June 4, 2018: 10am shuttle back to the city for a day of Hop-On Hop-Off touring. Fascinating city, so much to see and enjoy. Started with beignets for Stu at Cafe du Monde. Took the whole narrated tour of the Hop-On Hop-Off bus, then went around a second time getting off where we were most interested in seeing more. Lunch at the lovely Bistreaux Restaurant (Stu Caesar Salad, me a Strawberry Pecan Goat Cheese salad with grilled Gulf Shrimp) in the Maison Dupuy Hotel. Walked for hours and had a light wonderful dinner at the Palace Cafe – shrimp remoulade and turtle soup.
June 5, 2018: Left early for Baton Rouge with plans to stop at Walmart and then visit the rural life center on the way to the RV camp. But after Walmart the weather got stormy so we parked in the lot of the rural life center, and Stu made delicious omelettes. Moving along, we ran into two really bad accidents with barely moving traffic for miles. We decided to head for Lake Charles and got a spot at the Cooling Springs RV park, which claimed that all RV sites were on a beautiful lake. However, there was no lake – instead, back in the woods there was a pond that served as drainage for the community septic system. Still we enjoyed a lovely RV park sunset.
June 6: Drove to Bolivar Peninsula, TX. Ate lunch at the Ocean Grille, Crystal Beach – panko catfish, shrimp tacos. Drove to the end of the peninsula to check out tomorrow's ferry and to find a beach. Found one next to the ferry entrance.  Resourceful Stu came upon a broken umbrella and fixed it enough for us to sit in its shade.
June 7, 2018: Took the early ferry to Galveston, and had lunch at Olympia Grille at Pier 21 – sat outside on the ICW with view of oil rigs – great lunch of Avocado Greek salad with grilled shrimp for me – Stu enjoyed another meal of fried catfish.
Walked around the beautiful historic area of Galveston with new stores in very old buildings – found the opera house that Stu remembered from the old days – a shadow of its former self outside, but I got the box office lady to let us go inside and take photographs. Lovely inside. Walked around town more – Stu was ever so patient as I took photos of this beautiful city.
Then at 5pm we drove to the Galveston Island State Park RV camp – with a view of the bay.  Exhausted from so much walking in the sun and heat – one hour nap and then Stu drove me back toward the city so I could take pictures at the Pleasure Pier. Lots of fun.
Stopped at Walmart on the way back to the camp for gas and list. Got Chicken Caesar salad for dinner – we enjoyed it. Got back to camp just after the sun set, but it was still beautiful. Tomorrow to Austin.
June 8, 2018: Drove to Austin – dinner at Deserea Pizza with Josh and Jacob. Jacob has grown significantly since we last saw him.  He is now taller than Joshua.
During our stay in Austin, we RV-camped at the Emma Long Metropolitan Park, a large municipal park in northwest Austin, Texas on the shores of Lake Austin. It was lovely there, chosen by Rebecca.
June 9, 2018: Sierra's second birthday party.
June 10, 2018: "Climbed" (walked up the rocky path) to the top of Mt. Bonnell, hoping to see the sun set across the water. The clouds rushed in, but it was still a beautiful spot to spend some time.
June 11, 2018: Visited Bull Creek Park – wonderful place for adults and children alike.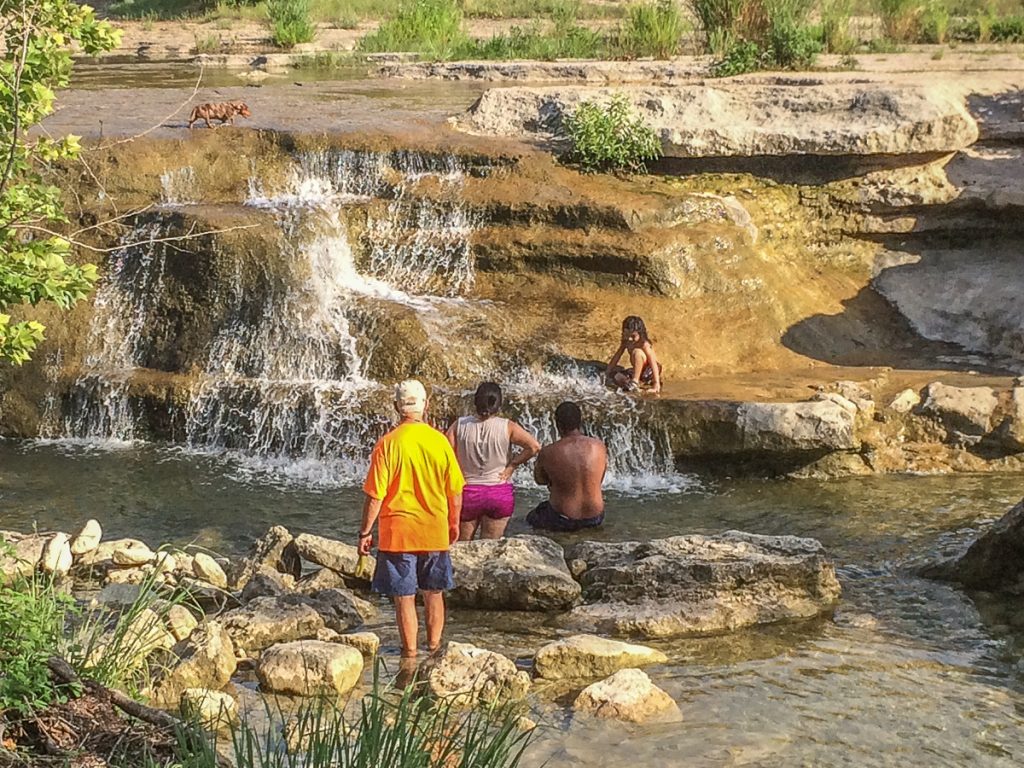 Then to Stu's birthday dinner at Shirley's home, with Josh, Stef, Rebecca, and Shirley of course. Delicious prakas dinner to celebrate Stu's birthday, with our salad, Stef's bread and bourbon birthday cake with ice cream. Wonderful gifts mug with photos of Shirley, Nicole, and Justin from Shirley, and tool kit from Josh.
After dinner we drove to Landa RV Park near Schlitterbahn – to be ready for the next day.
June 12: Wonderful day at Schlitterbahn water park with Stu, his 3 children, and 2 of his grandchildren (Jacob and Sierra). Stu rented a cabana so we would have a meeting point, and lunch was served to us there – pizza and chicken sandwiches. Lots of fun at the park. Even Sierra loved the rides.
When we got back to our camp site, Stu grilled lamb chops for the 2 of us.
June 13, 2018: For Stu's birthday, we decided to head back to Galveston Island State Park for another Schlitterbahn day the next day.
Had a wonderful dinner (and sunset) at the Waterman Restaurant – on the water.
June 14, 2018: Another great day – at Galveston Schlitterbahn, Joan braved the Raging River herself while Stu went on other rides.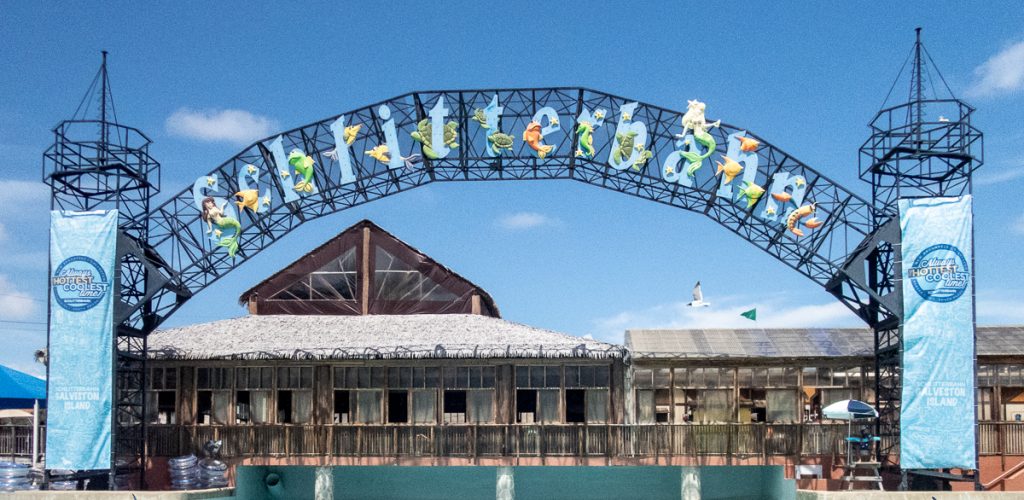 Then we drove and ferried back to the Bolivar Peninsula – this time to the Bolivar RV Resort. Had dinner and sunset at Stingaree Restaurant. Loved it.
June 15, 2018: Seriously driving east now toward home. Headed to the Pine Crest RV Park in Slidell, LA.
June 16, 2018: Drove to beautiful Destin, FL. Stayed at the "5-star" Henderson Beach State Park. Spent the afternoon at the beach. Even got to see a beach wedding.
June 17, 2018: Reluctantly left Destin and drove to Faver-Dykes State Park. Had an RV malfunction on the way – a blown-out tire. It lost its tread. We didn't know until then that the tires on the RV were all different and none were suited for the load they carried. We called AAA and got help within the hour. The tech put on the spare, but cautioned us to stay under 50 mph, which we did. Stu loved Faver-Dykes State Park but it was too isolated for me. Miles from the road.
June 18, 2018: Drove to Melbourne, lunch with Glenns, then drove to Sebastian Inlet – enjoyed a swim in the Inlet water, and then the sunset (got permission to move from 41 to 57 to be near the water).
The second tire failed just before lunch time. Gary Glenn and I put some sealant in it since it was only leaking slowly.  On our way home from Sebastian Inlet, we stopped at a heavy duty tire place to top off the air. The tech refused to fill the tire, explaining it was coming apart because it was overloaded for its rating. He suggested driving home at 35 mph, an activity we enjoyed immensely since we went by the water and were in no hurry.
June 19, 2018: Goodbye to beautiful Sebastian Inlet, but stopped at just-as-beautiful Fort Pierce Jetty Park.
Then on to Blowing Rocks. Heavy layer of seaweed kept waves from splashing high (up to 50' it said), but still a pretty place with splashes of just a few feet high.
On the way home at 35mph we found a large parking spot near the Lake Worth Casino and each enjoyed a slice of pizza at Mamma Mia's on the Beach. A fitting end to a wonderful trip.