Stu visited Shirley's family from his camping locations on S. Padre. Shirley had organized a lovely 9th floor 2-story suite on the 9th floor with a view of both the Gulf of Mexico and the bay. This was excellent because fireworks were alternately held over two days, some on one side and some on the other.
My first park on S. Padre was Isla Blanca State Park is located on the point where S. Padre Island meets the Gulf of Mexico at the Brazos Santiago Pass. The Gulf is usually very calm and the pass is normally equally calm, but in the Winter Storm Season, it can become dangerous. The memorial in the park pays tribute to the people who were lost entering that pass in a dangerous storm.
Our family tries to vacation together whenever we can. We enjoy cooking and enjoy eating and talking together. Shirley, Justin, Nicole and I each made a dinner. I enjoyed them all.
Everyone had two helpings and there was still enough for lunch the next day.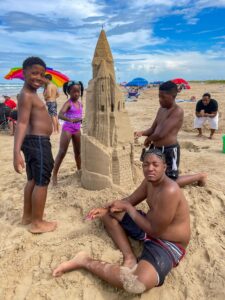 Beach lovers know there are a variety of different types of beach sand. The beach at S. Padre island is known for hard, dense sand that holds moisture well and is suitable for significant sand castle construction. These static figures take hours to days to build and seldom survive high tide. After my first walk on the beach I was eager to begin work on my project, but I quickly found a shovel was needed to penetrate the hard sand.  Stay tuned.
Continue to McKinney Falls and Austin with Stu by Clicking Here.
.