C.B. Smith Park is a varied destination RV resort with Golf, Water Skiing, Hiking, Bicycle Trails, and dozens of large shelters for families to celebrate birthdays, occasions, or just being able to go outside after the major COVID isolation.
The RV Campgrounds are uncrowded, with lots of shade and full hookups. The park is very, very clean, quiet and close to nature, with kayaking trails that almost take you away from the highway noise but not quite out of sight from civilization.
Flamingo Gardens Park was a joy to visit. COVID made it nearly empty so we parked one spot from the entrance with never a line for anything we wanted to see. Our first sighting was the flamingo pond. The flamingoes seemed happy to share their pond with flocks of white ibis.
In addition to the Flamingos, we were close up to Peacocks in their best showoff mating plumage. We particularly enjoyed the Peahens and their newborn checks.
The yearling Peacocks were showing off their not yet mature plumage and practicing prancing around us for the day sometime next year when they work to attract a mate. The adult peacocks gladly displayed their beautiful feathers for us.
The Wray Home Museum, part of Flamingo Gardens,  is free with admission. Built in 1933, the original weekend residence of Floyd and Jane Wray has since been restored to provide visitors to the Gardens a glimpse of life in South Florida in the 1930s.
The Sufrat Mediterranean Grill just met my taste for a late lunch after the hard work of exploring Flamingo Park. They have clean, outside seating with very attentive servers and food served fresh and piping hot. We split the Sufrat Sampler (2 kibbe, 2 falafel, 2 grape leaves, Hummus, Baba Ghanouge, and fresh pita) and found it sufficient for our entire lunch. The kibbe had to cool a few minutes before I could enjoy the lovely taste and we were surprised to find the grape leaves hot and freshly made. Since we had no idea of portion size, we also ordered a shrimp Greek salad, again enough for us to share for an entire lunch, and a Kafta Kebab with still more Greek salad. The Kafta were hot-dog-like kabobs skewered on long sticks. They were lick your fingers good.
We had leftovers for dinner. Just as good as lunch.
The next day we went to Miami Motocross. Just like the real thing in Daytona, the Miami track is small, family oriented, and so informal we could walk along the track and take photos anyplace we wanted. There is actually more than one track at Miami Motocross:  One is reserved for racing and is as exciting as the bigger tracks.
The other is just as interesting, a training track where people as young as 4 take smaller dirt bikes around the loop with smaller jumps and parents strung around to ensure someone doesn't jump on top of the fallen riders. It was hard not to laugh when a father helped his child get on the bike and held the seat until the child got up to speed. Remember, these were real motorcycles with real engines and real fireproof outfits, chest safety pads, racing boots that were bigger than some of the smaller kids, and lots of proud and happy parents.
Next time, Stu will take a longer lens as Joan did; his photos came from his new iPhone 11 mini.
An unexpected event at the Miami Motocross was the landing of a large helicopter to take an injured rider to the hospital. Apparently, the most serious problem was the rider's claustrophobia that required the substitution of the helicopter for the ambulance and rescue fire truck that arrived first to assist him.
The rider didn't appear seriously hurt and the track used the time to spray water and lower the dust.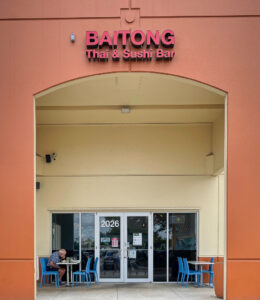 Our second dinner was actually a late lunch at Baitong Thai and Sushi Bar in Pembroke Pines. I had a delicious lunch combination plate of Pad Thai and Spicy Shrimp Sushi.  It was a very generous portion of flavorful Pad Thai with sufficient shrimp to take home a dinner of shrimp and two sushi.  Joan had a  lunch combination of Bagel Sushi and Vegetable Sushi. Between us we had a full lunch meal and a light dinner to enjoy back on Winnie. We will go there again.
Nice weekend.