Hi. Thank you for following us and our travels. We enjoy your company. You can reach us at joanstu@shearwater-sailing.com.
Joan and Stu met in 2014 and liked each other right away. I'm not sure either of us understood the attraction since Joan is neat, responsible, well dressed and enjoys fine photography while I am less neat, tend to work on projects like engine rebuilding and aspire to clean in my dress, so my clothes only match whenJoan pairs outfits in our closets. I believe we are better together because of our differences – the colors match and everything works.
Joan and Stu jointly own and operate this site to record our travels, memories and excitements. We appreciate your comments.
The Gabe Goldberg Relationship Test
Early on in the relationship, Joan agreed to take the "Gabe Goldberg Relationship Test," a big risk showing bravery on her part. Gabe had introduced me to Ethiopian food years ago at a technical meeting. I enjoyed it, continued to meet Gabe for dinner, and shared stories for several years. Gabe was, I'm guessing, approaching 50 when he met his soon-to-be wife, Kim. His seminal requirement for a relationship was the prospective candidate enjoyed eating the generally lamb and beef based finger food served with injera, a flat Ethiopian bread instead of a knife and fork.  Kim, a long term vegetarian, rose to the occasion, ordered every vegetable on the menu and Gabe immediately married her. We look forward to meeting Kim and Gabe for dinner whenever we are in the DC area.
Joan isn't a vegetarian but does lean toward fish-based dishes when we go out. On our first date at Queen of Sheba she suggested a fish dish, Asa Tibs, as one of our "meat" dishes. Everything is served on a single plate the size of a pizza dish that is covered with injura. We dug in and I believe Joan enjoyed the lamb as much as I enjoyed the Asa Tibs fish. The local menu has fish, beef, lamb and chicken plus ten or so vegetables prepared in various sauces. We are sorry to see Queen of Sheba closed for Covid and hope she returns soon.
Joan passed the test with flying colors. We try to find an  Ethiopian restaurant wherever we travel and frequent the only Ethiopian place in Palm Beach.
Stu just came from a trip where he and his granddaughter Nicole and her new friend Carl to an Austin Ethiopian place for his Gabe Goldberg Relationship Test to see if Carl might join our family some day. Nicole warned him to wash his hands before coming to dinner. He dug in, we cleaned the plate together, and he passed. Carl is quete good to Nicole, but I suppose the future is up to him and Nicole.
Stu Became a Moose
We joined a Moose Lodge in Winter Haven in mid-2022. The lodge offers excellent fresh water access, a good home for Winnie when not traveling, and a smoke-free place for an occasional dinner. A welcome benefit has been meeting a significant number of nice people who like the water, enjoy outdoor activities and are united by their charitable efforts to help children.
Shearwater V, Our Latest Pocket Cruiser
In early October, 2022, we purchased La Tortuga, a 1998 Rosborough 245 LSV (low sided vessel). Read more about Shearwater V by Clicking Here.
You can read all about a major modernization project to add air conditioning, new plumbing and hot water, induction cooking, a larger, modern fridge and much more by clicking the above link.
TwoTo Tango returns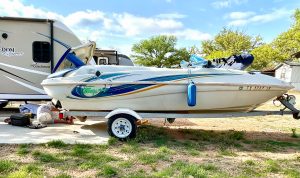 In 1999 Stu purchased an overgrown jet ski to zoom around the Lake Worth area. After many evolutions, TwoTo is back with Stu, in great running order, as he happily explores Lake Buchanan and the Florida Chain of Lakes.
You can read all about TwoTo by Clicking Here.
Shearwater IV, a Small Power Trawler
We purchased our first power boat, a Ranger Tug, and named her Shearwater IV. It was a smaller 25′ version of the Down East fishing boats that are so popular in Maine.
Joan and I shared lots of time on Shearwater IV. We loved to go out to dinner, sail up to the dock at the Broward Center for Performing Arts for a show or concert, and visit with friends. We made several trips across Lake Okeechobee to a Ranger Rendezvous, and a trip South on Florida Bay from Fort Myers to the Keys.
On the trip to the Keys, our Tug actually got to tug. We were traveling with another Ranger Tug when our friends experienced engine failure. I towed that Ranger to her home port in Marathon where she ran briefly before failing again and being towed in by SeaTow. Our first and last tow.
Finally, we sold the Ranger because the local shop was reluctant to work on the engine any longer in such tight quarters.
To read more about Shearwater IV, click here.
Winnie, our Travel Trailer – Life After Boating
We were not ready to give up traveling. Joan and I rented a few motorhomes to see if we enjoyed the life. We did, and started looking at Travel Trailers because we wanted our car to do double duty and give us a way to unhitch and see the local sights on our trips.
We ended up trading our 250k miles Mazda for a 2012 GMC Acadia Denali SUV. It was the largest car we could find that would fit in our garage. Once we purchased the car, that determined the largest Travel Trailer we could tow.
We adopted  Winnie, our new Travel Trailer,.  She has lots of room for the two of us and a very occasional guest who wants to sleep on the dining table.
After a year of travel, we traded the GMC Acadia for a 2018 GMC Yukon, a more powerful car that has an easier time pulling Winnie. Since it isn't working quite as hard, our new rig gets slightly better gas milage, an impressive 12 mpg!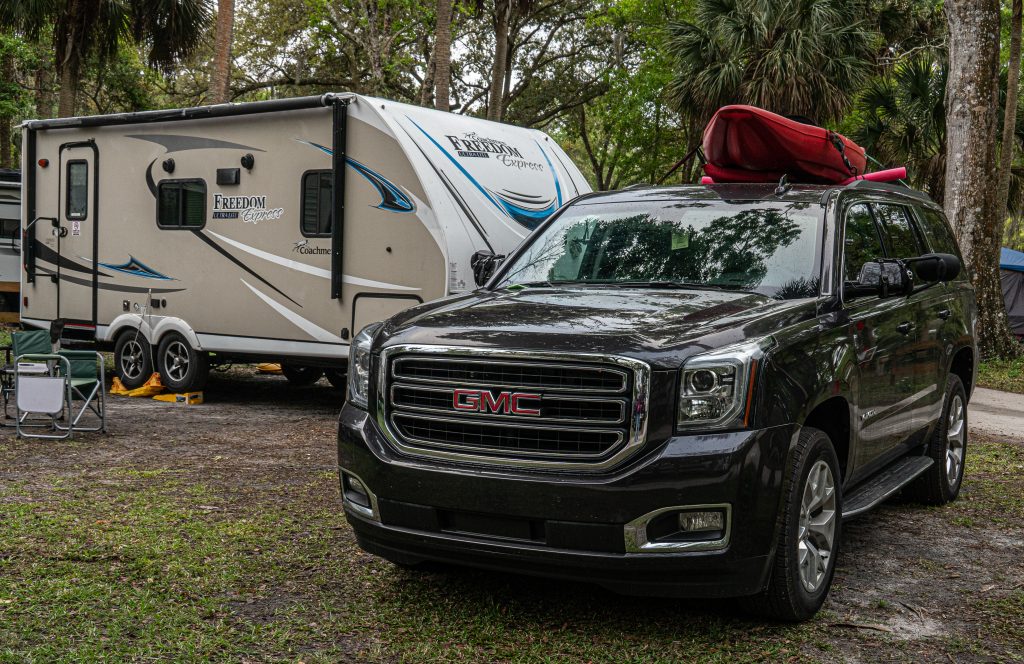 Read more about Winnie by clicking here.
Stu had the Shearwater III when we met and took our first few trips together.
Read about Shearwater III and Stu's Previous Boats by clicking here.