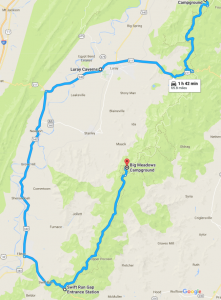 We left Mathews Arm bound for Big Meadows with some anticipation and trepidation. The Big Meadows area is the most tourist oriented part of Skyline Drive and contains a large welcome center, a picnic area and the dreaded Marys Rock Tunnel.
Marys Rock is slightly shorter than the motorhome is tall. Even if we let the air out of the tires, we will still scrape rock by about 6″, placing our damage deposit in serious jeopardy.
So, being prudent, we exited Skyline Drive at Thornton Gap, detoured via Laury Caverns, and re-entered the drive south of the Marys Rock tunnel.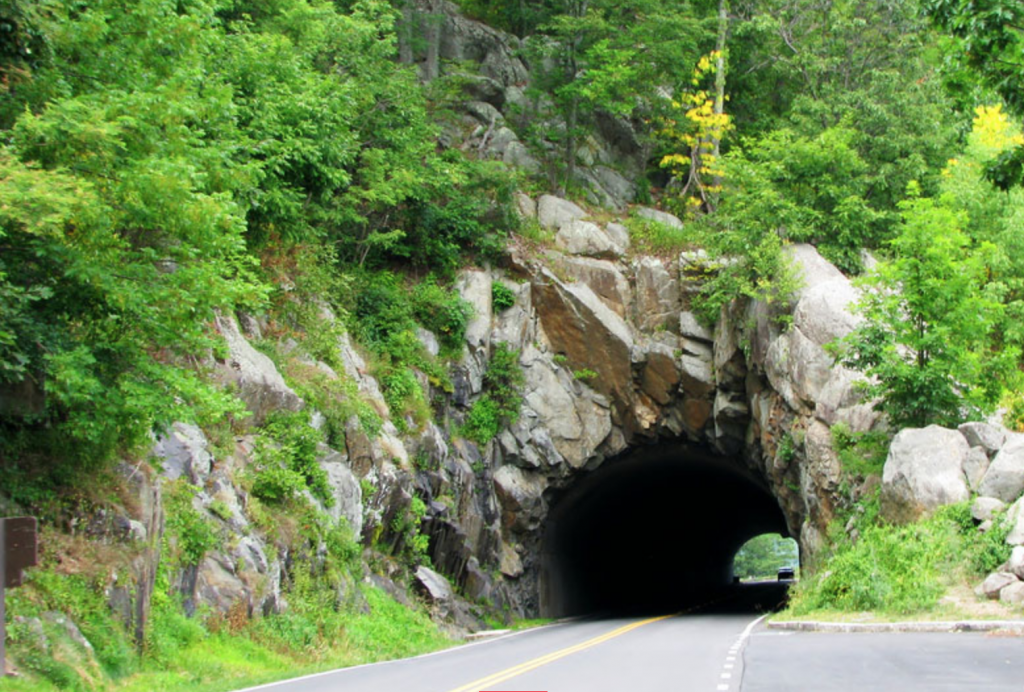 About 45 miles of detour, worth every inch since it eliminated filling out the damage paperwork. Unfortunately, we missed the view of the tunnel (provide by NPS for our convenience), and several of the overlooks. We also missed the tunnel overlook on the South side after being told that turning our motorhome around at the tunnel entrance would "be a challenge."  I felt challenged enough just driving the beast in straight lines.
The surprising high point of this detour is Luray Caverns. We took the guided tour early in the day when it wasn't busy. The trip took about 90 minutes and included an organ "concert" on an organ that was constructed to hammer on various cave formations. Surreal doesn't begin to describe the sound.
The narrator said there were frequent weddings held in the organ "ballroom."
Over the years, formations were removed from the caverns when the guides encouraged or permitted tourists to take home souvenirs. The formations are now strictly protected, including changing the lights to units that do less damage.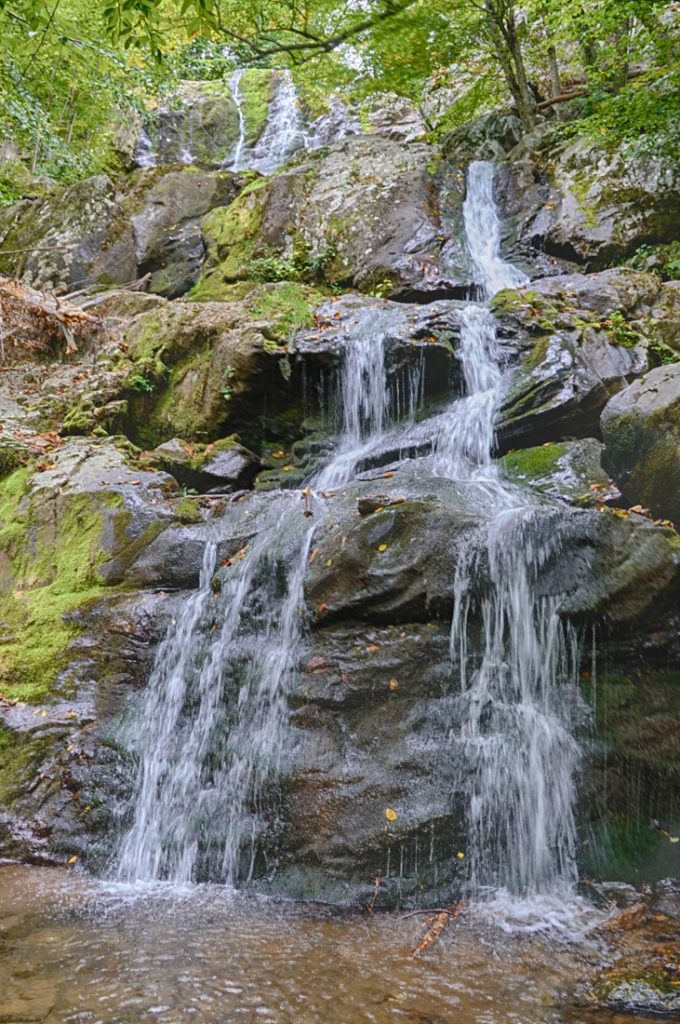 Near the Big Meadows campground was Lewis Falls, the nicest waterfall we saw during the trip. As we finished the round trip hike to the falls, we came on a nice man hiking with his daughter, a girl of about 14 who was clearly missing her video games. We met up with them in the parking lot and they were obviously lost. They were chatting with the Park Ranger, trying to figure out where they parked their car. The girl was taking it very well.
Turns out, there are two parking lots for Lewis Falls.  We, and the lost man and daughter, were at the lot at the head of the trail. The man's car was at the Big Meadows parking lot, just a short distance away. Once everyone figured out the mystery, the ranger drove them back to the lot to redeem their lost car.
We continued on Skyline Drive, pausing at the many scenic overlooks to enjoy the views, feeling all the time they were meant for us.
Continue our travels to Loft Mountain by clicking here.