The trip from Pennell's Marina to the Soverel Marina near PGA boulevard is normally routine. Lovely homes punctuated by over a dozen bridges that are high enough for our Ranger Tug to travel under with no difficulty or waiting for the bridge
 to open. We enjoy the view as we go under, unimpeded.
Lately, this has changed. On weekends, President Trump is in residence at Mar A Lago, private club where anyone rich enough can rub e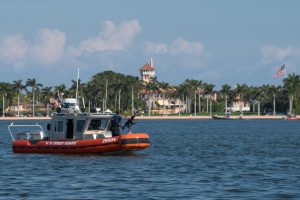 lbows and share state secrets. During this period, several armed USCG patrol boats are stationed in the Atlantic Intracoastal Waterway to protect the National Command Authority from attack by sea. That is us! When we travel this route, we are approached by the boat in the photograph (taken with permission) and escorted until we are out of range of Mr. Trump.
Nice to be protected.
Everything in Florida is attacked by salt. Especially the balcon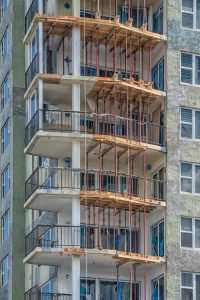 ies on the expensive condos facing the ocean. After several years, the small sum the builder saved by not using rust resistant reinforcing rods causes the concrete balconies to begin to collapse. Think of this the next time you step out of the door of your 12th floor condo.
Ultimately, the condo operator has to remove the balconies, replace the defective metal, and reinstall the concrete. Hopefully they used treated concrete and rust resistant rods this time.
While this is happening, I look at the tall buildings and consider what would happen if a prank kid removed a rod from the bottom balcony.
Soverel Marina is located in North Palm Beach, just north of PGA
Boulevard, It is about the right distance from home for a comfortable stop when going North after a mid-morning start. The marina has easy to access floating docks with 24 hour security and access to places we like for dinner.