July 27: Drive to Boardman
We drove parallel to the Columbia River where we had just been cruising. The Historic Highway, a portion of US 30, is a winding narrow road following the old Indian trails. When built, it was a major transportation advance. Today, it is a challenge to drive with Winnie, our travel trailer.
We stopped at nearly every scenic pull-out, or at least the ones that fit our rig. Joan took photos everyplace; many are included here. Among my favorites are photos of Joan taking photos. She is happiest behind a camera.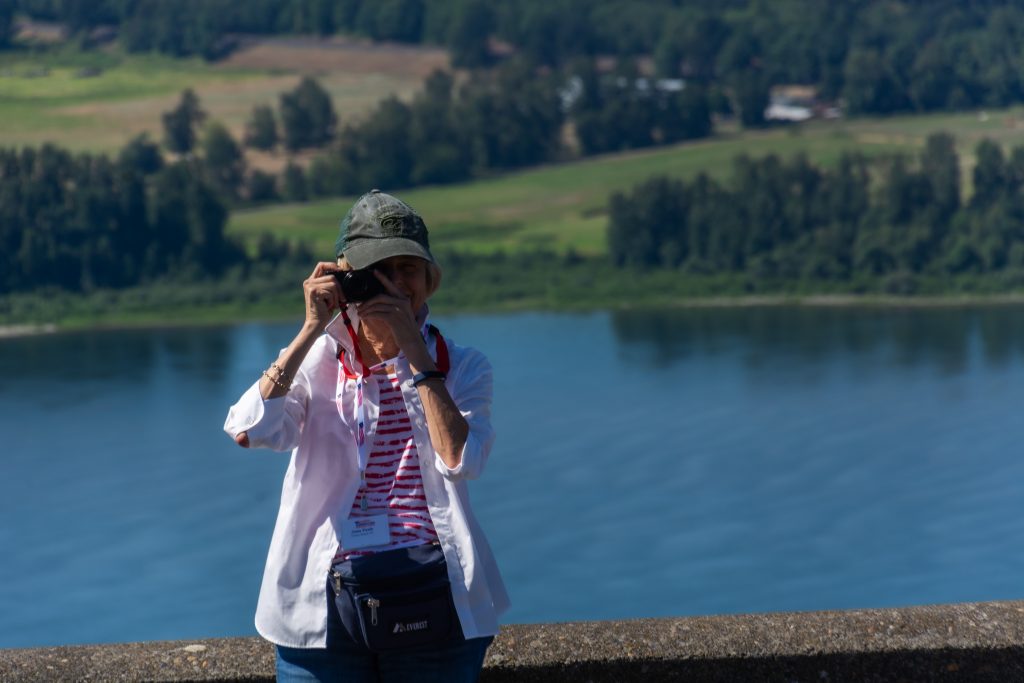 The cruise included a brief stop at the Vista House, a locally known landmark that was built to show off the view of the Columbia River. We stopped at the Woman's Conference Center, just downstream from the Vista House to get an even better view of the Vista House.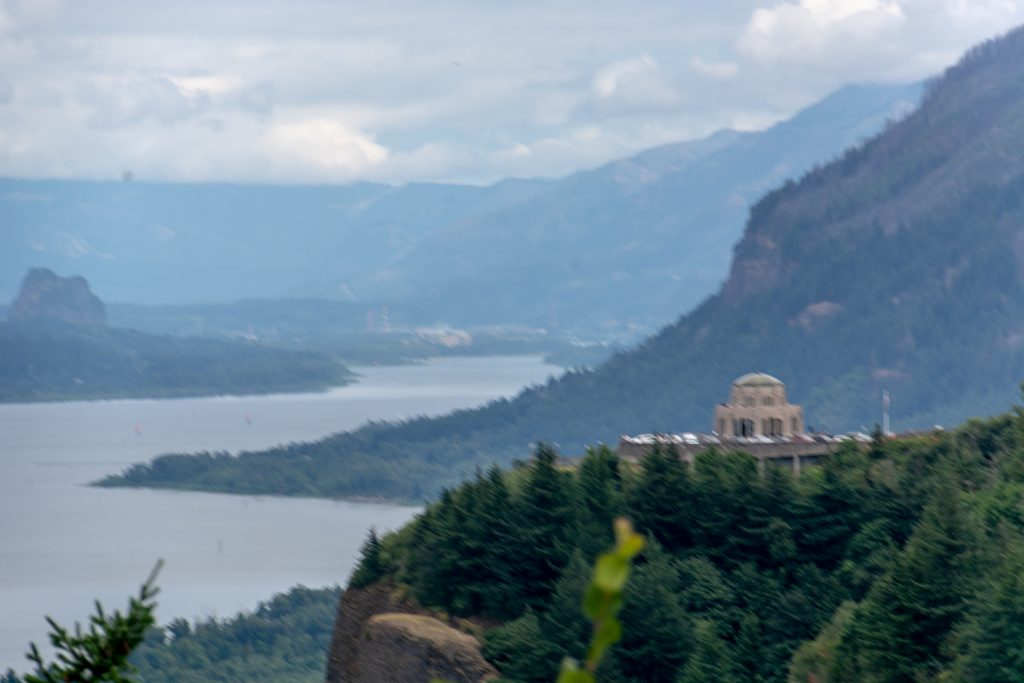 <more travel here?>
July 28 to 30: The Palouse
We left Boardman early, eager to get to the Palouse Falls.
Palouse Falls is striking. Approached from ground level, the feeling of size is almost more than I can describe.
We climbed to the top of the rim for an even more outstanding photo of the rim, the rocks, and the rainbows (one on the left and one in the right shadow). Beautiful: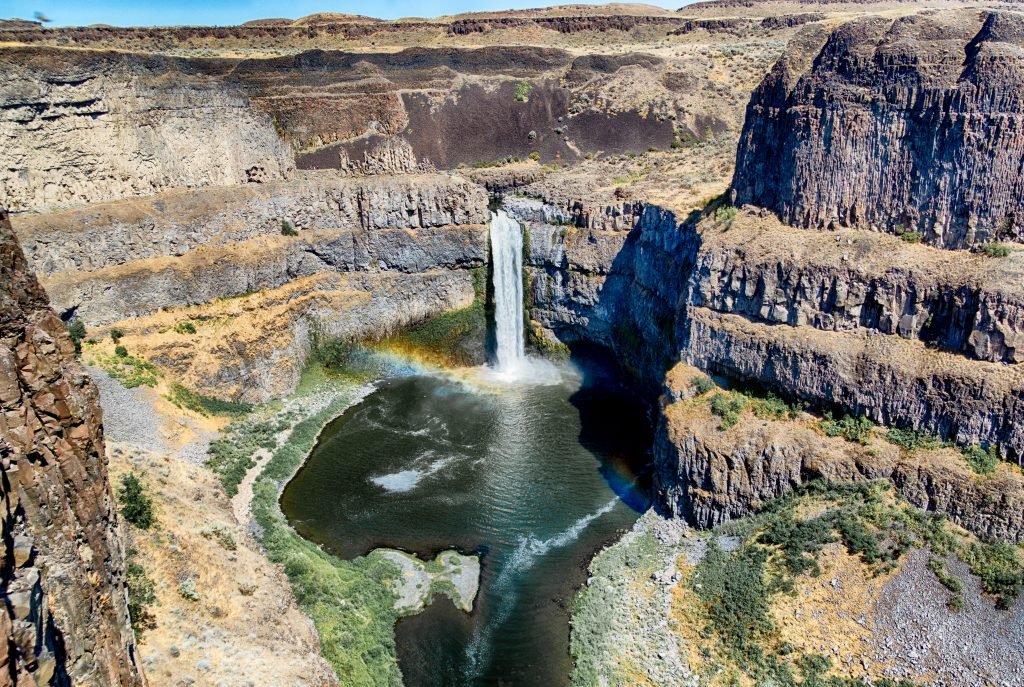 Sometimes when I travel I see things that makes me think nature has a sense of humor.  My Mother and I used to sit by the ocean edge picking up handfuls of wet sand and making drizzle castles. I can picture Mother Nature sitting alongside her kid and playing with the rocks.  This would be the result.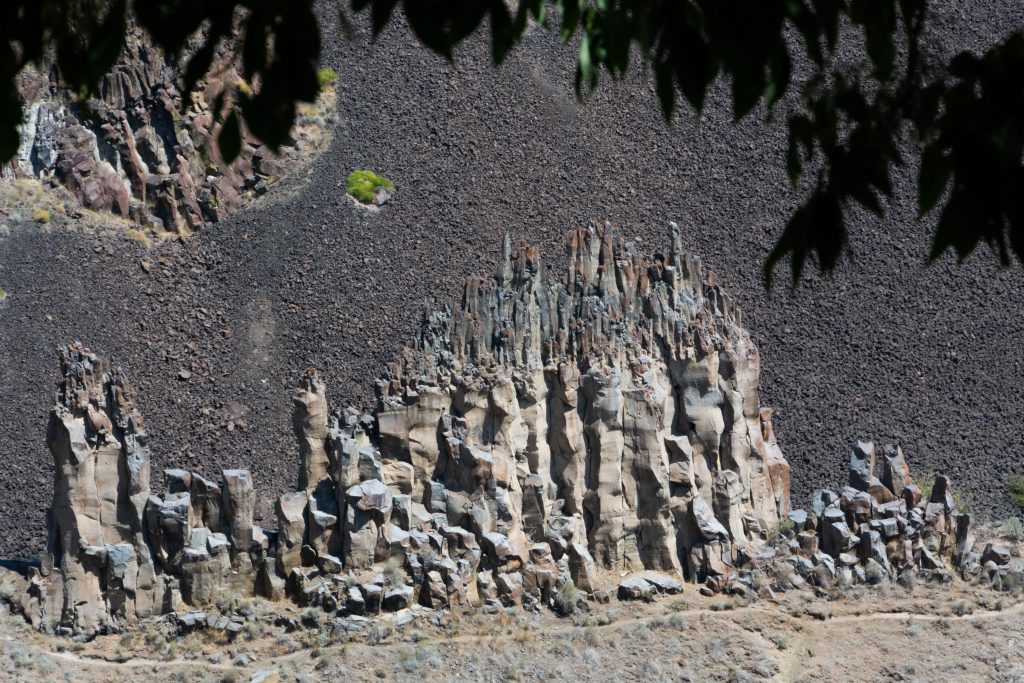 My 8th grade geology teacher might not agree.
One of the best known formations in the Palouse is Steptoe Butte. I remember from my 7th grade geography that a Butte is a formation that rises abruptly from a flat field appearing it was suddenly thrust up from the field. My geography teacher explained that a butte was a formation of harder very old rock that remains after erosion of the software sandstone.
I believe buttes are created by magic.
Steptoe Butte presents another problem, "What is a Steptoe." Google it and you will "learn" a steptoe is a rock formation smaller than a mountain that remains after softer rock was eroded.  Not so, actually: "Steptoe is a small unincorporated rural community in Whitman County, Washington, United States. Steptoe is 11 miles north of the county seat, Colfax and is 43 miles south of Spokane. It is named after Colonel Edward Steptoe for a battle located north of Steptoe near Rosalia, Washington. "
One of the unique features of Steptoe Butte is the road to the top. We loaded the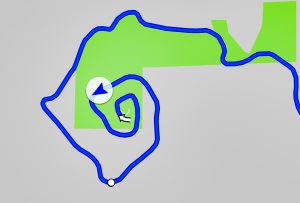 route on our GPS and had to drive it to the top while Joan took lots of photos of the view. I'm not sure we could have found the top without the roadmap.
So, Steptoe Butte is a formation above the rolling foothills of Palouse.  The Butte was named after Colonel Edward Steptoe.
July 31: To Kamiah, ID
Aug. 1: to Missoula, MT
Aug. 2- 5: Yellowstone National Park, WY
Aug. 5-7: Great Teton National Park, WY
Aug. 7: to Lava Hot Springs, ID
Aug. 8-12: Salt Lake City, UT
Click Here to follow Stu, Shirley, Justin and his friend Nicole Weigelt as they Kayak the Glen Canyon and explore the Grand Canyon.