We joined the Family Motor Coach Association shortly after we "adopted" Winnie. The group offers member discounts on RV related parts, campsites, and, most important, pointers to groups, and activities such as rallies that draw RV owners together in friendly environments to swap stories, provide help, and just enjoy each other's company.
Joan found a group of Jewish RV owners, the Shalom Roamers, shortly after we began traveling, after one neighbor asked, "Are you still Jewish?" Turns out we are and this group is. Nice people from a common cultural and religious background that enjoy traveling and "camping" in a mobile environment that encourages a bit more outdoor activities.
20191219 Opening Dinner
As we write this, we are attending our first rally with the Shalom Roamers. We met at the Fun N Sun RV Resort near Sarasota and enjoyed a lovely catered opening dinner at the Boondocks, a restaurant in the campground. A nice buffet of salmon, chicken and beef with a variety of vegetables and salad served to help the new potential members meet the folks who have been traveling with this group for years. Nice evening, the meal continued long after we ate, relaxed, and talked until the Boondocks closed.
Joan and I left feeling we had met a group of new "old" friends.
20191220 Shabbat Dinner
Friday evening we gathered for our second meeting and Shabbat dinner, a traditional semi-pot-luck dinner that centered of my favorite chicken (Costco), a variety of vegetables and salad, and opened with blessing the Challah and a touching lighting of the Sabbath candles by Lisa, also a new member who seemed to feel, as we do, that we have known these folks for years.
After dinner, Eric led a touching Sabbath service, accompanying songs and prayers on his guitar. We sang many of the traditional prayers and listened to his short homily that moved many of us to tears. We all felt the spirit of prayer in the room, and spontaneous applause developed when Eric finished the closing prayer.
Oneg Shabbat is normally my favorite part of the service. After sitting in one place too long, I look forward to the sweets, coffee and companionship that follow the reflection and prayer. This evening's Oneg Shabbat was up to the highest standards with a selection of homemade (RV made?) cakes and snacks, plus the usual favorite of coffee cakes and candies. Had the service not been so special, the Oneg would have been my favorite part. Given the moving service, I can only say this Oneg was excellent.
20191221 Bagel Breakfast and General Meeting
We had a lovely breakfast and a brief general meeting.
Our President, Debbie Delorenzo has retired. We wish her and husband Dennis good health as the years go on.
New Chapter Officers:
President: Marcy Krauss
Vice President: Arnold Milrot
Secretary: Robyn Needel
Treasurer: Leila Deal
New Officer Position: Director of Computer Communications: Eric Adler
20191222 Big Cats Habitat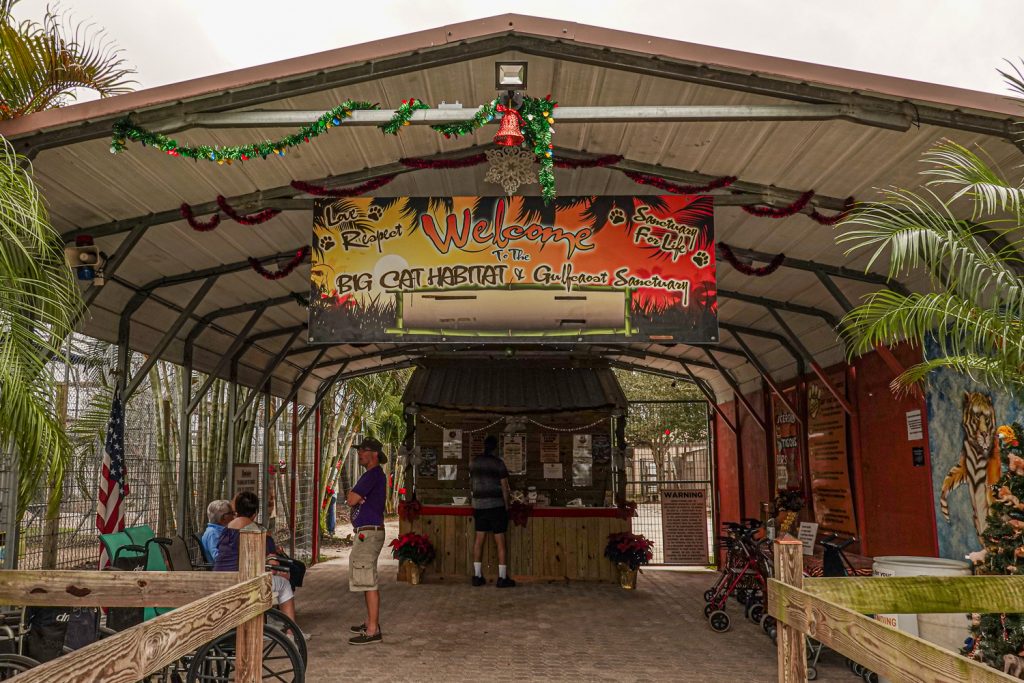 Many of the group went to a nearby animal rescue park: Big Cats Habitat. There was a large collection of abandoned and rescued animals with a few of the larger cats performing a brief set of tricks to display their skill and size.
20191222 Dinner, Menorah Lighting and Gift Exchange
We gathered for a traditional latkes Hanukkah dinner after an hour of Sip-N-Nosh delicious goodies to ensure none of us were over-hungry during prayers.
After dinner, we gathered for the Menorah lighting and prayers. The lights of many families gathered to a great light as we sang in the first night.
Finally, the part we all waited for.  Each family brought a gift, chose a number, and selected a gift from the gathered presents. You could choose any previously selected gift or pick a wrapped gift from the surprise pile.
Everyone eyed the previously selected gifts and ultimately chose to pick an unopened gift from the surprise pile. Watching gifts open was an enjoyable as opening one ourselves.
20191223 Gender Equivalent Lunch
The schedule called for a "Women's Luncheon," and so the ladies happily car pooled to Perkins restaurant where they enjoyed lunch together.
The sky granted us a brief interlude of beautiful sunshine so the men decided to walk to the nearby Stottlemyer's Smokehouse and talk about "man things." As expected, the discussion involved lots of mechanical breakdowns, the advantages of one RV over another, and a side discussion on why weather fronts were called "fronts" and not backs.
The lunch was excellent – Po Boys of both beef and shrimp with the adventurers having Brunswick Stu and one lucky person even having sweet potato fries in place of the usual French Fries.
As we walked back, the back caught up with the front causing us to just dodge the returning rain.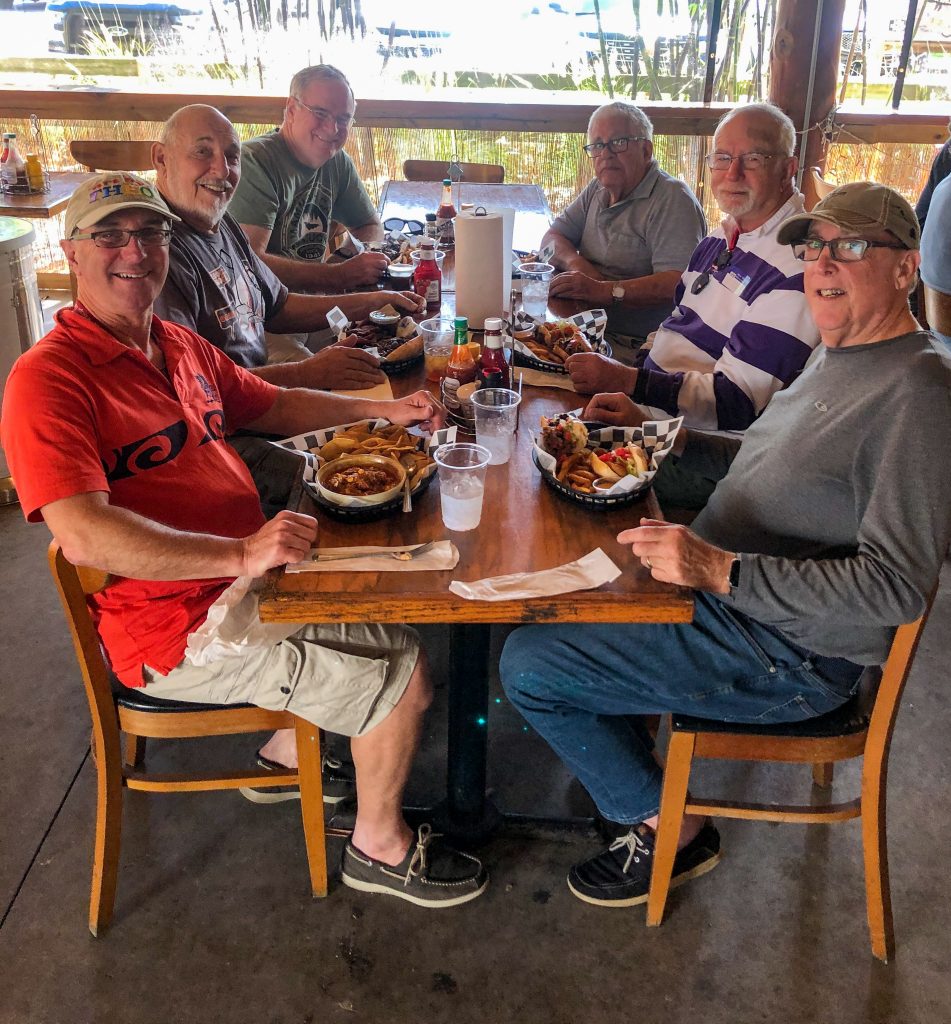 20191223 Dinner at der Dutchman
After several days of on-and-off (mostly on) rain, campers enjoyed a buffet dinner in a casual setting with a large variety of salad, fish and meat. Guaranteed to warm the soul and dry the wet shoes.
The group visited der Dutchman, located about 4 miles from the Sun-N-Fun campground. The generous and fresh salad bar made a good start to a satisfying dinner.  Just like a family dinner, except we don't argue. There was even a polite and respectful political discussion.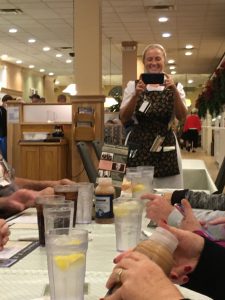 I calculated it would take 3 visits to sample one of everything on the buffet table. It would take another visit to begin to sample the fresh baked goods and pies offered as take-home remembrances of a nice dinner.
Our Amish waitress took a photo of the group with each smartphone that was handed to her.
20191224 Twas the Night Before Christmas
Twas the Night Before Christmas
And all thru Palmetto hall,
We ate lots of pizza,
Salad, fruit, cake, et al.
Marcy presented a travelogue,
Many miles went she,
Our rigs were ready to venture
With Fantasy RV.
Steve is getting ready for the scooter races!  Actually, we were hoping he would decorate the scooter and join in the Golf Cart Holiday Parade.
Well, I'm not much of a poet, but you get the idea. We all enjoyed the dinner, enjoyed the travelogue, and enjoyed each other's company.
We are a small group this year so we got to know each other a bit better. It seems the smaller group each worked a bit harder so we could all enjoy the week. As newcomers, we sure appreciate the effort everyone gave.
20191225 Typical Jewish Holiday
This is a lovely time of the year. We are fortunate to be in a RV Village with new friends, lots of holiday lights, and a golf cart parade to enjoy. While this is our last day of official celebration as a Shalom Roamer's activity, our friendship will continue throughout the year and into future RV activities.
Our day began with an official visit to the Sun-N-Fun hot tub, one of three on the property. It was nice to see the group gathered together in the yearly event where they discussed and planned future RV trips.
This group usually selects a mid-day movie from among the many that are released this time of the year. There were enough new movies that two were chosen, along Gender lines. Part of the group saw Cats while the rest of us saw Star Wars. The common thread of the two movies was the comfortable reclining chairs, so comfortable that Arnold enjoyed part of Cats in his dreams.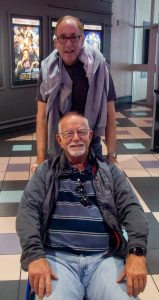 Star Wars was nearly sold out except for a few seats in the front row and a large section of WheelChair accessible seats in the desirable middle of the theater. After carefully determining that none of the wheelchair seats were sold and the entire row was empty, we purchased a wheelchair seat and a companion seat alongside. I had a nice ride into the movie in our wheelchair and was able to move into an unoccupied companion relining seat for the actual show. While I would have immediately given up my priority seat if an actual person in need showed up, this seemed a fair way to use two seats that would have gone unsold.
Dinner is always a part of the day I anticipate with hunger. I like to eat, I particularly enjoy sampling lots of small dishes, and find a buffet to be a nearly perfect dining experience. Many in our group seem to feel the same way; the group closing dinner on the 25th is held at the Super Buffet Sushi and Grill, as part of the Jewish tradition to have Chinese food on Christmas Day.
The sushi chef made your choice of rolls to order with fresh fish, in Joan's case, salmon, cream cheese, and avocado – the Bagel sushi. The rest of the many selections was laid out in small serving containers that were refreshed often. Crisp where it should be crisp, very fresh when we sampled the sushi, and grilled to order in a large Mongolian station. We had a private room with an attentive server and a bus person who kept ahead of our dishes as we went back for seconds and thirds.
A delightful end to a delightful week! See you next year, Shalom Roamers.