Joan and Stu set out on an adventure.  After years of driving boats, a few large boats, we decided to rent a motor home and go for a short cruise.  This thing is gigantic, fully expanded it has over 400 square feet of floor space, sleeps 6 very closely-related people, has a full-size fridge, oven, 3-burner stove and the most uncomfortable queen bed we have ever experienced.
We loved it.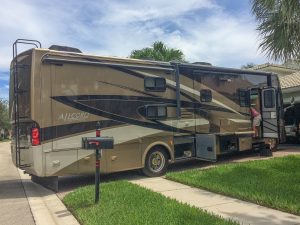 The destination was motivated by the Bat Mitzvah celebration of Stu's grand-niece Deanna held outside of Philadelphia, a round-trip distance of about 3100 miles.
We were on the road for 16 days and stayed in National Park Service's camp grounds, commercial camp grounds, the parking lot of a Marriott, and two comfortable nights as guests of 24-hour Walmarts in their parking lot shared by many other RV campers and truckers who were welcome to use their parking facilities at night.
Please follow our journey North on the Eastern Shore, the family visit, the Skyline Drive and Blue Ridge Mountains Southbound, and visits with relatives and friends along the way.