Holley is a lovely town to visit.  They provide ample, free, docking along the canal
wall and are unique among the places we visited in providing a map that describes the town's attractions.  As with all photos, you may click on this map to see a larger image.
The original canal route went from town to town.  Each of these towns grew and prospered as the canal provided less expensive, reliable transportation to deliver the products to mark

et.  At each town, the canal was crossed by a lift bridge.  I think the higher, fixed, bridges are later developments. These lift bridges were all similar in design and each had a
flight of steps at the ends. The steps permitted walking over the canal when the bridge was raised. During the early days of the canal, each of the lift bridges was open for longer periods when a group of boats that locked through together, traveled the length of the canal and the bridge, once opened, accommodated many boats.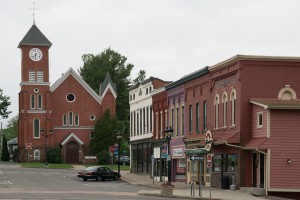 Holley was an interesting town with many similar style buildings, all built in the boom times of the Erie Canal.
We enjoyed walking around the Holley park areas.  Much of the canal area is parkland today with about 500 miles of heritage trail available, mostly for free, for walking, camping and enjoying.
When we see a person sleeping in a big city, our thoughts turn to undesirable people who we might want to avoid.  In this area, the folks are often hikers or bikers traveling the world of their dreams during summer vacation or after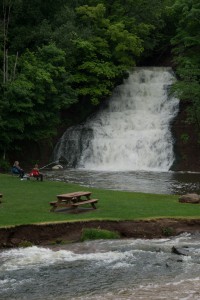 retirement.
One of the lovely parks we visited was this small park in Holley, surrounded by a man-made spillway that helped control the water level in the Canal.  The town provided picnic tables, fish cleaning areas, benches, and an inviting clean expanse of grass to enjoy.  It was hard to move on and explore.
S
am's diner is a real find if you are looking for a living antique shop.  The place is old, clean, tasty, inexpensive and full of history.  You can easily envision the ghosts of the Erie Canal peak age sitting down to discuss traffic issues, disposal of all the mule droppings, and obtaining sufficient food to keep the animals happy and working hard.  Even the gum ball machine is a relic of ages gone by.