It must be uniquer to live in a town where the biggest business is the post office.  I'm concerned that industry has passed Alma and many of the towns on the Upper Mississippi by.  The wealth of the early canal days where grain, manufactured goods, and the fruits of hard work fueled the town have passed this town by.
The major industry, power generation, takes coal delivered by barge rail or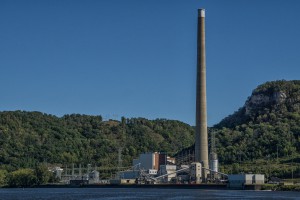 barge and generated pollution and electricity. The plant is clean, the air seems clean, and the few cars owned by workers seem clean.  Wisconsin has coal, air, and water.  The second largest industry in town is religion.  There are a number of churches, som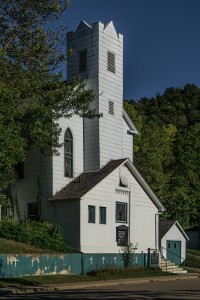 e lovely, and all apparently prospering with services and schools visible in abundance.
I was surprised to see the number of religions thriving side by side.
We did not see any large, chain stores in the towns we visited.  Outside the towns on the main highways, the area looked exactly as any suburban area looked with the usual fast food chains and an occasional big box store. 
This town as every town along the Mississippi, is dominated by trains.  Gigantic trains carrying heavy goods sounded their horns every few minutes making sleeping difficult when we tied up to close to the right of way.  Alma is just over the tracks from our dock. We were docked there the first night of our adventure, cold and jarred awake two to three times each hour.  The people who live in Alma are stronger than we are.
Here we are in town looking down on our chartered boat before we knew the trains ran every few minutes all night.