The upper Mississippi River was navigable only part of the year and only by small shallow draft boats.  The US Army Corps of Engineers constructed a series of locks and dam completing, by about 1940 a set of 29 pools to make the river usable for transport of grains, ores, and people.
Each of these pools raises the water several feet and may be from hundreds of feet to 20 miles or so in length.  The original Mississippi River boats (think Hunk Finn) was small, typically family operated, and designed to move their cargo a few miles per day under Human power.  The present day
barges are very large flat bottom "boxes" designed to carry huge loads of cargo that isn't really in much of a hurry.  Typical loads of ore, grains, and lumber are strapped together in barges that are 3 wide and up to 12 long.
The barges are so long and so wide that the tug boat pushing them can't fit the entire load into the lock at one time.  The tug bushes the first half of the load into the lock, clearing the doors by a few inches, disconnects the back half of the l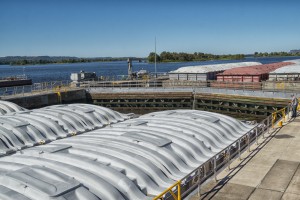 oad and backs out so the lock master can close the doors, raise or lower the water, and pull the first half of the load out with a small steel cable and winch.
Once the first half is out of the lock, the doors are closed, the lock chamber flooded, and the tug with the second half of the load attached enters the lock to be reunited with its brother or sister.
The process takes up to two hours and any of us in smaller boats wait for the lock to clear, re-flood, and be ready for us.
Several smaller boats can enter the lock at the same without any problem.
The Mississippi river lock system runs 24 hours per day. Tourist boats tend to run only in the daylight, although there are no charter restrictions.  Barges run all the time, reaching the locks under a variety of conditions.
The river is not very crowded.  That is fortunate because at nearly two hours per locking, not many big loads could fit through the very large locks that presently exists and it might not be possible to build the locks any larger because of space limitations and the volume of water it takes to operate a lock.  Economics comes to the rescue.  After completion of the early canal, trains became

practical, first with the invention of the steam engine and later with very powerful Diesels.  Now trains with 150 cars or more travel on the two tracks on each side of the river, making an unbearable loud noise that makes sleeping near the tracks uncomfortable while the trains carry the nation's commerce.