Day 1, June 25: Compass Point Marina
Pick up our boats at Compass Point Marina, 6300 Estate Frydenhoj #22 St Thomas, 00802.
If you arrive after 5pm, the office will be closed, but Kristi or Jim will meet you. Please call them when you arrive: Krisit's cell is 214-707-7646 and Jim's cell is 972-741-1067.
There aren't many places to eat at Compass Point, so I suggest a few of us walk over to the Food Center and pick up some prepared food for an on-board Buffet Dinner.
Day 2, June 26: Compass Point to Snorkel at Christmas Cove, then to American Yacht Harbor
Christmas Cove is a lovely small island ringed by reefs and rock. Lots of fish, lots to see, good day anchorage. It is only a short sail from Compass Point, mostly up wind, so we can motor over and have lunch underway or at the anchorage when we arrive.
American Yacht Harbor is an excellent marina in a good place. We will meet the Leonards here and since we will be at a dock, there is no special time requirements. American telephones all work here as well.
There are nearly a dozen places to eat and at least limited provisioning if we forgot anything.
Day 3, June 27:  American Yacht Harbor to Jost van Dyke
We will check into Customs at Jost van Dyke.  Anyone wanting to walk around town can dinghy in with us.  Anyone wanting to snorkel can dinghy to White's Beach, a terrific beach known for the Soggy Dollar Bar.
We have a dinner reservation at Harris' Place on Jost just down the beach from customs. We can go over to White's Beach for swimming and snorkeling, a visit to the Soggy Dollar Bar where painkillers were supposed to have started, a further visit to Sidney's Peace and Love honor bar,  and those who can still walk can hike back to Little Harbor where the boats will be anchored.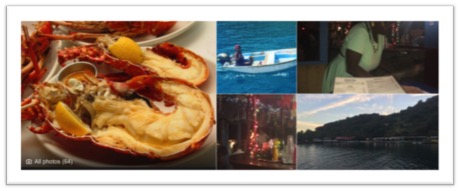 Harris's Place has WIFI and a variety of Caribbean food for anyone who might not like Lobster.
Day 4, June 28: Jost to Marina Cay in Trellis Bay
Trellis Bay is a neat place. There are three major attractions in the Trellis Bay area.
Scrub Island dive shop is where we will have our first day of diving. Just next to the anchorage is Last Resort, a kind of a neat small island that has a dinner show with usually good entertainment.
Finally, there is the Full Moon site. This site grew up in an artists' colony and was intended to compete with the Bomba Shack on Tortola. Turned out to be a different crowd.  Trellis Bay is a family-oriented set of art exhibits including a large Raku kiln, some informal and more formal places to eat, and generally nice places to walk around.
We can choose a location for dinner depending on our tastes when we walk around.

Day 5, June 29: Meet Dive Operator at Scrub Island Marina in the morning, sail to the BATHS in the afternoon
The Baths is one of the highlights of the British Virgin Islands. We will dinghy ashore and walk the trails, exploring these almost unbelievable formations.
After a visit to the Baths, we will reboard the boats and travel up the coast to either Spanish Town Marina (we have to make a reservation) with dinner on shore or a lovely secluded anchorage at Pond Bay. This partly depends on the weather.
Day 6, June 30, sail to North Sound near Bitter End Yacht Club and Saba Rocks
Saba Rocks is one of the better known evening (or late night) drinking spots in the Virgin Islands. Saba Rocks borders on a fine afternoon snorkel sight surrounding Eustatia Sound. If the weather is calm, we can bring the big boats into the sound near a large reef for snorkeling.  If it is rougher, there is ample snorkeling from the dinghy.
Just south of the anchorage is Bitter End Yacht Club – worth checking out the menu at each of the three excellent restaurants. If we choose, we can all eat dinner at Bitter End Yacht Club and one dinghy worth of lucky drinkers can go over to Saba Rock after dinner for "dessert" — but remember, we have diving the next day.
Day 7, July 1: Dive and Class at Leverick Bay
One boat will stay near the Bitter End Yacht Club – Saba Rock area with good snorkeling and lots to look at on land, open to the public (that is us), while the divers go over to Leverick Bay for diving,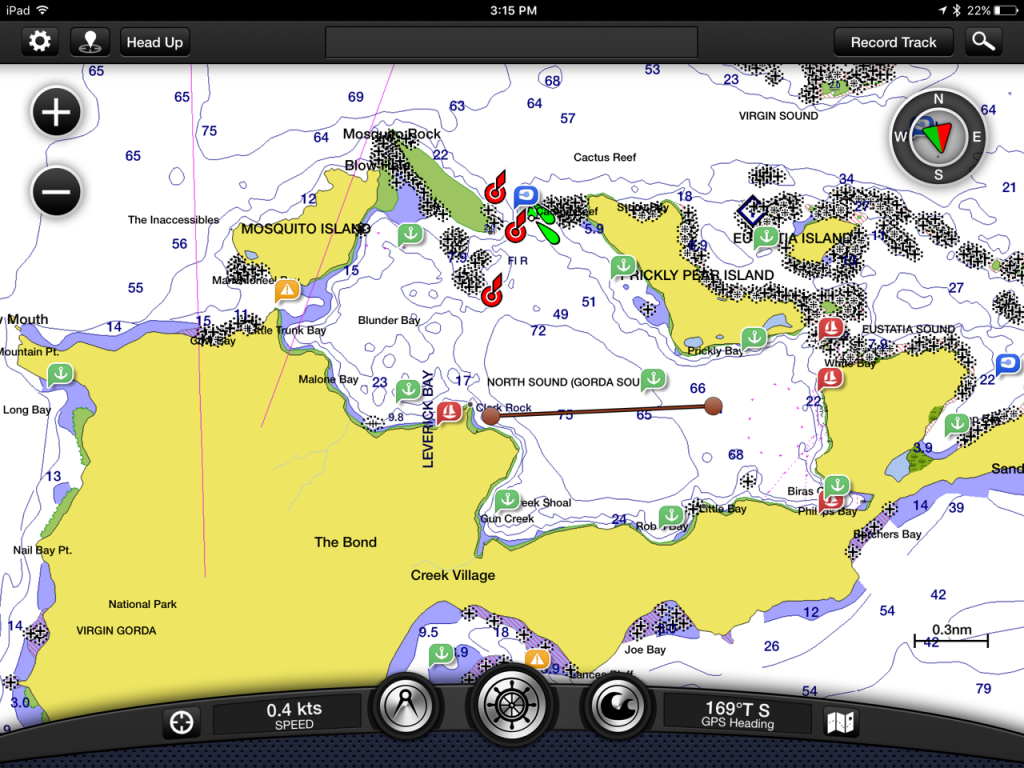 Day 8, July 2, North Sound to Norman Island, Willie T and the caves
Willie T is a converted pirate ship that serves as a floating bar and medium quality place for dinner.  We might choose to eat on board when we arrive and go out for an evening's drinking. Ask Rebecca.
The Caves are a popular snorkeling trip in the morning before we leave. The Caves are a premier snorkel adventure – you can actually enter a cave in the rocks and safely travel its length. Sometimes, when the light is just right you can see cave fish with no eyes. Mostly you just see other snorkelers.
Day 9, July 3:  Sail to Cruz Bay, Check in US
After checking into the US, there are several excellent anchorages near Cruz Bay. Trunk Bay is best known for the underwater snorkel trail maintained by the National Park Service.
There is excellent hike from either Cinnamon Bay or Linchester Bay. If you are really ambitious, you can hike to Coral Bay (about 4 hours) and the non-hikers can meet you there by boat. The reward for the hike is inexpensive beer and terrific cheeseburgers in Skinny Legs.
The Eco Campground at Cinnamon Bay is closed, unfortunately, and the land has been sold.
The last two days are spare days, lots to see, snorkel and hike here, but if we get so enraptured on the way, we can eliminate at least one of these days.
Now that we are back in the US, it would be neat to see some fireworks on July 4. They are usually held in Cruz Bay and can be seen from most of the anchorages.
Day 11, July 5: Sail to Compass Point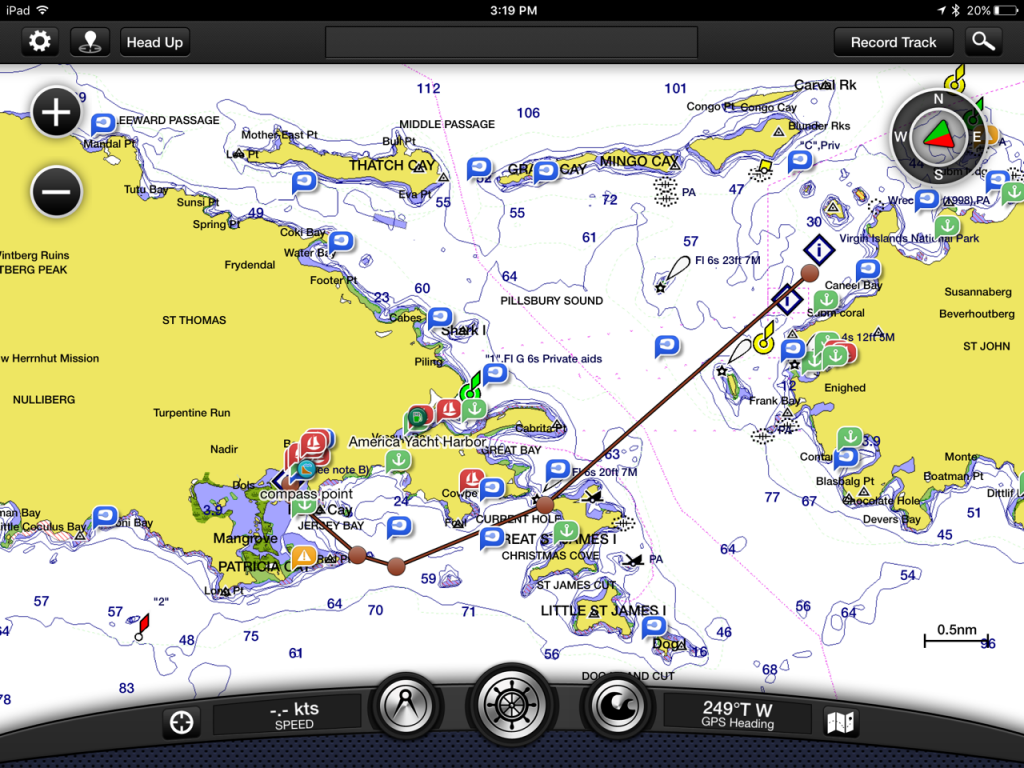 Pack and go back home.