We left our second Walmart fairly early in the day, facing a relatively long ride home. Our first stop was a near-sunrise visit to the beach near Fort Matanzas National Monument.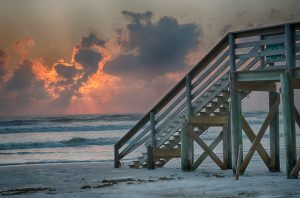 With two weeks practice, we were able to maneuver the Motorhome Monster (size, not quality), into a parking space intended for a compact car.
The view from our motorhome was impressive.  Lots of colors in the sunrise caused by the recent storms. Much of the beach was washed away leaving just enough to walk on. We enjoyed the walk, enjoyed the excellent breakfast with fresh grapefruit juice courtesy of the "Camp Walmart Store," and were glad to be   back on the road to visit our friends in Melbourne.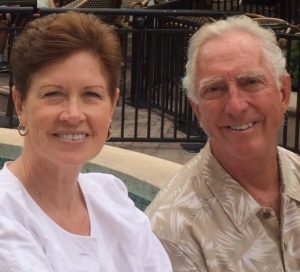 We met up with our good friends, back from the days when Stu owned a Gemini Sailboat, and enjoyed a lovely lunch with them at Shells.
We loved our RV trip and can't wait to rent another for our next RV adventure.