November 1, 2019 marked the beginning of our Autumn RV adventure. Joan, Stu, and Winnie, our travel trailer, traveled to see the Autumn change of seasons. Our hunt for fall foliage had begun.
11.1 to 11.2  Middleton Fish Camp and Blue Cypress Lake
Blue Cypress Lake is a photographer's dream. The lake is about 6500 acres of tea-colored waters surrounded by mostly Blue Cypress trees that were last logged during the building of the Atlantic East Coast Railway down the keys. More species of birds than we can count nested among the one-time giant cypress trees that fell victim to Flagler's railroad and the seemingly endless need for railroad ties. Trees are coming back, birds are thriving, and the lake is well preserved. Cypress Lake is entirely surrounded by state park lands with almost the only access being Middleton's Fish Camp with two launching ramps, lots of boat trailer parking, and a space for Winnie to spend the night.
Joan had booked a pontoon photographic tour with Roy Bass, the owner of Middleton's. Steve, a veteran guide and fisherman who lived on the lake was our boat captain and guide.  We shared the lake with him for two hours starting at sunrise and continuing through the best morning light as we were guided among the Osprey, Herons, Turkey Vultures and beautiful cypress trees.
11.2 Sebastian Inlet on our way North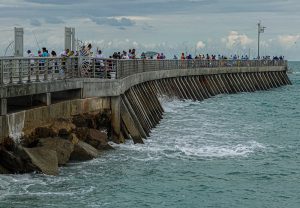 Sebastian Inlet (really an outlet) carries water from the Intracoastal Waterway (ICW) to the Atlantic Ocean.  The bridge across the inlet (38 feet) and the shallow water (under 5 feet) stop larger boats from using the area. Fishing boats surround the jetty, and fishermen (and women) are actively catching fish.
11.2 to 11.4 Outdoor Resorts in Melbourne Beach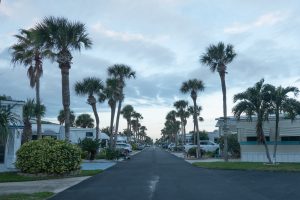 Outdoor Resorts in Melbourne Beach is a high end mixed-use resort catering to both manufactured homes and RVs. It is clean, open, and has a secure feeling, with three swimming pools, lots of shuffleboard, several meeting rooms,  hundreds of owner occupied sights, and its own pier on the ICW.
Joan was fortunate to find a waterfront site right on the ICW. The site was large and had a large patio extending over the water for us to enjoy. Most important, the large fishing pier was close to our site and provided a backdrop for sunset photographs.
The property extended across A1A on  Melbourne Beach to a small area on the ocean. There is a pool, sunbathing area, restrooms, and access to the beach.
The developers were faced with the challenge of providing a safe crossing zone for the residents who wanted to cross A1A with their families to get from the main section of the park to the beach annex. They have an interesting solution.
On each side of street there is a basket holding red flags.  When you want to cross the street, you take a flag from the basket, wave it as you cross the street, and deposit it in the flag basket on the other side.  We were amused to find only a small number of flags on the ocean side and a overflowing basket on the main resort side.
We went to the beach for a sunrise and were greeted with clouds. Nevertheless we enjoyed the ocean view, the birds feeding, and the many people walking by.
The best part of the day was an extended lunch at Shells with our friends, Jean and Gary Glenn.
11.4 Trailer Repair and Menard-May Park in New Smyrna Beach on the way to Tomoka State Park
We stopped
for propane at Cecil Mobile Home and R.V. Parts & Supplies just off Route 1. As they were filling our propane, Cecil noticed a soon to be flat tire on the right side of Minnie (a broken leg?). He struggled to remove the wheel lug overtightened at the builders, patched the tire, and got us on our way with a full load of propane. Nice guy! Best part, his mother at the cash register referred to him as baby – he was about a foot taller than her.
While Winnie was getting her repairs, Joan wandered down the street and was delighted to find, just a half block away an "art show."
We left the repair place directed to a lovely Menard-May Park on a bend of the Intracoastal where we had roll-ups, sun tea, and peanuts for desert. While stopped we watched the parade of large cruising boats going South for the Winter, just like the birds.
11.4 to 11.5 To Tomoka State Park
– Ormond Scenic Byway
Tomoka State Park, located just north of Ormond Beach on the Intracoastal Waterway, is a dense, wooded area containing a State Canoe Trail.
It was once home to the Tomoka Indians, a tribe approaching 10,000 people, that was wiped out by European diseases in the early settlement years.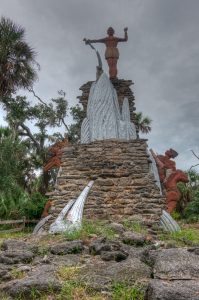 There was a large statue of their last last chief, Tomokie, constructed of cinderblock, wood and paint in 1955. It dominates an amphitheatre used for ranger lectures.
In cooler weather the park has available canoeing, kayaking, and boat tours. In late summer there is a large variety of flying things that largely keep you inside.
11.5 Ravine Gardens Park State Park to Citra, FL
The Ravine Gardens park developers put significant effort into creating a welcoming area with picnic groves, a meeting area, and a civic center. The area Joan is approaching is built as a formal garden with extensive trails and, unfortunately, some hurricane damage.
We stopped at Grand Lake RV Resort in Citra, FL for the night to enjoy the setting on a large lake as we headed north.
11.6 Lunch in Micanopy
We always look for interesting places along our route to stop for lunch, snacks, or scenery. Joan had heard about Micanopy so we stopped at "the town that time forgot."
We found a parking place easily since the town festival had ended a week ago and most everyone had left. Turns out, the town had a Jewish root, founded by Moses Elias Levy in 1821. He, in turn, was sponsored by a New York group of Jewish people and became wealthy before the Second Seminole War destroyed the original town and everyone fled.
Now, Micanopy exists as a rebuilt antique city with several antique shops and a crafts co-op featuring pottery, always of interest to us, stained glass, original paintings and crafts. The town has a population of 600 and an area of 1.03 square miles.
Finally, lunch heaven: Old Florida Cafe had shaded outdoor seating and was run by a nice family. They featured Cuban sandwiches, Blue Bell Ice Cream, and one I had never encountered before, Rebecca Sandwich.
I immediately had to taste a Rebecca even though there was no hint of its contents on the menu. Turns out, it is a member on the family of Ruben, Rachel and Rebecca.  The tasty sandwich was made with Corned Beef, melted Swiss cheese, and bacon all served with toasted rye bread and Russian dressing. Tasty! I suppose the sandwich was directed toward Reform Jews.
Joan surprised me by ordering beans, rice and pulled pork. My sample of her lunch was delicious as were the leftover beans we had with dinner.
11.6 to 11.8 Stephen Foster Folk Culture Center State Park
The high point of this leg was Stephen Foster Park where there is a large Carillon, the largest in bell count of any in the states.  Unfortunately, it was damaged in a storm and is only partially restored since the crafts people encountered asbestos and are working on coating or removal before they continue the restoration. Originally built in 1958, the finicky electronics skipped the partial performance scheduled for 4:00 pm and seemed unable to sound the bells scheduled for every 15 minutes.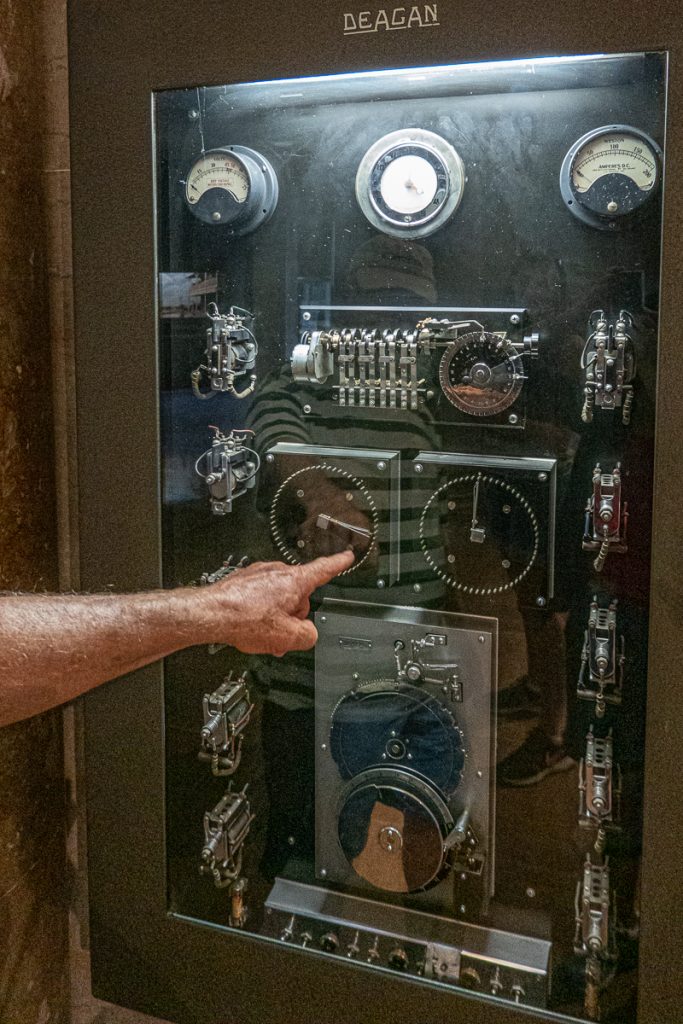 There are three different ways of playing the bells.  Each bell is struck by a large hammer that is, in turn, swung or pushed by an electromagnet about the size of a beer bottle. The magnet, hammer and eventually the bell are controlled by an electrical current that is switched on and off by by either a piano-like keyboard, a scroll similar to a player piano, or clockwork mechanism of relays and motors that automatically actuate the necessary magnets to sound the appropriate bells on the hour, quarter, and half hours. The photo above is of the clockwork mechanism. The clock on top operates a motor below it that turns a cam that sends power to the appropriate magnet that strikes the appropriate bell with just the right force at just the right time.
Most of the mechanism was destroyed by a lightning strike and is still under repair. Since the Carillon is missing most of its notes and the remaining notes are not tuned, we experienced several songs performed by the "player piano" type mechanism (supposedly but not reliably 3 times a day at 10, 2, and 4pm), but we were unable to identify any of them because of the missing notes.
The Carillon system is composed of 97 bells. The largest bells are 12 ½ feet long and weigh 426 pounds. The 97 bells are supported by a massive wooden structure that measures 21′ high, 15′ long, and 11′ wide.
In addition to the Carillon Tower, the state park houses the Stephen Foster Museum, Craft Square, and a view of the famous Suwannee River (whose spelling was changed to Swanee in Foster's song "Way down upon the …").
On display in the museum were framed dioramas for several of Foster's songs, with action when you press the button. Watch carefully, press the arrow, and smile.
11.7 Kayaking on the Suwannee River
Stu carries his baby kayak on the roof wherever we go. The opportunity to kayak the Suwannee River was on his mind when the ranger said she and a friend were kayaking that river and he was welcome to join the adventure.
11.8 Travel to Newport Park Campground
We arrived at Newport Park before 1:00 with an expected check-in of 2:00 so we just relaxed and enjoyed the lunch and the woods. Once we set up, we were off for a provisioning trip to Winn Dixie and a laundry. We stayed there because it was the closest campground to Wakulla Springs which has no camping.
11.9 Boat Tour of Wakulla Springs
We traveled a short distance from our campsite in Newport to a state park developed around Wakulla Springs. The springs produces millions of gallons of fresh, almost clear, water each day to feed the Short Wakulla River. The river is completely undeveloped with no boats, no people, and no wildlife or landscape intervention.
We took an early morning boat tour in a small purpose-built boat captained by Ranger Charlie. He described every bird, alligator, and manatee we saw during the hour plus trip. The boat was equipped with two electric outboards powered by batteries charged by 20 solar cells on the roof. Since it was an overcast day, Charlie started the third engine, an inboard, part way through the tour.
He also explained to us the formerly crystal clear water was greenish because of the phosphates that had leached into the underground aquifer as development encroached on the park. This colored water stopped the famous glass bottom boats from seeing much.
A church group of about 25 people shared the boat with us.
After the first tour, we went to the lovely Wakulla Lodge to warm up and enjoy some lunch. Joan had a nice salad topped with shrimp and I enjoyed a large bowl of tasty seafood gumbo – then I had several plates of Joan's salad. Nice lunch, beautiful surroundings, and a room built to be lively while still permitting conversation.
We did a 2-mile circuit hike in the woods surrounding the Wakulla Lake. It was partially graded and partially boardwalk. Easy to walk but unfortunately most of the explanatory signs had been vandalized. The boardwalk went over a spring fed stream that led into Wakulla Lake.
The boat tour was so good we did it again after the hike. Yes, we took a second tour and found, exactly as they explained, the river was completely different. We had different light, more alligators, more manatees, and a few less birds. The afternoon tour was every bit as nice as the morning tour, with Ranger Ken having a different perspective of the route.
Finally, we ended a nice but cold, day with a Classico Thin Crust Margarita pizza. We added a heavy dose of extra vegetables, two cans of anchovies, and some cheese making it a Classico Joan pizza.
11.10 North to Georgia in search of Fall Foliage
This trip started out as a hunt for Fall Colors in Florida. Turns out, there were  none except green. Warm weather and sufficient water kept the trees in leaf and the colors hidden. So, if the colors won't come to us, we are going to  F. D. Roosevelt state park on Pine Mountain in Georgia where, we were told by people we met under the Stephen Foster carillon, there would be some color.
We enjoyed the colorful ride north to F. D. Roosevelt State Park, the largest in Georgia. The ride to the campsite was about four hours and we immediately began enjoying the construction of the Civilian Conservation Corps (CCC), created  by Roosevelt during the depression. We registered and purchased some remembrances in the old stone building used as a welcoming center.  Roosevelt was said to have designed some of the internal arch structure. A man of many skills. We are advised that the views behind the stone building were not to be missed. Roosevelt, of course, had chosen the location.
After setting up Winnie, we were lured down to the lake, just a few feet from our campsite, where the scenery and the color were irresistible. We had found the color we were seeking.
We went around to the other side of the lake for the golden hour before sunset.
11.11 Touring F. D. Roosevelt State Park and Little White House near Warm Springs, GA
We woke to a very bright, sunny day in the state park Roosevelt visited, loved and adopted. Our morning started with a brisk walk to Lake Delano near our campsite. The still water and fall color trees made for some very satisfying photographs.
After a quick bite to eat, we went to several sunrise overlooks on the country road between the campground and F. D. Roosevelt's "Little White House" in town.  We lingered at the spot where Roosevelt often lingered, Dowdell's Knob.
FDR last visited Dowdell's Knob 2 days before his death.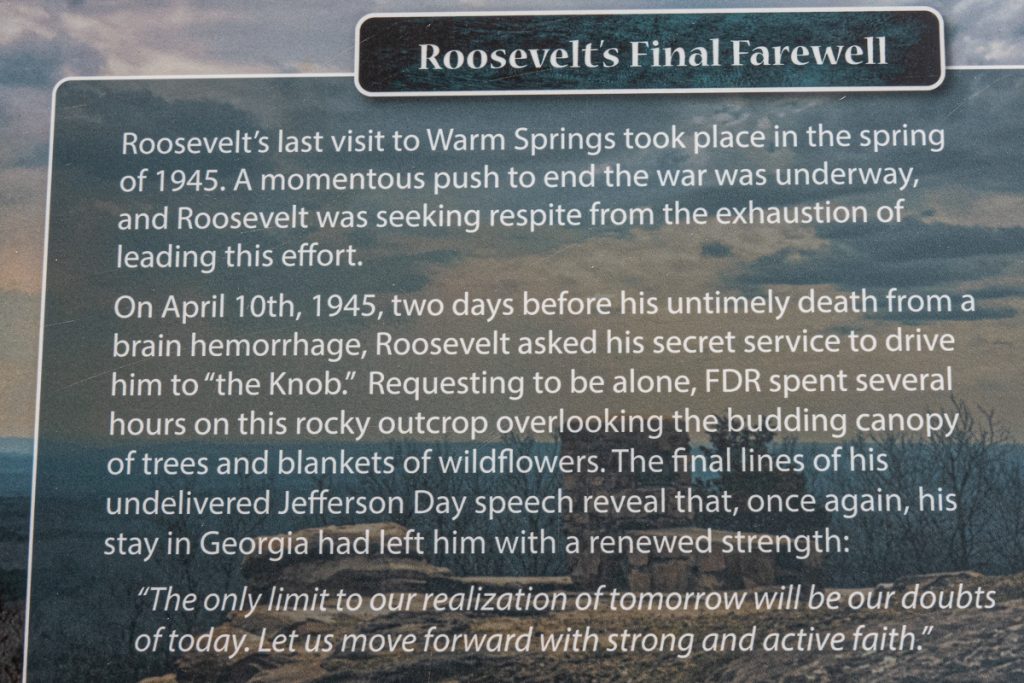 We continued down the road to "The Little White House," which has been maintained very much as it appeared when FDR was Governor and then President.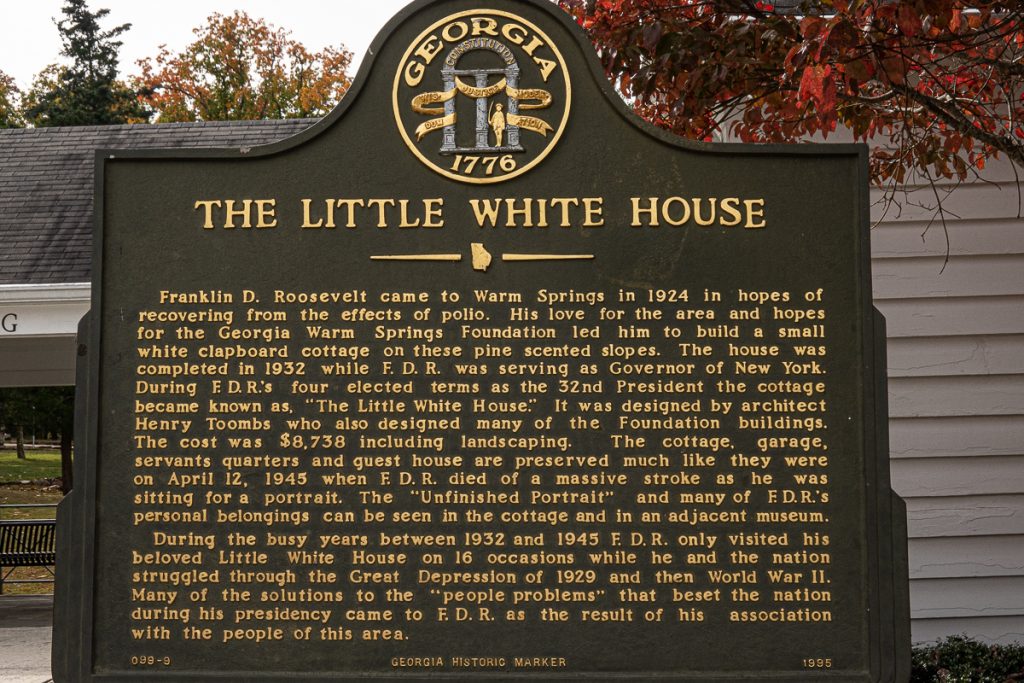 Roosevelt originally selected the area to be near Warm Springs in the belief that the warm mineral water would cure the symptoms of polio he contracted a few years before he began coming Warm Springs. The waters partially restored some use of one leg and ultimately led to the creation of a rehabilitation hospital occupying a large campus near his home.
Our day of hiking and photography ended with a final look at Lake Delano surrounded by vibrant trees.
When I was a camper, many years ago, we used to sing this song:
"If there was witchcraft, I'd make 2 wishes,
A winding road that beckons me to roam,
And then I'd wish for a blazing campfire,
To welcome me when I'm returning home."
We got our wishes!
11.12 Warm Springs to Three Rivers State Park
We reluctantly left the beautiful FDR State Park, but the temperature was headed down to 27 degrees that night, and we were afraid that our pipes, as we, would freeze. We headed back to Florida and camped where Florida meets the southwest corner of Georgia; the Chattahoochee and Flint rivers converge to form Lake Seminole and the Apalachicola River. The park was severely damaged when in October 2018, Hurricane Michael changed the state park and its forest forever. Trees were turned into kindling, large areas were cleared completely and much of the cover growth was destroyed.

Recovery is well underway. Logging has removed the dead trees, chipping is ongoing to remove the damaged smaller wood while nature is regrowing the land with patience and care.
11.13 to 11.14 Three Rivers State Park
The campground was functioning completely, including power and water sufficient to keep Winnie from freezing in the cold Northern winds that drove the temperature to near freezing. It was so cold that Joan missed her usual sunrise pictures, deciding instead to remain under several blankets for a while longer before facing the sunshine and beauty with her camera.
\\\
It was a lovely day so we set out on a hike along the river trail. Although there were trees and branches down on either side of us, the trail itself had been well-maintained.
All went well for quite a while, until we started to wonder what happened to the boat ramp that was supposed to be at a road where the trail ended. Google Maps confirmed that we were in the middle of nowhere, until I zoomed in and saw the road in the distance.
We decided to abort the walk along the trail and head up the bulldozed hill to the closer road. We walked "forever" over bulldozed rubble, but finally there really was a road in front of us, which we followed back to the campground.
Later in the afternoon we drove to the dam that formed Lake Seminole.
Then we found a restaurant that exceeded all of our expectations. In the town of Sneads FL we did not expect to find such fine dining. Even Yelp's 4 ½ stars did not prepare us for the excellent meal we had at Rutabaga Cafe. Not the first time that a tiny little town had an extraordinary restaurant.
After dinner we drove home via a bridge that was parallel to the dam. Always ready for a photo opportunity, I asked Stu if he could stop while I walked out on the bridge for the photo. Fortunately, Stu is very patient with my picture taking obsession and stopped just before the bridge. As I walked out to the center, hugging the rails of the bridge as cars speeded by me, I had second thoughts about this "opportunity," but I kept walking, hoping that the cars going by were being driven by sober, experienced drivers, and that I would survive this walk.
I survived, but in hindsight that was foolish.
11.15 to 11.17 Avalon Landing RV Park
Avalon Landing was cold. The Winter Winds descended from Canada to a 30 Fahrenheit degree drop in temperature that took us into pipe freezing (almost) weather.
The park, itself, was quite nice. It is split into two halves by a private canal off Indian Bayou. Interesting way to circumvent fishing laws. Crabbing and fishing without a license is permitted inside a small fence that was intended to keep boats in Indian Bayou from entering the canal and, I presume, to tell fish that they are unprotected if they cross into private waters. The birds seem to understand as they sat on the fence looking for errant fish.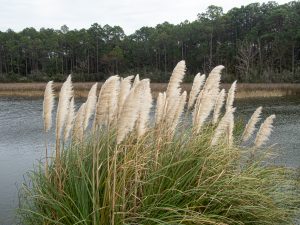 We hiked around the canal, over the bridge seen in the photo above. During the hike, we saw some rushes – and looked hard for Moses drifting down the water to be found in them.
We did some mid-day hiking, a bit of laundry, and some minor improvements to Winnie, mainly a new single-lever  faucet in the bathroom to improve hand washing and solve the old faucet insufficient water delivery problem. The new faucet was installed to keep Joan happy but it turns out, I like it even more than she does.
Joan is flying home for a couple of weeks, and will meet me in Jacksonville after Thanksgiving with Abbey and her brother Jimmy's family. Stu will continue on to New Orleans for some mandatory Beignets and then to Austin to have Thanksgiving with Shirley, Josh, Rebecca and the Grandchildren.
Good health, happy family and great travels – much to be thankful for this year.