After the "Hunt for Fall Foliage," Joan flew home to celebrate Thanksgiving with her side of the family, and Stu continued on to meet up with Joan again in Jacksonville.
11.17 to 11.19 Fontainebleau Campground
Fontainebleau Campground is located just off I-12, a few miles from New Orleans. The campsites are heavily wooded, nearly flat, and completely equipped.  Each cluster of about a dozen sites surrounds a modern, clean restroom equipped with laundry facilities.
Parking Winnie has always challenged me. The challenge is compounded by the advice of the camp attendants who try their best to confuse me with strange terms like "left" and "right" and sometime "stop." The site assigned to me  was, as usual, surrounded with trees and rocks. Since no one was looking, I have no one to brag to when I perfectly backed Winnie into her temporary home for the next several days.
Who could ask for anything more?
In addition to the campground, the site surrounds a once working sugar mill that has fallen into ruin alongside a new visitors' center housing a ranger who explained the plantation and encouraged touring the grounds.
Several locally-made rocking chairs invited relaxation, provided shade, and made guests comfortable. These chairs were placed in both the inside and outside of the visitors' center. Nice of them to create a tranquil area.
The plantation fronted to Lake Pontchartrain where goods were received and shipped. A long dock extended out into the lake to deep water and, most importantly, provided a visual center for sunset photographs. Finally, there were hiking trails, bicycle trails, walking trails, and overlooks that border on the swamp and the lake.
The hiking trails were manicured, well marked, and lifted above the swamps with boardwalks. There were formal walkways with seasonal foliage, changing to provide decoration while long picnic areas wait for warmer weather and expected crowds.
Just adjacent to the park, there is a bikeway built on a previously used railroad bed. It is flat, smoothly paved, protected from cars and shaded. Anywhere the bike trail crosses a road there are ample signs, appropriate stop signs, and visual clearance to see upcoming cars and have them see you. I biked about an hour outside the park into the nearest town. I knew I had arrived when the water tower appeared as a UFO above the bike trail.
11.19 to 11.21 New Orleans
I love New Orleans. The city lends itself to walking, bicycling, sightseeing, eating, and being present in the music and art that makes up the fabric of the city.
I was relaxing in the French Quarter RV Camp ready to enjoy the city. First, I did my homework amounting to washing my clothes, cleaning Winnie, and taking a long walk. The hot tub was perfect but the dryers were in need of a vent pipe cleaning so they took longer than I wished.
Later in the day, Rebecca confirmed we were meeting this coming weekend in Padre Island – about 9 hours of driving from the campground. I was thrilled with the prospect of seeing Miguel and Rebecca and especially happy to anticipate a big hug from Sierra. I offered to do lamb chops for dinner and this set up my day. I love to bicycle, especially in big cities when there is a lot to see. New Orleans is my favorite with lots of wide open walking areas and people who are really nice to bicycles, so all I needed was something to do. Rebecca gave me a goal: Find the makings of dinner while I was camping.
First I had to fuel the bicycle engine – me.  There is no real alternative:

Cafe Du Monde, located near the waterfront, has essentially one item on the menu: beignets – fried dough drenched in powdered sugar. Absolutely no redeeming value except they taste good.
There are a large number of Beignet restaurants in the city. The waterfront location is the most popular, mobbed with locals and tourists. The place is so crowded, people frequently share tables. I had the fortune of sharing a table with Paul, an interesting guy who is semi-retired and farms trees for a living. My first guess is that watching trees grow is about like watching grass grow.  Paul enlightened me with his animated description of the farm and process. Made the good breakfast even better.
Across from Cafe Du Monde, Jackson Square is the center of tourist attraction. I particularly enjoy standing on the levee and taking in the square, the tourists, and the open green areas. The square is decorated for the holidays, as are the horse drawn carriages waiting for fares in front of the square. The open areas are full of music, Tarot card readers and similar colorful folks.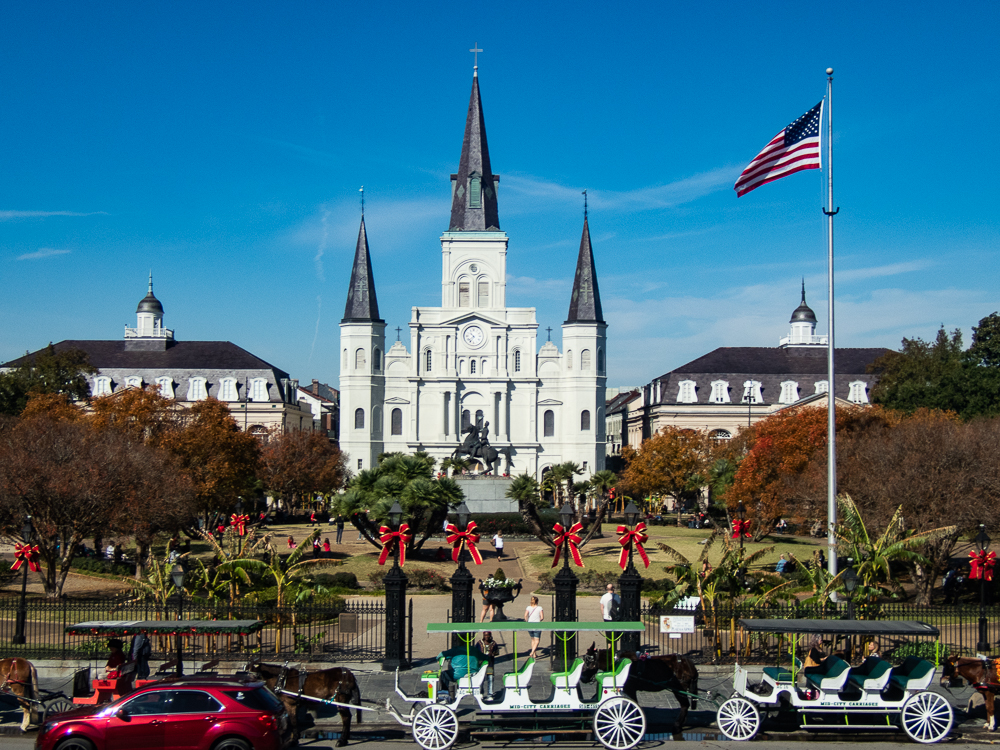 One of the many high points of the city is the dedication to bikers and walkers.
My hunt was rewarded:  I found a fine market with many organic offerings, a large seafood market, fresh produce, and an extensive set of international foods reflecting the international nature of New Orleans.
And finally, After riding for over 6 hours to get dinner makings, I relaxed to some fine music and gumbo.
11.22 to 11.24 Padre Island
Rebecca and Miguel invited me to meet up with them in their new yet-unnamed travel trailer on North Padre Island.  This 60-mile strip of sand north of Corpus Christi is completely undeveloped with most of the land having no facilities such as water or electricity available for camping.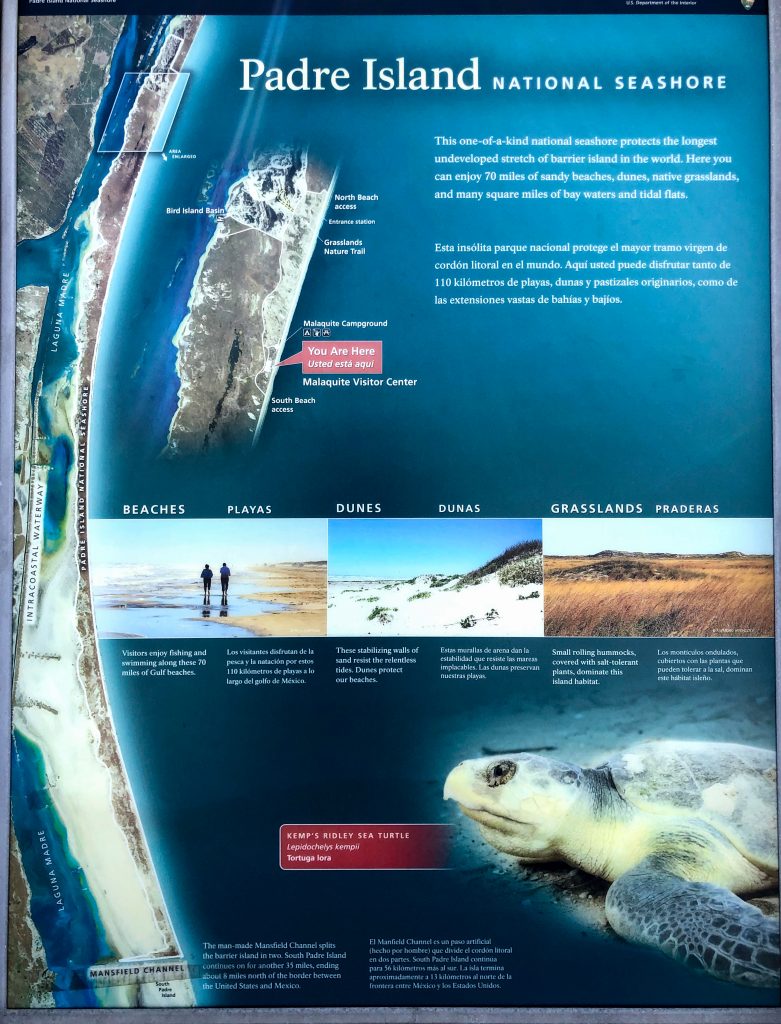 Most of the beach, about 60 miles of it, is available for free camping with frequent patrols and no real oversight.  We carried everything in and out following an informal guideline to bring out a bag of beach trash per person.  Unfortunately, there was no problem finding out share.
Our campsite was away from everyone else, as was every other campsite.
We brought in firewood and marshmallows and even a small flying saucer that was quickly overpowered by the slightest breeze. The best part of the weekend was Sierra's ever present smile.
My father loved golf. I never came close to mastering the sport. He gave me his cast=off golf balls to "practice" and I built golf ball rolls, occasionally massive piles of sand where I could put the ball on top and watch it twist and turn its way to the bottom. A good golf ball roll occupied me all day on the beach. I still carry a few of Dad's golf balls wherever I go near a beach.
I nearly studied Civil Engineering  but could not find a market for Golf Ball Roll Designers.
11.25 Back in Austin – Nicole's 18th Birthday
Nicole has passed a milestone in her life.  She selected, and was accepted with a scholarship, into her college home for the next four years, Texas Northern University. While she is still narrowing her choices of study and ultimate career, it represents a major milestone in her transition from Shirley's child to her own adult person. And, by the way, she also turned 18, with a celebration at the Cheesecake Factory with Shirley and TJ's family. It was nice to share the smiles and congratulations.
11.28 Thanksgiving Number 1 (Thursday) at Rebecca and Miguel's
Our family has much to be thankful for. Shirley, Joshua and Rebecca and their families all live in the same city and are close enough both physically and emotionally to celebrate holidays together. Both Joshua's and Rebecca's family enjoy entertaining and both families enjoy cooking. Thanksgiving Day has evolved into a non-traditional feast of smoked brisket and ribs with Bacon Wrapped Overstuffed Jalapeño Poppers, an amazingly flavorful dish that should burn but doesn't, when smoked for an hour or so and served too hot to eat.
As much as I love brisket and ribs, Thanksgiving would not be the same if there were no real stuffed turkey. Fortunately . . .
11.29 Thanksgiving Number 2 (Friday) at Stephanie and Joshua's
Stephanie created the ultimate Thanksgiving with turkey, two kinds of stuffing, two kinds of cranberry sauce, creamed string beans, ham wrapped asparagus, corn bread, and several other delicious dishes I sampled. I almost resisted going back for seconds, but I did take a bit more of the dressing so I cold sample the second of the two gravy dishes. Oh, and there were four kinds of pie in case you were hungry after dinner. We even found time to look out at the sunset over Lake Buchanan and enjoy the deer that ran across the road on our way back to camp after dinner.
Dinner was so good and everyone was so excited to visit that I never took photos, but I do have lots of nice memories.
After two days of overeating, the family went for an organized FolkWalk in Georgetown. Part of us did a 5K walk and the hardy half did a 10K walk. I enjoyed the exercise and getting out on the warmest day we had for about a week. Bridgit (their dog), in the lower left corner, enjoyed the walk and was "done" after the 5k.
12.1 to 12.2 Rocky Bayou State Park
Campers traveling across our country sometimes gather around a campfire and swap stories of good and bad parks. This is how we learned about Fontainebleau  (11.17) and Rocky Bayou state parks.  I stopped for an overnight visit to Rocky Bayou to "check it out" for a possible longer stop on our next trip from Florida to Texas.
Rocky Bayou is a small bay that connects to a larger bay, Choctawhatchee Bay that, in turn, connects to the Gulf of Mexico at Santa Rosa Inlet. All this is important because there are no natural rocks in Rocky Bayou. For years, before it became a park, it was a bombing practice range. The airplanes dropped thousands of concrete practice bombs that came to be called rocks in the bayou. The bayou remains unsuitable for power boats unless you know the area very well.  It is a heaven for kayaks and canoes.
The sights are wooded, well separated, and frequently equipped with large or very large picnic shelters. As with most state parks, it is very inexpensive, approaching nearly free for senior citizens or residents of Florida. It cost me $8 a night to stay there. The site is nearly isolated from civilization noises and lights while it remains close to nice places to eat out if desired.
Fred Gannon Rocky Bayou State Park is about 10 miles from I10.
12.3 to 12.6 Jacksonville FL
Jacksonville is a lovely city to visit.  This is our second trip. Several years ago, we visited after the city was flooded by the St. John river. The water had recently receded leaving a mess.
The city is rebuilt, renewed and exiting to visit.  There is a free monorail that lacks only a stop at the Magic Kingdom to be a Disney ride. Automatic, clean cars ride on a single concrete track above the noise and traffic.
12.7 to 12.8 St. Augustine, FL
St. Augustine is Florida's (and I think the country's) oldest city claiming to be only 11,000 years newer than Damascus. The city centers around the hotels built by Flagler and re-purposed as the Flagler College and Lightner Museum.
We toured the city over a two day period while we stayed at Anastasia State Park, just a few miles outside the downtown area.
Our first evening we were fortunate to arrive downtown before the major traffic and crowds lining up for the highlight of the holiday season, a musical tram tour of the millions of lights strung on nearly every surface in the historic part of the city. The tour provided special glasses that made very light sparkle and presented the "stoned without a hangover" feeling. Our cameras sorted out the special effects to present an image of millions of lights.
The second day we toured the historic area on foot, concentrating on the Flagler College and Lightner Museum and Riverwalk. Riverwalk encompassed both sides of the Intracoastal Waterway including walking the John T. Alsop bridge across the St. Johns River for a long walk around the block that included a return trip on the Skyway Monorail. I enjoy street art, I especially enjoy when cities enable their local artists to decorate buildings with iconic images of the city. The photo on right is 5 stories tall and is one of many bright images of a city recovering from extensive flooding just a few years ago.
Bridges, Trains and lots of people out walking.  All marks of a healthy city and a fun place to visit.
Flagler College is lucky to have the completely restored Flagler Hotel as its home. Listed on the National Register of Historic Places, the major buildings are a treat to visit and truly an example of beautiful architecture.