Overlook from Skyline Drive as panorama

We enjoyed five wonderful days of scenic motorhome camping as we traveled the length of the Skyline Drive south from Front Royal, Virginia to Rocky Knob Campground, that is actually on the Blue Ridge Parkway.
Our first Southbound day was a long trip from the Blue Bell, PA area to Mathews Arm campground on the Virginia portion of the Skyline Drive. Follow our trip to Matthew's Arm by clicking here.
At Matthew's Arm we were faced with a challenge. Marys Rock Tunnel clearance limits forced us to detour off Skyline Drive via Luray Caverns to Thornton Gap Entrance where we returned to Skyline Drive. Once back on course, we camped at Big Meadows and visited Lewis Falls for the saga of the lost hikers. Follow our detour and Cavern visit by clicking here.
The next day we continued to Loft Mountain, our southernmost stop on Skyline Drive. Follow our travels by clicking here.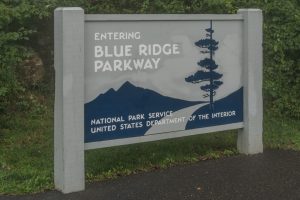 We left the Skyline Drive at the southern terminus, Rockfish Gap and immediately entered the Blue Ridge Parkway. This road, unlike Skyline Drive, is a "free" highway with many entrances and exits.
Our first stop on Blue Ridge Parkway was Otter Creek.  Click Here to join us on the Otter Creek adventure.
Our final day on Blue Ridge Parkway took us to Rocky Knob Campground for the night. Click here to see our last day in the mountains and forest.