2022 4/1 Arrival at Bluebonnet Cove
Joan and Stu rented two sites at Bluebonnet Cove, just across the lake from Miguel and Rebecca's soon to be Lake House. The Romans arrived in their new RV a short time later and set up right on the waterfront at Lake Buchanan. It is a perfect campsite for a family with young kids. Semi-private beach with nearly clear water that was very shallow near shore. The young kids still need watching – with parents and grandparents, watching is an easy task – but there is no fast moving water and the "waves" are 3″ high when a boat goes by.
Stu prepared a "beer can chicken", the perfect dish for the first night. Once Joan installed the chicken on the beer can and added her magic spices, the chicken cooked for about 90 minutes on a slow gas grill. Stu's chore was to monitor the chicken's temperature and declare it done when everyone was hungry enough.
Our first morning, and nearly every morning when it wasn't foggy, we awoke to a breathtaking view of Lake Buchanan. We were camped directly off the beach with a semi-private boat dock and lots to see and do.
2022 4/2 A day on the beach
Young kids just love the beach. Sierra is fishing, Dylan is digging, and Rebecca is creating memories.  A lovely day in Lake Buchanan.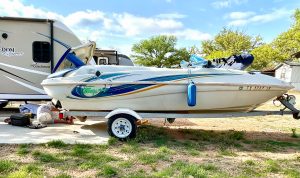 All the while Stu was  trying, again, to get TwoTo to run. TwoTo is a 1997 Sugar Sands 16′ jet that, at various times, has been adopted by Stu, Shirley,  Josh and Rebecca. She has now returned to Stu for some loving hospice care.
Miguel has a genius touch with this boat and diagnosed the problem as a bad CDI pack, a crucial part of the ignition system. Stu installed the CDI pack, corrected some shorted and chafed wires and did a temporary timing adjustment (it was about 20 degrees off).
Now she is getting some trim adjustments, a second bilge pump, and some fuel system work. Width the engine under repair, she is still hard to start, but once started runs very well. Then it was time to go back to enjoying the family. Another wiring adventure corrected the hard starting problem when Stu connected the Idle Enrichment Valve to a new ignition switch that Miguel had previously installed.
Mid-afternoon Stephanie and Joshua boated over from their lake house. Josh inspected TwoTo's trailer for an adapter to bring his new jet ski home.  The Jet Ski was a reward for Jacob's getting a job last summer, but we all know that was an excuse for Josh to have a new water toy.
We had a lovely visit, as the family sat together enjoying each other and the beautiful day, and Joshua and Miguel discussed the upcoming new lake house and the dock additions to accommodate the new Jet Ski.
The converted-school-bus Ice Cream Truck showed up just in time! Dylan had Blue Strawberry while Sierra has a Chocolate Mint Chip with Oreo Cookies. Stu topped the trio following Sierra with Chocolate Mint Chip and warm Peach Cobbler.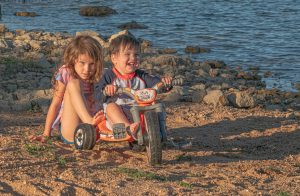 Stu always looks forward to Miguel's smoked dinner specials. Every time it seems better than usual and this was no exception. Juicy ribs seasoned a bit spicy for the kids while perfect for the rest of us. Accompanied by Jalapeno Peppers stuffed with cream cheese and wrapped with bacon. Joan balanced out the spicy meats with salad, and vegetable spears to dip in Hummus. Stu grilled spiced baby potatoes. We all enjoyed the family dinner.
2022 4/3 Sunday at Bluebonnet
Sunday morning started with what Stu hopes will be a camping tradition. Sierra made waffle batter that Stu baked into hearts for everyone to enjoy with Miguel's Blackstone Bacon.
Miguel and Stu spent another hour or so on TwoTo in Lake Buchanan and finally put her back on the trailer waiting for parts. We had a relaxing afternoon, and then Miguel and Rebecca packed up and readied the kids for their deserved nap home.
2022 4/5 Texas Wash House
Laundry is something we do but seldom write about. The Texas Wash House in Burnet is a place to write about. If there were a 5-star laundry, this would be it. Clean, very little dust due to daily changes of the air conditioning filters. parking near the door, and did we say CLEAN. The machines smelled and looked clean. The tabletops were clean, there was no litter, no soap dust, and no abandoned clothes. The floor was a bit dusty, but we walked on it so that is no surprise.
Just across from the Texas Wash House was the Bird BBQ. Not worth writing about and surely not worth visiting for lunch again. Everything tasted like my homemade BBQ before Miguel taught me how to do it right.
2022 4/6 Lady Bird Johnson Wildflower Center
When Lyndon Johnson was President, some people loved and some people hated his politics. After taking office due to the assassination of JFK, he made his mark in the world.
Lady Bird Johnson, his First Lady, made a much larger mark that will endure for many more years. She took on highway blight, replacing thousands of billboards with flowers and trees. She made everything she touched beautiful, turning Washington, D.C. from a working politics center to a beautiful tourist attraction with parks, cherry trees, gardens and beauty wherever she walked.
One of her quieter, but very significant, accomplishments was the establishment of the Wildflower Center near Austin. The center collects and preserves rare wildflower seeds, and encourages the development of road side beauty by encouraging delayed mowing until wildflowers can bloom and seed.
The Lady Bird Johnson Wildflower Center, officially the BOTANIC GARDEN OF  TEXAS is associated with the University of Texas, employing students interested in growing their knowledge and love for a major Texas asset, the outdoor beauty of the state.
2022 4/8 Visiting the town of Llano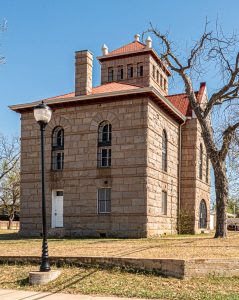 The Red Top Jail is an interesting place. Apparently people got drunk in Llano on Saturday night after payday, just like everyplace else in Texas. But no one had to admit to being in jail overnight; they just said, "I spent a night at the Red Top." Built in 1895 out of local granite for a grand total of $11,500, the Romanesque Revival structure served as one of Llano's jails until 1982.
The Llano River runs through the center of town, and has a dam that an adventurous hiker can walk on.
2022 4/10 Marble Falls Bluebonnet House
The Marble Falls Bluebonnet House is an abandoned stone house just off a major highway. During Bluebonnet season, the roads near the house used to be packed with photographers, nature lovers, and just people who could not resist the field of beauty. Unfortunately, this year it all changed. The total lack of rain left the area mostly devoid of bluebonnets during our visit. Plus the land owners seemingly grew tired of the beauty and the crowds of admirers attracted to the blooming bluebonnets. They mowed the field, destroyed the beauty, and caused the land to revert to another piece of near-desert that comes from attacking Mother Nature when she shows off her very best.
The image above is a stock image, taken years ago when nature was putting on her best show. Now there is nothing to see except an abandoned and decaying house.
The Bluebonnet House is just down the road from Marble Falls, a beautiful town that has kept the old time charm while modernizing and building a lovely park with an underused skateboard center located on the banks of the Colorado River. There are walking trails, bike trails, picnic areas, water features, and very clean and new restrooms.
Marble Falls has several 4-star and higher places to eat, all located within a short walk of downtown and many having a view of the downtown area or an internal park with shade. and we found while eating on their patios, falling things that came off the trees in bloom during our Spring visit.
We chose Adriano's Italian Restaurant, mostly to satisfy Stu's craving for Eggplant Parmesan left unsatisfied from a previous dinner when he had to send it back twice.
This time the dish exactly met Stu's standard. It was served too hot to touch on a warm, but not hot plate. The eggplant tasted freshly prepared with a light, crisp breading. It was imbibed with the taste of thick tomato sauce and ample cheese, layered between each piece "just so" to permit the full flavor of the tomato and cheese to blend with the texture and taste of the eggplant. It was a 5-star dish.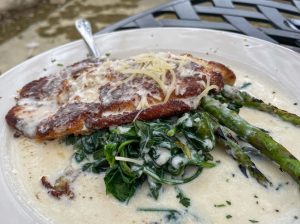 Joan's seabass was also well prepared and served on a bed of cooked but not soggy spinach and asparagus. The fish was excellent but didn't quite make 5 stars due to the excessive white sauce that dominated the delicate taste of the fish and vegetables. Stu rated Joan's fish at 4 stars after Joan requested, but did not get, a second plate to move her dinner out of the sauce, retaining just enough for flavor.
We split a nice but not as fresh Caesar Salad. The dressing was thick, lightly spicy, and tasty. About half the lettuce had black spots – a sign of poor handling or age. Stu enjoyed the taste more than Joan who was disturbed by the black-spotted lettuce and we settled on 3 stars.
The service was spotty, to be generous. There was one apparently inexperienced waiter training two novices. Water and ice tea had to be requested several times and finally arrived in waves with multiple glasses of water and tea. No problem, Stu was typically thirsty. Our food arrived very hot. At one point, there were three servers and we were the only outside table actually being served as it was before the dinner rush. The servers were polite but untrained and inexperienced.
Overall, it was a 4-star dinner with a lovely view in quiet and comfortable surroundings. Next time we eat outdoors, we will choose a table not under a Spring blooming tree.
2022 4/11  Willow City Loop and Wildseed Farms
The theme for our Spring visit to Austin was Bluebonnet Viewing. Unfortunately Texas politics and Mother Nature conspired to provide far less blooms than expected. The wildflowers, as noted above, suffered this spring from a total lack of rain and from the landowners mowing their fields.
Mowing and lack of rain made this a nearly flower-free spring. Just a comparatively few hardy plants in the shoulder of the roads where the road mowing crews have still delayed the initial mowing to give the young plants time to bloom.
The Willow City Loop is well known (among flower seekers) to have the wildflower displays. We will have to take their word for it – there were nearly no blooms in sight. The major attraction on the loop was a half mile or so of fence posts decorated on top with old boots.
The Wildseed Farms, located just off the Willow City Loop, commercially grows wild seeds. Rows and rows of lightly irrigated flowers in various stages of growing greeted our walk around the trails maintained for tourists to absorb the beauty. The farm grows, packages, and sells the seeds by mail to flower lovers. The flowers and gardening ornaments are arranged in an outdoor showroom while an indoor area shows and sells theme oriented crafts.
We walked around the farm for several hours and among the flowers was a wedding party taking photographs in preparation of their big event.
2022 04/12 Laundry and Catfish
Hard to beat a day of laundry. The Texas Wash House is clean, neat and just as close by as it was last time we washed clothes.  Stu is convinced the giant front load washing machines actually do a better job on his clothes than other machines he has tried.  He puts everything of his into one load, sheets, blankets, clothes, towels, and shoes go in dusty and come out spotless. Joan, on the other hand, carefully separates her lights and darks, and does 2 loads on smaller machines.
A fine laundry deserves a fine dinner. We went to Hoover's Valley Cafe where Stu had a terrific catfish dinner, and Joan had a fresh salad with shrimp and lox. It was more than enough salad to share and Stu enjoyed the lox part as Joan savored the shrimp.
2022 0413  Scenic Wilderness Cruise and Overlook Restaurant
We started the day with the Scenic Wilderness Cruise, heading north on Lake Buchanan to the mouth of the Colorado River. The cruise began in Lake Buchanan and continued up the Colorado River, the source of the lake's lifegiving water.
After the cruise, we drove north to the Canyon of the Eagles resort to have a late lunch at the Overlook Restaurant.
2022 04/14 Joan's Birthday Celebration
We started the day by launching Stu's boat, a Tango named Two-To, on Lake Buchanan. Stu had been working tirelessly for days on the boat to get it sea-worthy, and he succeeded. He took it for a ride, partly to show Joan that it was safe, and then went back to the dock to pick up Joan for her birthday ride. The boat worked flawlessly as we went west on Lake Buchanan until it was getting too shallow to continue, and headed back as the wind picked up speed and the water became quite choppy.
The Bayview Restaurant is located high on a hillside with a beautiful view over Horseshoe Bay. We reserved a table with an overlook view and found it was located in full sunshine with a heat-reflecting deck. While the place was nearly empty when we arrived, the hostess declined to seat us in the shade. Fortunately, the wait person was more understanding, and moved us under the only tree with ample shade for most of our meal until the sun moved on.
Dinner was excellent. We both had "small" but quite generous caesar salads to start. Other than having to hold down the lettuce against the wind, they were fresh and tasty.
Joan's salmon was requested and prepared medium rare – with the outside just done, and the center undercooked so it was perfect when Joan rewarmed her leftovers for a late night snack.
I had crispy redfish, tasty and lightly fried. It was a treat from back when I lived in Houston and redfish was on every menu, before overfishing reduced the stock. They granted me a "special favor" of providing onion strings as a garnish and a nice serving of creamed spinach that was as good as I remember from when I was young and my parents treated me to some at the Horn and Hardart's Automat if I was good.
Nice meal capped with a pre-birthday surprise, a new Fitbit for Joan's Birthday.
2022 04/15 Sweet Berry Farm
We met Rebecca, Sierra, and Dylan at the Sweet Berry Farm for a morning of picking berries and cutting flowers before Joan had to be at the airport.
We had lunch on the way to the airport at a wonderful Pho restaurant, always a treat.
When we got to the airport, Joan's flight had just been cancelled, and no flight was available for 7 hours. So Joan waited for the 9:30 pm flight and arrived home after 1am, just happy to have made it home safely. Stu stayed in Austin, to spend more time with his 3 children, and the 2 grandchildren who were in town.
2022 4/30 First stop on Stu's drive home with Winnie: the Frascone Winery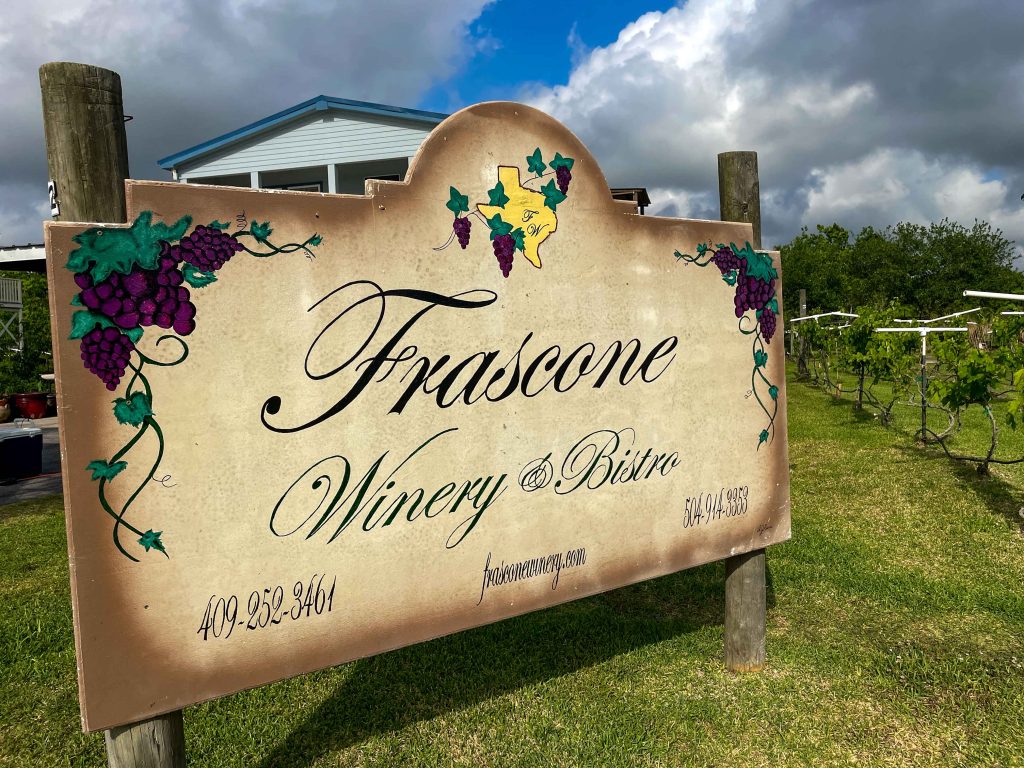 The Frascone Winery Harvest Hosts stop was chosen primarily because it was a long day's ride from Austin, about halfway to Faubourg Brewing in New Orleans, and let me get closer to Lakeland, meeting Joan, and the balloon festival. It turned out to be much more.
Camping at Harvest Host sites is free.  Power if offered at $20 for 30 Amp or 50 Amp. This host offered a large field with a view of  Trinity and Galveston bay that can be used for free dry camping. The site was located a block from a public pier that faced the clouded-over sunset.
There was a BBQ cook-off in progress when I arrived. I was given "samples" of ribs and chicken. It was clear that Capt. Doc's was the best:  It was the only BBQ I have had that approached Miguel's in flavor and moist texture. The other competitor was just "very very good." Later in the evening the hosts offered Crawfish for dinner for $6.99 – caught by the fish farm next door.
The winery was hosting both a competitive wine tasting and a BBQ cook-off. I don't know how people judge wines. After 6 or so small glasses, they all tasted the same, I think. Two of my 5 votes were cast for the wines that became the winners but I can't imagine how.  After one round of tasting, I went to sleep for the afternoon.
Continue with us as we start the trip home with a visit to the Lakeland Balloon Festival by Clicking Here.