2022 9/25: Stu drove to Dallas, checked in at the Treetops RV Resort, and went to the DFW airport to pick up Joan, who had flown from Florida in a hastily arranged change of flights 2 days early to escape the oncoming hurricane.
2022 9/26: Joan and Stu followed a wonderful self-guided walking tour of Dallas. Click here to see the description of the tour. 
Here are the steps of the tour:
1. Pioneer Plaza – a herd of bronze cattle was coming down the hill and into the river. The lifelike exhibit was the work of Robert Summers of Glen Rose, Texas. He devoted much of his artistic life to the creation of lifelike cows on a cattle drive. Each cow took a year or so. The first few were placed without permission and admired until the city created Pioneer Park and began supporting Mr. Summer's art. His children continue to create additional cows, and the herd slowly grows over time.
2. Pegasus – flying horse, a Greek mythological symbol of wealth, power and fame. Dallasites have come to embrace this symbol as their own. Corner of Young Street and South Lamar Street – the original rotating Pegasus which has been restored.
6. Dallas World Aquarium – built from old warehouses that were demolished except for the brick walls and support structures. The  exotic birds are quite amazing, but the even bigger attraction are the large tanks of fish and other sea creatures, including one huge tank that has a transparent tunnel you can actually walk through, under all the fish.
7. Pegasus Plaza – small park on the corner of Main Street and North Akard Street. It's home to a winding stream whose source is a natural mineral stream 1,600 feet below the park. The plaza takes its name from Pegasus, the iconic sign atop the adjacent Magnolia Hotel. Unfortunately, in the past several years this  plaza has become a gathering place for the homeless, and anyone who enters the park to relax is harassed and threatened. The city should do a better job of taking care of its homeless and mentally ill.
8. AT&T Discovery District –  enjoy digital media and art projected on the towering Media Wall.
9. The Eye Sculpture – a 30-foot eyeball sculpture – on private property so you can't walk near it,   The concept of a 'hangover' eye was used to mark the land refused as a parking lot by the city because it would have been an eyesore.
10. Thanks-Giving Square – a lovely and quiet park to sit for awhile – and watch the water pouring over the rocks.  "It's a place where we can all stand together on common ground, reflect on gratitude and appreciate the diversity of our community. We invite you to visit and experience the power of gratitude for yourself.
11. Klyde Warren Park – "a clever use of neglected urban space. It's basically a park built over a freeway, and it connects downtown Dallas with Uptown, another city center neighborhood." It includes a playground with a splash pad.
12. Dallas City Hall – designed by world-famous architect I.M. Pei.
The building has been described as an inverted pyramid and it quite an interesting structure. We were told that there was another I.M. Pei building in downtown Dallas, so we looked it up and headed over there. Fountain Plaza has beautiful fountains, but the surrounding building isn't that interesting and is described as not one of his best creations.
Next time we'll be sure to see the Dallas Arts District, a remarkable collection of museums, all closed on Mondays, especially the Perot Museum of Nature and Science, the Nasher Sculpture Center, and the Dallas Holocaust Museum.
That evening we were lucky to catch Joan's cousins, Don and Jan Haig, before they left town in their recently purchased Oliver RV. They invited us to their home in Dallas for dinner, even though they were very busy getting ready for their long trip. We were grateful for the evening we spent with them in their extraordinary home. They are very special people, and dinner was quite delicious.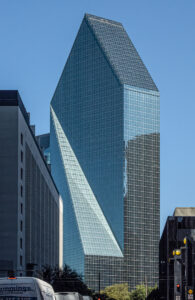 2022 9/27: We took a one-hour Cruizer tour of the city with a useless, very disappointing tour guide. Evidently, most of the Cruizer tour guides are excellent, judging by the 5-star rating, but we got Tanya, who knew nothing about the city except how to drive through it in circles, passing the same buildings and restaurants over and over. She would point to a hotel and say, "and that's a hotel, right?" Stay away from Cruizer, unless you know you have a good tour guide by reading the Google and Facebook reviews. We did enjoy one unusual building, which  has what looks like a ski ramp running down its side. Evidently, it's quite a temptation for people who can't resist trying to slide down it.
2022 9/28: We drove to the Ole Cotton Gin RV Park, the first stop on our 3-day trip to ABQ. Just a nice quiet RV Park, but with a real cotton gin from days past.  A mini-museum contains a small formally working cotton gin, an invention used to mechanically separate cotton from seeds with a large saving in people power and a huge increase in profit.
2022 9/29: We drove to the Cadillac Ranch to enjoy the art installation in a field of 10 old Cadillacs in a row, all face down in the dirt, and all visitors are encouraged to buy cans of spray paint and decorate the vehicles. The small park is an excess of tasteless excess. Toxic paint smells, mangled cars, and trash. The only good part is it is free.
We stayed overnight at the nearby Cadillac RV Park, another unremarkable  but quiet park.
We drove Interstate 40, the old Route 66, for many days. Almost always visible in the distance were large electric generating windmills. Hundreds or maybe thousands of them. According to the Dept. of Energy, the US now (2021) generates about 13.5 billion watts of electricity (135 gW), growing at about 13 gW per year. Each gW is about equivalent to one small fossil-fueled electrical plant. The initial cost of newly generated electricity (that is, what does it cost to put a gW in place) is lower for wind than any other source. The operating cost is much lower for wind than any source except nuclear. While wind power growth is very rapid, it could be much more rapid if the politics of funding and placement were improved. As usual, one party favors more wind (and solar where applicable) generation while the other party is anti-renewable sources.  Guess which???
2022 9/30: Car trouble.
The Front Differential, the part that connects the front two wheels to the transfer case, transmission and engine, overheated, spewing oil all over Winnie.
It happened on our way West from Cadillac Park. We stopped at a roadside rest near Glenrio. Not much to see except a good samaritan that pulled up alongside to tell us our car was smoking transmission oil.  He was almost right. For some reason, the car had shifted into 4-wheel drive, although the selector still said 2-wheel drive.
We think this may have happened when Stu flashed the car's lights to let a truck in and turned the 4WD selector by accident, eventually causing the car to switch,  even though the switch said 2WD. Cars can not be driven over about 25 mph and only on dirt or snow in 4WD position.
We limped into the Blaze-Inn-Saddle campground in Tucumcari and went around the corner to Jack's Truck Repair Station where they drained what little oil there was left in the front differential, found metal shavings, and refilled it so we could limp toward a shop that might be able to repair or replace the front differential.  Stay tuned
The best part of the day was dinner at Del's. A Mexican/American place that served Joan a terrific vegetarian Fajitas dinner with excellent and ample grilled shrimp. Friday is Catfish night and they  served Stu a nice helping of lightly breaded and flavorful catfish. We hope to eat there again. This was the best restaurant meal of the trip; they set a high bar with lots of fresh veggies.
And the best part of the Blaze-Inn-Saddle campground was the mesa that was  across the field beside the campground.
Joan and Stu made a zillion phone calls, found a repair shop willing in Albuquerque to see what needed to be done, and found a dry (no electric/power/water) site for overnight between Tucumcari and Albuquerque.
2022 10/01:  We drove west slowly on I-40 as we gained confidence in the overheated differential, hoping the damage was minor and would sustain the trip. Since this was an unplanned stop, we were lucky to get a dry camping spot at Zia Campground, about 100 miles east of Albuquerque. Turned out to be a lovely spot,  flat, shady, far enough from the highway to be quiet except for the background noise of the generator we ran all night for heat.
We drove into the town of Moriarty for a trip to "The Laundry Room" and a lovely dinner at Shorty's BBQ. The laundry room was especially clean and comfortable but the parking lot was muddy due to days of rain. There was a terrific DIY car wash where Joan and Stu washed off the remains of the boiling oil from the overheat of Winnie.
Winnie ended up cleaner than she had been in years, even after we paid to have her "professionally" washed and waxed. In case you are in suspense, the car is fine. Two differential oil changes and 1000+ miles with no problems.
Joan had a wonderful roasted half chicken at Shorty's Restaurant with enough for lunch. Stu had a BBQ sampler: pulled pork, ribs, and brisket. Except for Miguel's superior BBQ, this was excellent and very tasty.
2022 10/2-10/4 Albuquerque with Michael and Carol
This is the morning coffee view from Carol and Michael's home. We are looking toward the morning balloon launch. We bundled up in our winter clothes to sit with Carol who was dressed in sweatpants and a t-shirt. I guess living in Florida really thins your blood.
2022 10/03 Joan's family met for dinner at the Japanese Kitchen Steakhouse.
2022 10/4 We had morning coffee with Carol, retrieved our car from the transmission hospital, and moved to the Balloon festival grounds for the balance of the week.
Carol and Michael have a lovely new home with a view of the Albuquerque skyline.
2022  10/5: Quiet day at the Balloon grounds until the Evening Glow.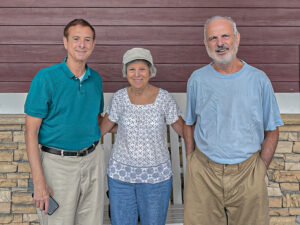 Joan and Stu had lunch at The Red Lobster with two of Joan's brothers, Michael and Tom, both of whom live in ABQ. Tom is especially engaging on politics. His settled matter-of-fact viewpoint helped clarify Stu's thinking on the Ongoing war in the Ukraine. Stu wishes there were more opportunities for this kind of family lunch.
2022 10/6: Up at dawn to see the balloons.
The Albuquerque Fiesta is well-known for its Special Shapes Rodeo, in addition to balloons in standard shapes. We enjoyed them all, waking up while it was still dark out – to not miss any of the action.
Click here for the Balloon Festival pictures.
While Stu relaxed and cleaned Winnie (he loves to clean), Joan visited with Michael, Carol and Abbey at the Albuquerque Art Museum.
After cleaning and napping, Stu set out in search of the perfect junk food snack. A balanced meal with equal parts of Orange and Pineapple Sherbet, the snack had no lactose, no sugar, no fat but managed to taste super good. A successful trip.
The afternoon weather cleared enough for the skydiving show to take place.  Six parachutists jumped from above the field carrying flags and banners. Most impressive was their ability to steer upwind to the exact landing place.
Later in the afternoon Abbey, Carol, Joan and Stu gathered for an evening balloon glow. Unfortunately, the weather had other ideas – too much wind. We shared our happy smiles and retired to Winnie, our trailer, for hot chocolate.
2022 10/7:  Visit to the Indian Pueblo Cultural Center – Joan, Abbey, and Annie – in addition to viewing balloons at dawn and dusk.
My nephew was recovering from Covid, so we had an outdoor gathering in front of his house with him, his wife, and his son (dressed for Halloween) all masked and "socially distant." Less distance between all of us next time.
2022 10/08-10/09:
Weather interfered with the full enjoyment of the Balloon Fiesta. Many events were cancelled and several had to be rescheduled. You can click on the link below to see many of the special balloons that flew during the periods of nice weather.
One special event that continued on schedule was a family get-together on the President's Compound hill overlooking the fiesta grounds. Joan and her little brother Michael (my oldest brother) were immortalized by Carol in this smiling photo.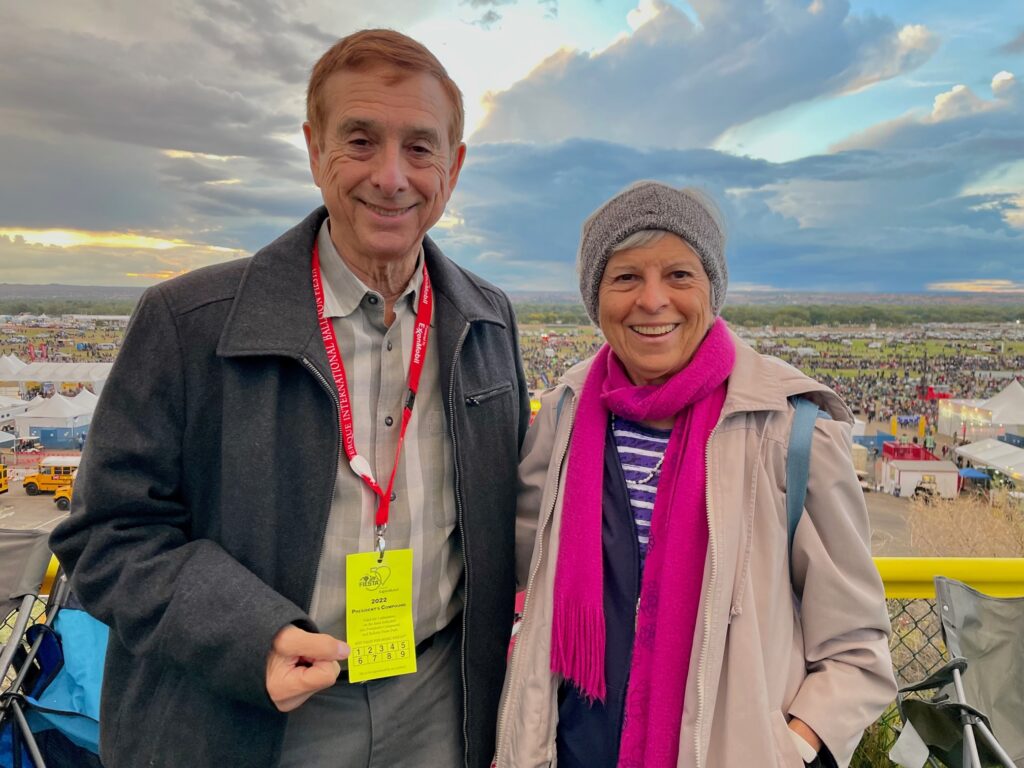 Click here for the Balloon Festival pictures.