Joan and Stu began a long planned trip to Asheville, NC for a Shalom Roamers RV Rally, a growing group of Jewish RV owners who meet for a week a few times a year to socialize, celebrate Jewish culture, and enjoy camping together.
This year the trip took on a slight detour to Guntersville, Al to meet a temporary addition to our cruising fleet.
2022 8/25 On the first day, we departed Delray mid-morning and headed for the Winter Have Moose Lodge where Winnie, our travel trailer, now lives.
The Moose is a convenient one-day drive from Delray so we can save some fuel by doing the first leg with only our car. On the way, we stopped for a lovely lunch at Mable's Place Southern Cooking in Okeechobee, FL where Joan had grilled shrimp and Stu had wonderful small catfish. The portions were generous, and the remaining shrimp was the base for Stu's dinner at our Moose site.
2022 8/26: We left Winter Haven for Stephen Foster State Park and stopped in Ocala for a lovely lunch at Lakis, a restaurant we enjoyed on a previous trip. Our sampler plate was more than enough for lunch, with much of Joan's Greek plate of large chunks of chicken and tasty hummus and Tzatziki, and half of Stu's eggplant rollatini coming home to our trailer for dinner.
The Stephen Foster State Park honors him with the Stephen Foster Museum and a carillon that used to play his songs. Unfortunately, the carillon was damaged by a lightning strike and is only partially restored, since the crafts people encountered asbestos and are working on coating or removal before they continue the restoration.
2022 8/27: We left Florida and Stephen Foster and traveled North.  On the way we stopped at the Farmhouse Restaurant for brunch on our way to High Falls State Park in Georgia. Joan had "the most delicious vegetable and egg scramble" with a side of cabbage while Stu had an OK sausage, onion, and pepper omelet with grits that were out-tasted by some terrific hush puppies and Joan's cornbread.
2022 8/28: We enjoyed the afternoon and evening hikes around the High Falls and the lake behind the dam. Lovely park, uncrowded with very tight campground sites that are somewhat of a back-in challenge. Joan and two park rangers guided Stu and trailer to the safe and level site for the night.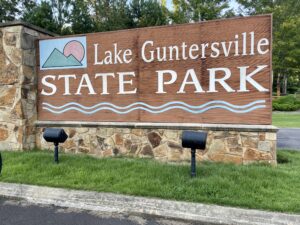 2022 8/29-8/30: We purchased a Rosborough 246 on a side trip to Guntersville, AL. We ended up keeping her only a short time before reselling. Guntersville is a lovely town with a giant lake and several excellent campgrounds. We stayed at Guntersville State Park, a fine campground with an amazing sunset.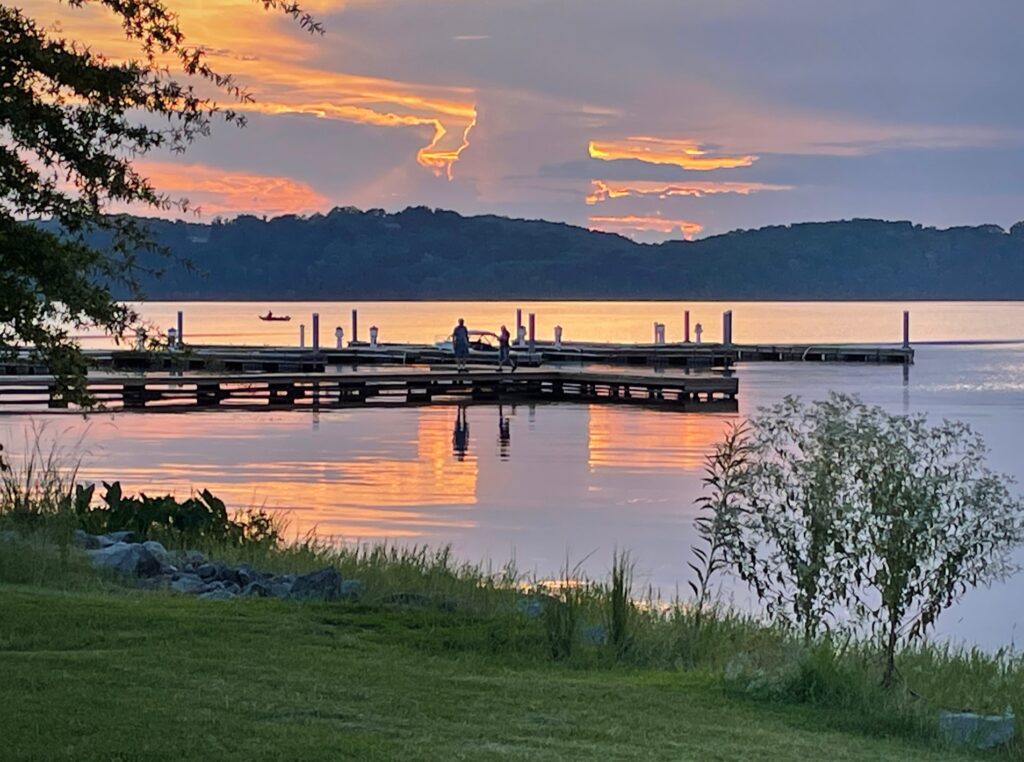 We traveled away from the lovely park long enough to visit our new boat for the first time on Sunday, August 28, shortly after arriving and setting up Winnie in her new traveling home. Stu returned Saturday for  the detailed inspection and purchase.
2022 8/30-8/31: We arrived in Pigeon Forge late in the evening to set up at Pigeon Forge KOA, a 2-star campground with irregular sites that were not level or paved. The area was not especially clean so there were lots of flying things to annoy us as Stu plugged in and leveled Winnie. We didn't bother with water or sewer, living on our tanks for a short stay.
The site was on the bank of Pigeon Forge River, more of a trickle, with a small waterfall.
2022 8/31 to 9/6  Shalom Roamers in Asheville NC: Shalom Roamers are a chapter of the Family Motor Coach Association, a group of people who enjoy traveling in  RVs and trailers. This chapter, as the name implies, are mostly Jewish people who share both the traveling interest and the celebration of Jewish life and tradition.
The group camped at the Asheville KOA during a period that included Labor Day Weekend so the place was PACKED and our group was spread out in a semi-improved campground with water, electric and no sewer hookups. Our site was gravel and not very level and had a gully full of water running through when it rained. We had a lovely view of the water and seldom saw or heard our neighbors.
2022 09/01: Joan and Stu departed from the group agenda for a full day at the Biltmore Estate. The estate was the summer Vanderbilt home and encompassed a sufficient size block of land that every vista was perfect as envisioned by the landscape architect, Frederick Law Olmsted, who also designed Central Park and many significant outdoor areas.
Tickets to the buildings and grounds are available online, with entrance to the home starting at 9:30 a.m. each day. The ticket allows entrance to the grounds starting at 9 a.m. In order to have plenty of time to walk through the magnificent gardens before the hottest part of the day, it's best to buy a tour ticket for 10:30 a.m., and spend the 90 minutes before the tour wandering the beautiful grounds.
Next to the Estate is the Italian Garden, then the Walled Garden, the beautiful Conservatory greenhouse, and beyond to the Bass Pond and 22 miles of walking and hiking trails, all designed by Olmsted.
An early plan was to build a 6,000 square foot home, but the architect convinced him that a 175,000 square foot mansion was more appropriate for the size and natural features of the vast grounds he was building it on. The 250 rooms have 35 bedrooms and 43 bathrooms.
2022 09/02:  Continuing our adventures on our own, Joan and Stu visited The North Carolina Arboretum. A beautiful landscape of local plants, walking and bicycle tours trails and small local sourced dining. Joan took in the beauty of the flowers and exhibits while Stu bicycled up and down the mountain with the aid of his electrical-augmented bike.
After the Arboretum with the viewing, cycling and lunch, we returned to Winnie, our trailer, showered and met up with the Roamers at the Jerusalem Garden Cafe. The group had their own dining room, an overworked but interesting server, and a belly dancer for entertainment. Several of the Roamers enjoyed their kabob meal but Stu's lamb tapis had no detectable lamb and was served near room temperature – probably because the group was all served at the same time.
From dinner, we went just down the block to Congregation Beth HaTephila. The outdoor setting was comfortable, inviting and laid out as an amphitheatre where everyone had excellent seating, perfect visibility, good sound and closeness without crowding. There was a mix of ages, many young adults with lots of kids.
The Rabbi kicked off her shoes, celebrated with dancing at appropriate parts of the service while she exhibited a love for the tradition of modern reformed temples. The Cantor accompanied himself on the guitar, backed by drums while he lead an enthusiastic group of singers in the chants and ritual of a Jewish Friday evening service. It was an excellent outdoor service, and the congregation welcomed our group when we introduced ourselves.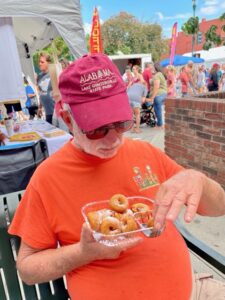 2022 9/3:  We did laundry in the morning and went to the Hendersonville Apple Festival in the afternoon The apple varieties were endless as were the food trucks.  Stu and Joan split a tasty chicken on a skewer and Stu observed the food truck tradition with a dozen fresh-cooked donuts.
2022 9/4:  Rain all day and drumsticks for dinner.
2022 9/5: Another day in the Asheville KOA swamp. Solid rain exposed a leak in Winnie's roof vent, too wet to patch but we have lots of bowls and towels.
Stu settled in outside with a good book and read while the water slowly eroded out campsite. High camp water pressure cracked Winnie's reducing valve and water filter.
A quick stop at the Home Depot rescue center resulted in a new filter housing, a new filter, some new valves, and another bad mark for the KOA in Asheville.
2022 09/06:  Brunch at the Eggs Up Grill in Moore, SC was terrific. Joan had a perfect vegetable scramble. We stayed at Homestay RV Park in Orangeburg, SC. One of Joan's better photo stops was The Orangeburg Chapel Baptist Church.
2022 09/07: We stopped at Lucky Roxy's Cafe in Spartanburg, SC,  on the way to the Good Sam's on the Georgia/Florida line. Roxy's was an OK brunch stop, quiet with not much to remember except good coffee.
The  Good Sam's was a strange experience.  We followed the directions from their ad and ended up in the middle of an intersection. Joan's call to the Good Sam's resulted in a strange conversation but still no address.  We followed their directions and found the place. If you had followed the sign on the right, Google Maps would take you right to their doorstep.
The ad advertised a pond to enjoy and fish. I suppose it was enjoyable for the regulars, but we only saw a fence, no trespassing signs, and a sorry looking horse in a pen that hadn't been mucked out in a long time.
The site was a generous size, flat, and treed. The ants we shared the site with enjoyed the open spaces. There was no one outside their campers.
2022 09/08:  Return to the Winter Haven Moose. We settled into the Moose swamp that had experienced several days of hard rain and some flooding.
Travel with us on our next adventure to Austin, Dallas and the Albuquerque Balloon Festival by clicking here.