We began this trip after a short stay at home, trying to catch up on paperwork, medical visits, gardening, and visiting the places we enjoy in Delray Beach.
2022 9/19 – 9/21: Stu started North and West with a late afternoon drive to the Moose in Winter Haven where we are storing Winnie when not traveling. He arrived to find a swamp after many days of rain and drainage somewhat limited by some new construction on the adjacent property.
Early the next morning, Stu and Winnie bid a temporary goodby to the Moose and our new friends. Stu drove 652 miles to his favorite Harvest Hosts stop, Faubourg Brewing in New Orleans. He arrived to find the parking lot empty except for two cars. Strangely, the entertainment area was devoid of people and only a single bartender was in the huge brewery and guest area. Apparently, they were closed except for one employee to serve one beer to one person who arrived looking for Shrimp and Grits.
After a long day's drive, Stu just went to sleep with Beignets on his mind. And after a quiet night, Stu awoke at dawn, drove to New Orleans City Park and was first in line at Cafe Du Monde for their first sale of the day. Turns out, it was yesterday's Beignet – that they replaced with the very first batch out of the kitchen. The smell and taste started my morning with a big smile.
2022 9/21: Stu stopped at Pour Brothers' Brewery in Beaumont, another Harvest Hosts offering. The town is nearly deserted. Most buildings are closed up and abandoned, the streets are nearly empty, and there is parking for a Super Bowl crowd if they wanted to park here and commute to the game.  Pour Brothers permits overnight stays in their city-block parking lot they used to share with a number of businesses – most long gone.  Now there is one pizza place (also nearly empty), a lunch place, closed, and a nearly empty police station that used their entire force to guard my parking spot and the one homeless person about 2 blocks away.
Nice town for a long walk. I ventured to City Hall, the Court Hourt house and eventually found the Library where they were selling books, I suppose to keep open. I bought a $5 supply of books, "all you can carry, help yourself." Two librarians, a shelving clerk, and one person shared this square block of what was once a lovely town with a rail siding and manufacturing.
As I walked through the town, I thought the US could house thousands of migrants here and conduct their immigration hearings in the empty courthouse annex. There are facilities, places for them to live, and a community that could sure use the injection of new blood and Federal money.
There is even a nice gated townhouse community that is only partially occupied, waiting to house administrators.
2022 9/22: Brazos Valley Brewing Company Breweries & Distilleries (Harvest Host spot once again) is a long name for another brewery that is just hanging on in Brenham, TX. Not quite empty, the main streets in Brenham are a mixture of antique shops, places to eat, and empty shops. There is some activity with room for lots more.
The brewery is quite large, quite active and seems to actually be producing product. Since I'm a one beer drinker, I can't comment on the product and the food, as with every brewery but Faubourg, is unremarkable.
2022 9/23-9/24:  Stu was lucky to get a reservation at Emma Long Metropolitan Park, a lovely park on the Colorado River just  few minutes from Miguel and Rebecca's.
Stu joined Rebecca, Sierra, and Dylan for swimming lessons: Sierra is learning to do a flip turn and on her way to being a strong swimmer, important if you own a pool and have a boat. Dylan is very expressive, leaning to talk, and a joy to hold when he lets me.
After swimming, I was lucky to join Rebecca and the kids for "traditional" Friday pizza with homemade crust. Each kid got to choose their topping section. Sierra patiently taught Stu to play the real Monopoly game while Dillon looked on with a knowing smile.
While we were busy with Monopoly, Miguel was out on a car buying adventure that extended to 3 a.m. when he towed his newest acquisition home.  I think they have a larger garage in their future.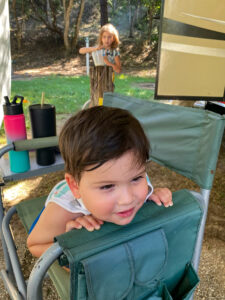 Next day found us all at Emma Long Metropolitan Park for a day at the beach where Rebecca fortunately took some photos. Dinner of beer can chicken with Steph and Josh joining us and Miguel making an appearance after waking up from his long car buying drive. We were having such fun at dinner that no one took pictures.
Continue our 2022 Fall travels as we visit Albuquerque, Joan's family, and the Albuquerque Balloon Fiesta by clicking here.