2022 3/26 to 4/1 Traveling to Austin
Each trip we try a different plan to make departure smoother. This year, we pre-packed all our clothing and most of our food the day before we left. This simplified the last minute stuff at home and helped us remember the last few things the day before – so we had time to grab and pack more carefully.
3/26 Pioneer Fiber Mill
Our first day's travel, 198 Miles, took us to New Smyrna Beach and a lovely Harvest Host. Steve Williams, operator of Pioneer Fiber Mill, accepts shipment of exotic alpaca wool from small growers to clean, hand dye, and spin into yarn that is returned to the grower for use by local hand crafters to make alpaca scarves, hats and similar crafts. Everything is done by hand in small batches.
Harvest Host property owners do not charge to share their land to RVers so we like to purchase a product to show our gratitude. Neither Joan nor I have the skill and patience to knit, so we went looking for a small craft that we could add to the walls of Winnie. Unfortunately, the many crafters supplied by Pioneer Fiber do not consign any crafts for resale, so we made a small donation to the local crafting industry.
We enjoyed our dinner at River Deck on the ICW at New Smyrna Beach. Nice place with covered outdoor seating and tasty Mahi Reuben (no Russian dressing because of the Ukraine war).
3/27 Lunch at Lake Side park in Butler
We timed our trip to Suwannee River to include lunch at a roadside park. Joan "discovered" Lake Side Park in Butler, FL. Fine RV parking with a view of Lake Butler, clean and comfortable covered tables, boat ramp, splash pad and everything necessary to make a perfect lunch spot, including a 6′ Cottonmouth snake (water moccasin).  We enjoyed the interlude but decided to skip petting the snake.
3/27 Suwannee River State Park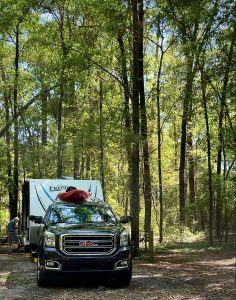 Our stop at Suwannee River State Park was lovely, easily worthy of a several day stay on our next trip. Our small shaded campsite taught us to always claim a slightly larger size for Winnie so we don't get placed in a smaller spot in an uncrowded park.
The Suwannee was had very high water. We are told there is a lovely Lime Green spring, so Joan and Stu hiked out to see it. All we got was a selfie! The high water had reversed the spring causing a significant current in the upstream direction with the water entering the Florida aquifer rather than flowing out of the stream. Significant portions of the trail were underwater.
3/28 Avalon Landing. Milton, FL – East Side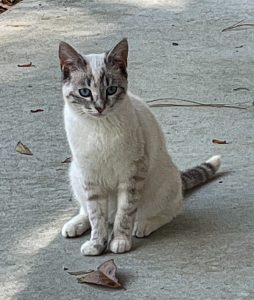 Our trip to Avalon Landing was more exciting than planned. We stopped at Publix for a turkey sub, Stu's favorite lunch while driving, eventually enjoying lunch at a superior roadside rest with a dedicated, shaded picnic area. We were joined by an adorable kitty that ate our shared turkey – from a safe distance.
After Publix, we had planned to fuel up for the day. Unfortunately what Stu thought was the entrance to the gas station, turned out to be the entrance to I-10 West, resulting in us running out of gasoline just as we exited the highway in sight of our next gas stop. Fortunately, we were able to glide off the shoulder of the road to a nice, flat, safe grassy area where Stu put 2 gallons of generator fuel into the car, getting us back underway in just a few minutes.
Avalon Landing, 5 miles east of Pensacola, is an OK stop, hard gravel pad, easy to approach, with well-spaced sites and not far off the highway. The campground is on Indian Bayou, which is quite lovely at the golden hour of the day.
3/29 Faubourg Brewery
We drove 204 miles to the Faubourg Brewery in New Orleans, leaving Florida behind and passing through Alabama, Mississippi, and into Louisiana.
Our usual enjoyable stay at Faubourg Brewery was cut short by threatening weather after Stu finished half a glass of Stout beer. Winds gusting up to 50 knots seemed unsafe in the open parking lot.
We proceeded West in search of a perfect stopping location for Beignets and a lovely dinner. Due to the various closing times, we were "forced" to adopt Joan's prior business partner Richard Katzeff's theory of always eating dessert first. While Stu has never met the man, he and Joan both look forward to his hand-made greeting cards at every holiday. The theme of eating dessert first is presented several times each year.
In the Spirit of Richard, we stopped at Rue Beignet near Baton Rouge, Louisiana. Freshly made, drenched in powdered sugar, Beignets encompass all the major food groups to be avoided; starch, sugar, fat and taste. These beignets had a special touch, they were prepared by an immigrant from Beijing who entertained Stu with his life story while he ate.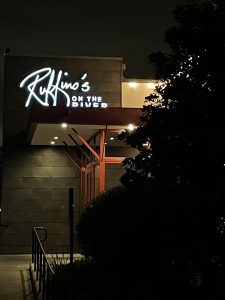 Dinner was planned directly across the road at Ruffino. Unfortunately, all their reservations were filled and they directed us to Ruffino's on the River, about 45 minutes down the road – on our route. Joan made a reservation and we continued our adventure. At 8:45, we finally arrived, parked Winnie, and were seated in a beautiful room with a beautiful view.
Joan's salad, with Gulf shrimp, chopped pistachios, and homemade gorgonzola dressing, was fresh and tasty. The bread was cold and not really fresh, but we were hungry, and the oil and garlic provided for dipping was good. Stu sent his Eggplant Parmesan back twice in hopes they would melt the stringy cheese, pour off the liquid that had puddled on the side, and heat the pre-formed and pre-fried eggplant. He ended up with a generous portion of Joan's salad.
We finished dinner around 10:00 pm and still had no place to stay for the night, having cancelled our reservation at Faubourg to head west ahead of the storm. Our only choice at that hour was a truck stop, so we joined all the trucks behind a Marathon gas station, and slept to the quiet roar of all the diesel engines.
03/30 Maplewood Place Park RV Park, Sulphur, LA
Maplewood Place Park RV Park was a big step up from the truck stop last night. It was quiet, had power and water, and we felt welcomed.
There was no maple in sight. In fact, there was nothing but gravel and mud. Fortunately, our site was gravel, elevated an inch or so above the grass and water from heavy Spring rains.
Our excitement came during breakfast when both our primary and backup propane tanks went empty – with the gauge still showing full. Stu removed the tanks and went to Tractor Supply, a short distance up the road. Filled, reinstalled, and cooking with gas, we had a lovely omelet for late breakfast.
03/31 Artesian Park RV Campground, Brenham, TX
Artesian Park advertises a "Scenic walking trail around beautiful fishing pond." That must have been true at one time. Apparently hard times hit the park, about half full, and they stopped maintaining the swimming pool and some of the other one time lovely facilities.
The park was perfect for an overnight stay. It has more than double-wide sites with very easy pull thru access, good utility connections, and even a one-time lovely pond with a lone fisherman.
A new owner has come along, and we hope he will turn this ideally-situated stop back into its former beauty.
04/01 Heading to Bluebonnet Cove
Nearly to our Spring destination. Follow our continued travels by clicking here.