2022 10/09: Palo Duro State Park
Palo Duro State Park near Amarillo, Texas is a huge "find" thanks to Joan's cousin, Don Haig. Don suggested this as a "must see" stop on our return home from the Albuquerque Balloon Festival.
Palo Duro claims to be the Grand Canyon of Texas, maybe so. It was carved by the flowing Red River over many years. The river flows through relatively soft stone and mud so the canyon is wide where the Grand Canyon is deep. This makes for lovely driving, hiking, and camping along the base of the canyon (800′ deep) with a 16-mile-long paved, winding road connecting the sights.
The park was built by the Civilian Conservation Corps and is broad, big, and beautiful, but lacks the magnificent stone structures of the Grand Canyon. Hiking is hot and dry in the warmer months, and carrying bottles of water is highly recommended. There are trails from "easy" to "difficult" – for all skill and age levels. Many of the hiking trails are quite suitable for mountain biking.
2022 10/10: Wichita Falls Bend RV Park:
Wichita Falls is a Texas advertising miracle. The adds liken it to Niagara and talk about the massive rebuilding undertaken after a storm destroyed the original falls.  I suppose that is technically true but . . . in reality Wichita Falls is a manmade, apparently pumped cascade more similar to the water features placed outside of fenced communities. It is a shadow of the real falls dropping hundreds of feet into the Snake River near Portland. There is no river or pond above the falls.
The Chamber of Commerce of Wichita Falls must be pleased.
The falls is surrounded by beautiful parkland, many paved strolling and biking trails, several parks, and the most convenient, cheapest, and among the best overnight stops in our travels. Wichita Falls River Bend park is a paved, level RV stop with electricity (30A and 50A) paved sights, some picnic tables, and a slick-looking pedestrian suspension bridge to the trail to the falls. It is located on its own access ramp just off Texas Rt. 287, a mile north of the famous Wichita Falls.
Wichita Falls River Bend Park is convenient, comfortable, level, and paved.  All this for $17/night with no reservations but seemingly space for everyone.
2022 10/12-10-13 Canton, TX: We traveled from Wichita Falls to Canton TX and stayed the night in Rolling Oaks RV Park. It was a nice, quiet campground with a manager who smoked heavily and made checking in kind of a challenge. They had a large camp bonfire at the other side of the campground from us but we expected others would follow the manager's example, so we avoided the cigarette smoke for a quiet evening at home.
2022 10/13 – 10/14 W. Monroe LA: We traveled to W. Monroe LA and stayed at the Pavilion RV Park. The dogs were barking on the next property and the road wasn't far away, but the place was easy to set up. The best part was on the trip between Monroe and Mobile when we stopped in Vicksburg, MS for what we thought was to be a quick lunch.
Lovely town, aging and working hard to retain business. We choose Rusty's Riverside Grill – what a treat. Terrific Gumbo, Amazing Shrimp and Grits, excellent bay scallops and good service.
Just across the street is a lovely Mobile Waterfront Museum, a free new large structure housing some of the history of the area and lots of facts about the Mississippi River that flowed by the back of the museum. There was a retired US Corps of Engineers motor vessel, the Mississippi, on a concrete cradle as part of the museum. Quite a place, lots to see.
[ADD PHOTOS OF MUSEUM IN VICKSBURG WITH SHIP]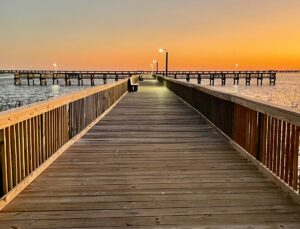 2022 10/15-10/17 Meaher State Park: Joan was lucky to get two nights on an island near Mobile. One night was across the lane from the beach, the second on the waterfront. We arrived at sunset on Saturday evening to a terrific display of color. Our site is fairly separated from other campers, very flat, and has an excellent water view. I hope we can wake up for sunrise.
2022 10/16 Tour of Mobile historic area
We were lucky to find a tour of the original and restored older homes in the historic districts of Mobile. Carol delivered a compelling story of the wealthy buildings and the yellow fever outbreaks that injured and killed so much of the Mobile population. The "Historic Mobile City Tour" was an enjoyable travel back in tie from the Visitor's Center in downtown Mobile.
[PHOTOS OF DOWNTOWN MOBILE]
Sunday night, October 16, we had a truly excellent dinner at the "Original Oyster House," about 2 miles from our campground. They had a real salad bar with lots of fresh salad to start te meal. Joan had a giant portion of very large Red Shrimp, claimed to be caught locally. Stu had 6 of the tastiest flame-grilled oysters he can ever remember.  Perfectly served sizzling and too hot to eat, he enjoyed every crumb from every oyster.
2022 10/17-10/18 Tallahassee Automobile and Collectible Museum
The Tallahassee Automobile Museum is a terrific journey back into the history of cars. A significant collection of perfectly restored cars back to the made-by-hand time when they still used wooden wheels and had not invented brakes. Upstairs is a collectable dream, outboard engines, more cars, thousands of golf clubs and hundreds of guns of all types.
The best part was the wonderful 5 star restaurant across the street: Backwoods Crossing. This terrific farm to table dinner place uses locally grown food and imagination to make crab cakes that are tasty, generous, and not greasy from over frying. The grits tasted like my Mother's would have if she were born in the South. The catfish was thick, jucy, flavorful, and crispy on the outside. The collard greens were full of a light bacon flavor. I loved the dinner.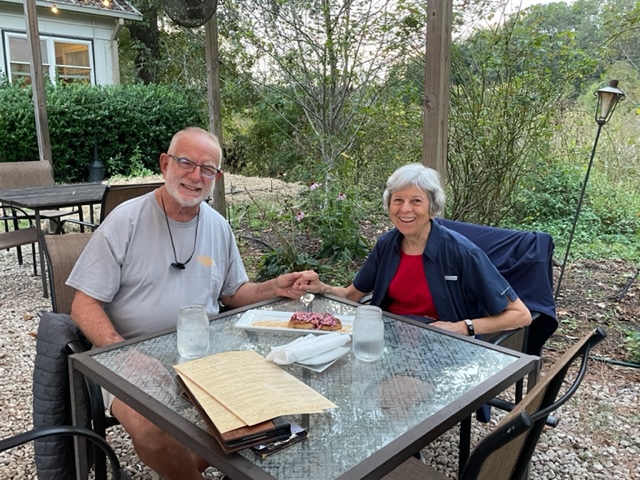 2022 10/18-10-19 Ocala and Ivy on the Square:  We did some serious hunting after following the mis-direction to the Wild Frontier RV Resort. Turned out to be a nice place, quiet, large paved pull thru sites, lots of green, and securely fenced. We will likely return on our next trip North.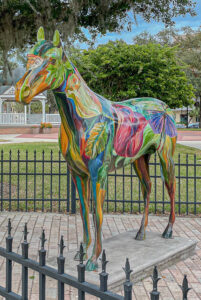 After setup, we headed into Ocala to visit the bronze horse on the square. Ocala is a nice town in healthy condition. Lots of places to eat ranging from bars to fine dining. We enjoyed walking the square with sufficient parking and a full and happy feeling.
Joan outdid her fine dining searching with Ivy on the Square. This is a superior restaurant featuring southern cooking prepared with a touch of excellence. Stu started his meal with two cups of hot tea and some crispy fresh home breaded onion 5-star onion rings. This was immediately followed by fresh salads with homemade dressing.
A short pause led to the best part. Joan had perfectly prepared pecan crusted salmon on a bed of tri-color quinoa and a generous portion of lightly sauteed lettuce. She gave the salmon the ultimate compliment by saying it was "almost as good as Stu's." I tasted two chunks and believe the pecan crust made it even better.
Stu had Southern Creole Shrimp and Grits. It was a bad night. The dish was plated long before it was served so the edges were cold. There was no sauce, just dry grits with an excess of cheddar cheese.  Three stars would be generous, but the leftovers were actually quite good when reheated for lunch.