After two years of COVID, lockdowns, vaccines, boosters and tests, things are moving toward normal. There is a concern about the long-term recurrence of the COVID virus and the spreading of the disease from the many who refuse vaccinations and other public health measures, but this is the new "normal," so we go on. This three-city trip included Lake Marian RV Resort, Silver Springs State Park, and Titusville with 2 rocket launches.
2022 2/22 to 3/3, Lake Marian, Silver Springs, and a Launch at Kennedy Space Center.
We stayed at the Lake Marian RV Resort in Kenansville, FL for the first stop of the trip. A lovely park with lots of waterfront spaces and a good view of Lake Marion from our campsite.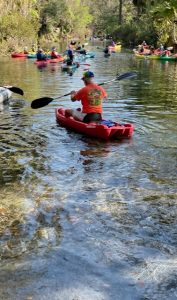 Next, we drove north to Silver Springs, Florida's favorite State Park. We enjoyed two special days including a glass bottom boat ride, exploring the nature trails, and Stu especially enjoyed a 5-mile downstream kayak trip with views of a manatee, and more birds and fish than he could count.
Our third and final destination was Titusville, where we visited the Merritt Island National Wildlife Refuge and stayed in both Manatee Hammock and Great Outdoors campgrounds.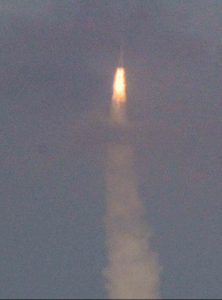 We were fortunate to see the launch of the GOES-T satellite, the latest and largest of the weather satellites that ultimately give us TV news of developing hurricanes. This launch was especially interesting to Stu who worked in the computer support area at Goddard Space Flight Center during the launch of the very first GOES satellite.
Click here for more about Lake Marian, Silver Springs and Kennedy Space Center.
2022 3/26 to 5/15 Visit to Austin and Up, Up and Away
We returned home to a month or so of people and trailer servicing. Medical, dental, oil change and such left us (or at least Stu – with Joan cheerfully joining along) ready for a Spring visit to Austin, bluebonnets, and family birthday celebration.
The trip continues back to Florida for a balloon festival and visit to several Frank Lloyd Wright buildings.